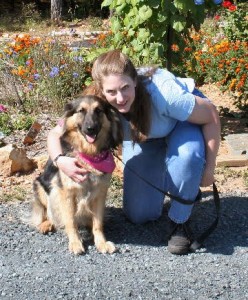 Howdy from Seven Oaks! This picture was taken in October….me and my gal, Shadow.
Well it's snowing again today…haven't gotten out to Lowe's for bird seed (that's Monday's adventure, hopefully, along with a trip to the accountant and Wal Mart. Boy, I sure know how to live.) So unless you want to hear my whine about snow, and how I'm behind on my seed starting, and how I can't even go walking in my beloved woods to get my fill of nature…which is usually what keeps me going until gardening season again….let's have some fun instead.
I'm a freelancer writer and marketing consultant by day, mild mannered gardener by weekend/night/every spare moment. So why not combine the two?
You can read my latest gardening writing here….MainLineGardening.com, where I'm a weekly blogger/columnist. I focus on flowers for MainLine. They have amazing gardening products on their site, by the way – really unique items imported from England.
I write the weekly gardening column, Organic Gardening with Jeanne, here:
Jeanne Grunert is a certified Virginia Master Gardener and the author of several gardening books. Her garden articles, photographs, and interviews have been featured in The Herb Companion, Virginia Gardener, and Cultivate, the magazine of the National Farm Bureau. She is the founder of The Christian Herbalists group and a popular local lecturer on culinary herbs and herbs for health, raised bed gardening, and horticulture therapy.