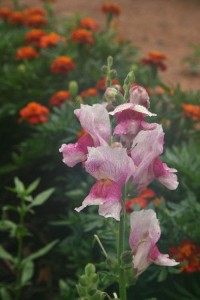 The worse the winter, the more money I spend on flower gardening supplies. It's a given. With three major storms and cabin fever making me feel like a hermit, we stopped by Lowe's and Wal-Mart yesterday after a trip to the business accountant. Yeah, I really know how to live. Seriously, though, I bought just one bag of seed starting mix at Lowe's and it's not going to be enough. Especially after my trip to Wal Mart.
I discovered….20 cent seeds.
Row after row of flower seeds…20 cents per package.
I was like a drunken sailor on leave. My senses certainly went on leave. I've never gorged on seeds like this.
I came home after my buying bender with:
Giant California zinnias
Poppies
Cosmos
Echinacea
Alyssum
Sweet peas
Yellow sunflower (the classic kind)
Red sunflowers!
Bachelor's Buttons
Snapdragons
And one giant bag of gladiolus bulbs.
When I got home, I spread out my seed packets the way I used to spread out my baseball cards when I was a kid. Then I counted the shelves on my seed starting trays and figured I can start eight flats, max, under the lights.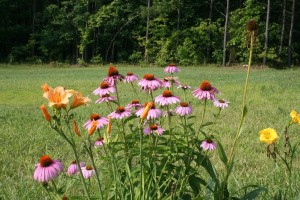 Now comes the hard part. I'm going to have to decide what starts indoors, what can wait. What I need to start this weekend and what to hold off on.
My seed starting trays are all in the garden shed, which is still iced up, but with 40 degree days predicted through until Saturday, I hope I can get the door open by then.
The English primrose seeds are ready to go! And my snapdragons. And…
I can't wait to grow my flowers! Pictures today are a reminder to me that spring will come…they were all taken in my gardens here at Seven Oaks, in 2008 (top photo) and 2009.
Jeanne Grunert is a certified Virginia Master Gardener and the author of several gardening books. Her garden articles, photographs, and interviews have been featured in The Herb Companion, Virginia Gardener, and Cultivate, the magazine of the National Farm Bureau. She is the founder of The Christian Herbalists group and a popular local lecturer on culinary herbs and herbs for health, raised bed gardening, and horticulture therapy.