This has been a tough two weeks for people, animals and plants alike as temperatures soared into the 100's daily and didn't cool off very well at night.  Thankfully, the weather has shifted. A brief thunderstorm on Monday sent much-needed healing rain down in buckets and although my friends with rain gauges assured me it was about 2/10ths of an inch, it felt like a gallon for the thirsty fields.
With so much space here, we cannot water everything. Add to that a water well which we are responsible for if anything breaks or runs dry and even though it is new, we are reluctant to water overmuch.  I've got the irrigation going in the vegetable garden each night and we water the fruit trees by hand, running a very long hose from the house out to the orchard and giving them a good drink. The Japanese beetles defoliated many of the trees, especially the apple trees, which were struggling anyway. I have a feeling we are going to end up losing a bunch of the apple trees anyway. They left the pears alone and mostly left the peaches alone, but they also are almost every leaf off of the apricots – and they were doing the best!  We're babying all the trees damaged by the beetles until they recover enough to send out new leaves.
We were reminiscing the other night about all the ways we beat the heat during our childhoods. Neither my husband nor I had air conditioning in our homes or schools when we were kids.  Today people act like it's child abuse to let kids go to school without perfect AC in the school room. I can remember being forced to wear my heavy plaid uniform skirt and waiting for the nuns to give us special permission to remove our navy blue blazers. When you got up from the heavily varnished seat at your desk, your thighs would stick to the varnish and sting like crazy, as if peeling off a gigantic band aid.
We had a finished basement on our house and that's where we hung out most of the summer. It was about 65 degrees year-round down there and we had a small black and white television set, an old couch and chair from the living room, our fish tank, and our model horses, dolls, games and crafts. Hey, what more did you need?
But there were two places that my sister Ann and I would head to when heat waves like this one struck when we were kids. We'd get our bikes out of the garage and pedal up to Grand Value. Grand Value was an old five and dime store. It was in the old Bohack's supermarket building in Floral Park, on Covert Avenue.  The only stores today that come close to it are Dollar General and similar dollar stores.  It was always about two degrees below zero in that store with absolutely frigid air conditioning.  We'd go to the toy aisle and I would look for $1 flocked model horses to add to my collection or other plastic horses.  Ann would buy yarn or  patterns or fabric and we would amuse yourselves by making badly-knitted (okay, that was me; Ann's always came out perfectly) shawls or bedspreads for our Barbie dolls, or Ann would take out Aunt Lucille's old toy sewing machine, a circa 1920's singer the size of a shoe box that still made a straight chain stitch, and sew a Barbie doll dress for me.  That was my favorite – my sister still sews beautifully, but I don't have much talent in that area.
We'd spend so much time wandering the aisles of Grand Value that Mr Reilly, the owner, would follow us. Or he'd send the mean lady with the bright dyed orange hair and the heavy Italian accent to follow us.  She would scowl at us and lurk behind the rack of buttons or sewing thread. One time she stopped us on the way out and accused us of shoplifting.  I didn't understand it.  We were the most honest kids and we'd never do that. We were just trying to beat the heat! But now as a business owner, I can imagine how suspicious it would look to me if two kids kept lurking around different racks and didn't spend much money.
The other place I loved to go was the Floral Park Public Library. It was very far away for a kid to bike to, but I'd do it anyway.  The library was in the old post office building, across from the Long Island Rail Road. It was a squat 1960's building with industrial beige carpet and sticky beige chairs and big ugly metal racks. But what was on those racks was gold, pure gold. Books. Books and more books.  I'd go to the 636 (Dewey decimal system) section on horses and sit and stare for hours at pictures of horses and dream of the days when I could ride. Or I'd sit and read Nancy Drew and other mystery novels.
And the air conditioning….
Ugly or not, that palace of books had frigid air condioning.
Happy summer!   Hopefully now that the heat wave has broken and tomorrow temps will be back into the 80's, I can get back into the garden.  Below is our first harvest – cucumbers, zucchini, strawberries and lots of yummy mint for iced mint water to beat the heat.
Enjoy…..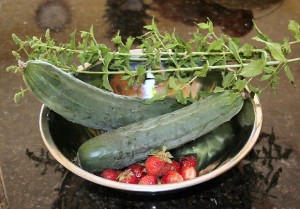 Jeanne Grunert is a certified Virginia Master Gardener and the author of several gardening books. Her garden articles, photographs, and interviews have been featured in The Herb Companion, Virginia Gardener, and Cultivate, the magazine of the National Farm Bureau. She is the founder of The Christian Herbalists group and a popular local lecturer on culinary herbs and herbs for health, raised bed gardening, and horticulture therapy.