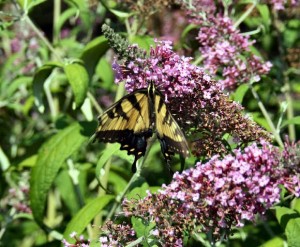 Alas, yet another heat wave! We spent over an hour watering the orchard trees and any plants that were struggling or in full sun.  I pray daily for some nice, gentle rain….as our priest reminded us on Sunday, carry an umbrella to show your faith that God will hear your prayers for rain! (I often joke that when I DO carry an umbrella it NEVER rains! Wear suede boots or shoes, I say; then it is sure to rain.)
Enough bitching about the lack of rain. How about some pretty flower pictures? This is the butterfly garden with the gorgeous pathway! I am so thankful to my hubby every time I step onto the pretty pathway. I weeded the butterfly garden this weekend. Sadly, none of my cherry Echinacea survived, although I have four I kept in pots on the deck to nurture along until the fall, when the cooler, rainier weather comes and I can safely plant them in the garden.  But look at the Buddleia! They are huge. They tower over me and I am a very tall person!  The sweet, gentle fragrance fills the air, too.  In the afternoon if you sit on my front porch, it is like the whole garden is alive with butterflies playing.  I counted seven different colors of butterflies the other day and I could only identify the Swallowtail, the Monarch and the painted lady. One looks like it has zebra stripes but I did not get a picture of it.
So enjoy these photos from the butterfly garden….pray for rain for us in Virginia where we battle 100+ degrees for another few days. Carry an umbrella to show God you believe he'll deliver, or if you're like me, don a pair of suede boots you absolutely cannot get wet!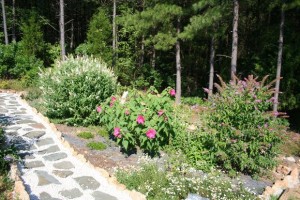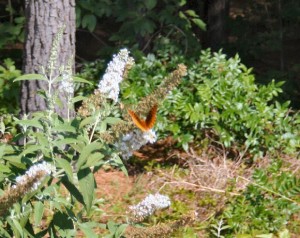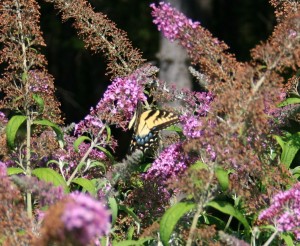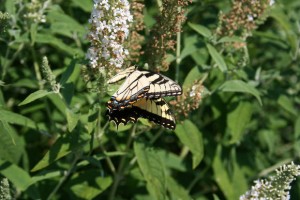 Jeanne Grunert is a certified Virginia Master Gardener and the author of several gardening books. Her garden articles, photographs, and interviews have been featured in The Herb Companion, Virginia Gardener, and Cultivate, the magazine of the National Farm Bureau. She is the founder of The Christian Herbalists group and a popular local lecturer on culinary herbs and herbs for health, raised bed gardening, and horticulture therapy.