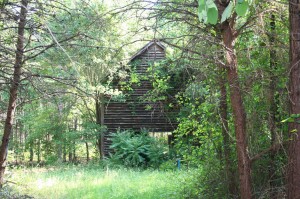 Old tobacco barn in the woods
One thing that always strikes me as a key difference between rural folks and city folks is the love of the land. I've never met a New York City friend, for example, who was so in love with his patch of sidewalk that he wouldn't budge from East 78th and York or whatever his address is at the moment. No, to the contrary; most of the people I worked with in Manhattan are on the never-ending quest for a bigger apartment. When space is at a premium and most people have one or more roommates, any time there's a whiff of an apartment for rent with (gasp!) an actual closet, a bit of a view, or a balcony and within the budget – it's a mad scramble to be the first to snag it.
When I lived on Long Island, people loved their houses, but I think that if they could put their house up on stilts and get it to walk to a new place far from the maddening crowd and away from neighbors so close you can peek into their dining room windows they'd do it in a heartbeat. Of the places I lived on Long Island, I loved Floral Park because I grew up there; I do know every patch of sidewalk, and because my grandparents were one of the first families to move into the town in 1917, and then my parents grew up there and lived there, I felt a very special kinship with the town. But love the land my house sat upon? No, I didn't love it.  It was my childhood home but I do not yearn to move back into it.
Perhaps I am over generalizing, but all of the people I've met here in Prospect love their land and their farms – love it so deeply that they are willing to sacrifice vacations, jobs that pay more but would necessitate a move, and many other comforts and convenience to maintain their farms. They rise before dawn to rake and bale hay, water their stock, tend their gardens. Then they jump into the car and drive to a job somewhere – at a factory, construction, as pipe welders, plumbers and electricians, teachers and accountants – and then they come home around 5 to work around the farm even more. Vacations are spent tinkering with a tractor bought at auction, or perhaps putting in new fence posts or gates. They brave the 100+ degree heat because they must; the cattle need hay, the goats need water, or something needs tending to. Period.
Last night we had the rare pleasure of a night off. We went to our friend's farm, Shady Acres.  Our husbands went down to the farm pond and fished (they didn't catch anything except leaves snagged with the fishing lines!) while Patty and I hopped in her golf cart and she showed me all the wonders of her farm.  I saw a guinea hen brooding a nest of eggs in the flower garden, and got nuzzled by the best herd of Boer goats in the south.  Do you remember how I bottle fed one of her goat babies this past fall?  She kept one of the four bottle fed babies. I didn't know that, but I felt a tug on my jeans and turned around to see a young goat with a mischievous glint in her eye nuzzling my jeans. I was surprised when Patty said it was one of her bottle fed babies. I wonder if that little goat remembered me?  Patty has guinea hen chicks under the brooder in the shed and she picked one downy days-old chick up for me to stroke. He looked like a little duckling and was so soft he was like velvet.
We sat by the pond drinking icy cold Coca Cola, watching the guys fish ("That's why it's not called catching, but fishing," someone joked as the evening drew to a close without one single fish) and listening to the bull frogs call to one another. Bats swooped in an aerial display over the secluded pond and the stars came out.
Our friends have not had a vacation in years. But as Patty drove me around the farm, pointing to this and that, she knew every rock, tree stump, and animal by name. She loves her farm in a way I've seen among our neighbors but I am just learning.  I watched her call each goat by name.  I saw her shoo an injured rooster into a cage to protect him overnight and put up with his angry clucks while she did her best to protect him.  She fussed over her cats, collected eggs hidden everywhere from the free range chickens, and made sure her dog had her medicine.  We made the rounds and checked fence lines and made sure every animal was in his place and everything on the 80 acres was secure.  The love for her farm and her land just shone in her face.
I like my land, but I do not love it yet.  I think the more I kneel in the garden soil, digging and planting, finding turtles in the compost pile (like I did yesterday – surprise!) and getting to know the wildlife, I will learn to love Seven Oaks too.
Jeanne Grunert is a certified Virginia Master Gardener and the author of several gardening books. Her garden articles, photographs, and interviews have been featured in The Herb Companion, Virginia Gardener, and Cultivate, the magazine of the National Farm Bureau. She is the founder of The Christian Herbalists group and a popular local lecturer on culinary herbs and herbs for health, raised bed gardening, and horticulture therapy.