When you think of cottage garden flowers, what do you think of? Old fashioned roses, blowy peonies, perhaps pansies? I think of cottage gardening style as a loose arrangement of my favorite flowers, with a preponderence of old-fashioned favorites.
I'm not a good garden designer. I plunk whatever strikes my fancy into the ground, then shoehorn more plants in whenever I can. The paths I planned through the flower garden are uneven and a bit odd, but that sort of reflects their designer, I think: a bit odd.
Here in front of the garden shed is what I call my cottage garden.  I planted marigolds in the window boxes because as soon at the hot, dry weather strikes, those shallow boxes are tough to keep watered and marigolds are the toughest plants I know. In front of the shed, Hubby put in a little garden border bed for me.
I have Sweet Woodruff, a gift from my friends Eni and her late husband AJ, growing at the far left.  It's blooming now with tiny white flowers.  I have some gladiolus bulbs there too, and newly planted zinnia seeds springing up through the tangle. But mostly it's my snapdragons that I love.
I grew all of these snapdragons from seed.  It is a mixed package of the tall types. I love snapdragons. My childhood neighbor, Mr. Hoffman, grew them, and he taught me how to "snap" the flower heads like a Chinese dragon snout.  It's another plant I grow that reminds me of someone.  I love looking at a plant, a flower and thinking about someone I loved who is gone.  The sweet woodruff and mint in the garden reminds me of my friend AJ; the snapdragons and mint, Mr. Hoffman; the new kerria Japonica and coral bells; my mom.  My snapdragons also act like perennials here in Virginia, another reason to love them!
Do you like snapdragons, too?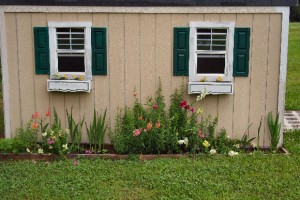 Cottage garden (sort of) by my garden shed
Jeanne Grunert is a certified Virginia Master Gardener and the author of several gardening books. Her garden articles, photographs, and interviews have been featured in The Herb Companion, Virginia Gardener, and Cultivate, the magazine of the National Farm Bureau. She is the founder of The Christian Herbalists group and a popular local lecturer on culinary herbs and herbs for health, raised bed gardening, and horticulture therapy.