These peony growing tips will give you lush, beautiful peonies in no time at all. Peonies offer most gardeners a great flowering shrub for the yard.

Peony Growing Tips
I love peonies. My mother has a single Festiva Maxima variety peony in the yard. Rumor had it that it was a descendant of the bush from her yard growing up.
My older sister couldn't bear the thought of the bush being ripped out when we sold our parents' home. So, true to the family gardening tradition, she dug it up and transplanted it into her yard. The peony lives on!
With these peony growing tips, your peony bush can thrive and live many, many years.
Peony Growing Success Starts with Knowledge
Growing peonies successfully takes a little bit of know-how, but once your peony plants become established, they will reward you with beautiful, fragrant flowers for many years to come.
Peonies are herbaceous perennials. The common garden peony, pictured here, is called a Paeonia hybrid. Tree peonies are another type of peony found in many gardens. Tree peonies are properly referred to as Paeonia suffruticosa. These tips for growing peonies refers to growing garden peonies.
Peonies may be successfully grown in gardens ranging from zone 2 to zone 8. They need a period of cold weather and freezing temperatures during the winter months to be at their best. If you live in a subtropical or tropical zone, peonies probably aren't for you. If you're not sure what gardening zone you live in, in the United States you can enter your zip code to find your USDA Hardiness Zone.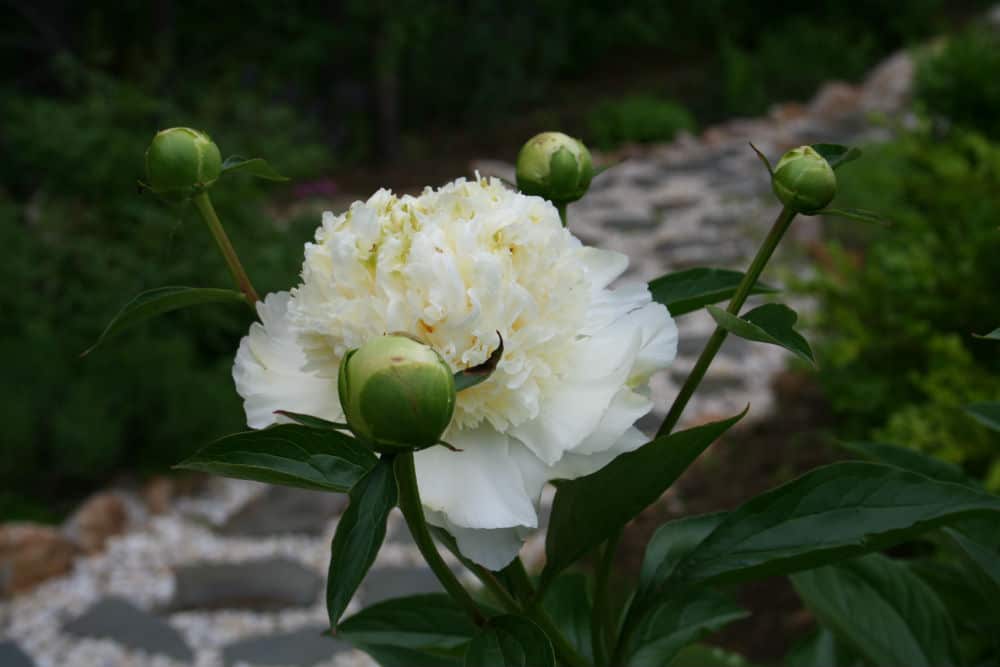 Peony Growing Tips: Match the Conditions
Among my peony growing tips, these are the most important for your success. Despite a reputation for being fussy and hard to grow, I find peonies are actually fairly easy to grow. The trick is planting them correctly – and in a location that provides them with what they need. Peony growing tips start with matching the plant to the location.
Light
Peonies require full sunlight. That means six or more hours a day of bright, direct sunshine on their leaves. Peonies won't thrive and bloom if they get too much shade.
Soil
Peonies need rich, well-drained soil. Adding compost to the soil during planting is a good idea, especially if you have either clay or sandy loam soil. The soil pH should be between 6.5 and 7.5 – slight alkaline.
Water
Water peonies well after planting or dividing them. Provide them with supplemental water during periods of prolonged drought. Mulching around peonies helps the soil stay moist and prevents evaporation.
Planting Peonies
Peonies can be planted in either the fall or the spring. You can plant a root, typically sold in bags at garden centers in the springtime, or a mature plant in a pot or container. Choose the location carefully, keeping in mind the need for full sunlight. That's important because peonies just don't bloom in partial to full shade. (Can you tell I've tried it and been disappointed?)
Peony Growing Tips for the Home Garden
Give them room: Peonies need space, and they can't be disturbed for many years. Leave at least three feet of space between peony bushes and choose your site carefully.
Do not disturb: Disturbing or transplanting peonies often puts them into a sulk, and they refuse to bloom for a while until the shock of being moved wears off. Be certain of where you want them when you plant them.
Dig it: If you are planting a container-grown peony, dig the hole for the plant twice as wide and deep as the container. Add plenty of aged manure or compost into the planting hole and mix some into the soil you've put aside when you dug the hole. Gently release the peony from its container by turning it on its side and tapping (not whacking, tapping) along the bottom and sides of the pot. It should slide out easily. If it doesn't, don't tug on the stem – breaking the stem can be disastrous. Gently tug on the leaves of tap the pot again. Once you have the plant out of the pot, place it in the hole. If you're not sure how deep to plant the peony, look for any eyes – small, round, reddish colored growth near the soil surface – and plant the peony with the eyes no deeper than one to two inches. Backfill the hole and gently press the soil down around the plant. Water well, then add mulch around the peony plant.
Planting roots: When planting roots, it is best to plant them during the fall or cool spring days as soon as the soil can be worked. Dig a shallow hole and mix plenty of aged compost into the hole. Place the root into the hole with the red eye buds about one to two inches below the soil surface. Cover the root with soil. Don't plant it any deeper than one to two inches. I know it feels wrong, but if you plant the root too deeply, it won't grow, or your peony may have trouble blooming. Once the peony root is planted, tap the soil down gently with the palm of your hand, water, and mulch.
Support: You may want to place a peony hoop or support around the newly planted peony flower. Hybrid peonies can develop tall stems ranging from two to four feet in height. The heavy flower heads tend to tip the stems over. After heavy rain, many peony flowers get knocked to the ground. Peony hoops are metal plant supports that consist of a ring, with movable support rods or legs around the hoop. You place it around the peony plant so that the hoop is about 2 feet tall. As the plant grows, it grows up and into the center of the hoop. If the flowers start to drag the stems downward, the hoops support them to keep them upright.
Peony Pests, Problems, and Diseases
Peonies really are some of the easiest flowers to grow once you learn how to select the appropriate site and plant them properly. They're rarely bothered by pests. Ants on peonies are a common sight and nothing to panic about. Ants are attracted to the sweet nectar of the peony flower. They won't eat the peony or harm it in any way. If you want to get rid of ants before cutting peony blossoms to bring into the house, wash them off with water from the garden hose.
Fungal diseases such as botrytis blight can strike peonies in warm, moist climates and after a particularly wet spring. Signs include leaves and flower buds that turn black and fall off. To prevent this blight, clean up any spent leaves and trim the peony plant back in the fall. Keep the area around the plant clear from fallen leaves and debris and don't over water.
With their beautiful flowers, fragrance and easy-going nature, growing peonies is a must for the backyard gardener. Add some hybrid peonies to your garden this year and delight in them for many years to come.
Jeanne Grunert is a certified Virginia Master Gardener and the author of several gardening books. Her garden articles, photographs, and interviews have been featured in The Herb Companion, Virginia Gardener, and Cultivate, the magazine of the National Farm Bureau. She is the founder of The Christian Herbalists group and a popular local lecturer on culinary herbs and herbs for health, raised bed gardening, and horticulture therapy.