What is homesteading? Lately, I've been seeing more posts, ideas, and shares about homesteading. Whether you call it urban homesteading, homesteading in place, or another name, it's really about becoming more self sufficient.
What Is Homesteading?
I think there's a growing discontent with the general status quo.  There's also a pushback against giant agribusinesses and the loss of the family farm, alongside the shuttered and empty stores on Main Streets across America but new stand-alone malls with giant big box stores springing up along the outskirts of now abandoned towns.  We yearn for yesteryear but we dial up information on our handheld computers.  We want the closeness of horse and buggy days while driving hybrid automobiles. I used to laugh at this dichotomy….and now I find myself drawn to it.
Part of this has always been a part of me, so to speak.  Growing up in an urban landscape, where our teenage rite of passage was navigating the New York City Mass Transit system by ourselves to go Christmas shopping along Fifth Avenue, I still yearned for a farm of my own.  Gardens. Lands. Animals. Growing my own food.  I admit, I wasn't terribly interested in homemaking, but that changed gradually until now I'm fascinated by it all.
There's the slow food movement, the eat local movement, the CSA movement.  There's the urban homesteading movement and the clean food movement and all of that.  Sometimes I wish for clarity and one set of guidelines and at other times I'm delighted by the messy overlap among all these movements.
The bottom line is that people seem to want to grow their own food. There's an increasing awareness that the packages, bottles and cans with jaunty labels lining the grocery store shelves contain something other than food inside.  People are starting to realize that all that soy and corn chucked into everything from hotdogs to potatoes au gratin just isn't good for us. Our bodies didn't evolve to live on soy beans. Or corn, for that matter. And certainly not genetically modified vegetables.
I'm not sure where I stand on the continuum of the homesteading movement.  If you can imagine a line with one end of the spectrum "I buy junk food and eat at fast food restaurants all the time, and all this talk about vegetables is nonsense" to "I'm a raw vegan who grows her own food and makes her clothes out of hemp fiber" I think I'm maybe a quarter of the way up from the guy snacking on fried chicken and hamburgers all day but not even halfway up the scale to some of the wonderful raw vegan people I know.
I grow many organic fruits, herbs and vegetables. We usually buy a share of a locally raised, grass-fed beef steer each year.  I'd love to raise chickens but my family remains unconvinced and afraid that having animals other than the cat and dog would tie us down too much. When I can, I beg fresh, free-range eggs from my neighbor.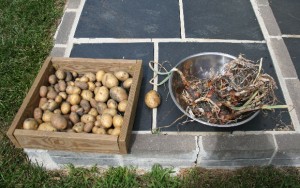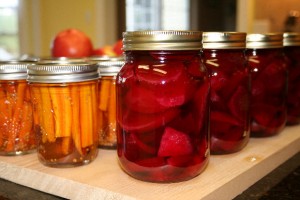 I'm gradually getting better at baking bread, but my family still relies on loaves purchased from the grocery store for sandwiches. We're buying and consuming fewer packaged foods, and when we do buy them we try to buy them on sale and the healthy kind (no MSG soups, for example, or simple packaged foods like a bag of rice, beans or pasta.)
We telecommute and work from home by choice; no need for expensive clothing or expenditures on gasoline, and it saves some fossil fuels and pollution. I try to do my part to reduce my impact and to live according to nature's principles.
And I guess that's what this homesteading movement all comes down to. Living by your principles, whatever they  may be.  It's also not a race to be run and won, but rather a slow, gradual shift in perspective.
Five years ago I was living in a suburban home and working for a giant global company.  I donned a power suit and high heels every day, swiped my Metro Card at a New York City turnstile, and drank copious quantities of coffee to fuel my nonstop workday.
Today, I rise with the sun (or Pierre's incessant whacks with a paw – "FEED ME" ) and slip into a pair of jeans and a t shirt or sweat shirt purchased at the second hand or discount store. I make two cups of coffee for myself. I go for a walk. I eat a natural, healthy breakfast. I work from home, relying upon the magic of the internet to earn my daily bread and pay my bills.  I garden and grow some vegetables, but not all that I'd need to survive; it's not reality at the moment.  I try to eat and live simply but I still like my little luxuries – ice cream when it's on sale, a good book or movie, a concert.
Homesteading is what you make of it.  It's what you can do, rather than what you think you should do.  And if that means planting a single tomato plant on your city balcony, then do it.
Jeanne Grunert is a certified Virginia Master Gardener and the author of several gardening books. Her garden articles, photographs, and interviews have been featured in The Herb Companion, Virginia Gardener, and Cultivate, the magazine of the National Farm Bureau. She is the founder of The Christian Herbalists group and a popular local lecturer on culinary herbs and herbs for health, raised bed gardening, and horticulture therapy.