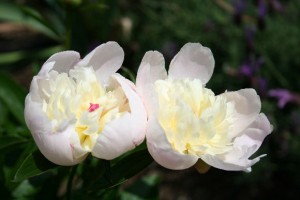 Peony "Festiva Maxima"
I love spotting old fashioned garden favorites such as peonies, irises and daylilies, especially when they're growing near an older home in the neighborhood. One of the reasons I love living in an area rich in history, such as our little corner of Virginia where the Civil War ended, is that there are many old farms, houses and properties untouched by the hand of time and the bulldozer.  In our little country town, for example, there are many homes built in the late 1800s and into the early 20th century. They're clustered near the remains of the old railroad station and the still-open post office.  One home has a row of peony bushes growing along an old rusty wire fence that produces such a dazzling display of blossoms each spring I keep meaning to take my camera into town to photograph them.  But of course, by the time I remember that it's peony time, a good thunderstorm comes and my own garden peonies look like bedraggled messes.  So it's probably too late to stop by the old home and snap a few pictures of the peonies
I love old-fashioned garden flowers, the kind that looks like they belong clustered around a Victorian cottage or in a 19th century gardening catalog or print.  The kind of flowers that my grandmother or great-grandmother would recognize.  I know, I know – some of the new hybrids are beautiful and dazzling too, and I agree. Many are also grown for great disease resistance, and that's something to love, too.  But I can't help but be charmed by old-fashioned beauties growing over an old picket fence, near the remains of a farmhouse or an old privy. There's something enchanting about it.
My own peonies here in the flower gardens of Seven Oaks are just three years old or so. I planted them in the spring of 2008, a kit of five different peonies from Breck's gardening catalog.  Four of the five survived and of course I lost the plant tags, so I'm forever trying to match flowers with the pictures on the packages. I saved the package at least and taped it into a page in my gardening catalog, aka the glorified three ring binder.
I'm pretty sure my peony varieties include:
President Taft
Dr. Alexander Fleming 
Festiva Maxima
Sorbet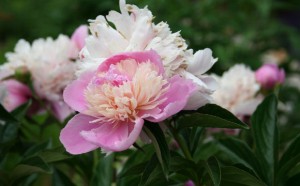 Peony "Sorbet"
Among the three, Festiva Maxima remains my all-time favorite, but Sorbet, with its charming mix of pinks and pastel shades, also gives me great joy when it blooms in the garden.
And by the way, ants are normal. Don't spray them. They're just doing their usual job of finding food and they don't harm your plants at all.
Happy gardening and happy peony season, if they're blooming in your gardening zone!
Jeanne Grunert is a certified Virginia Master Gardener and the author of several gardening books. Her garden articles, photographs, and interviews have been featured in The Herb Companion, Virginia Gardener, and Cultivate, the magazine of the National Farm Bureau. She is the founder of The Christian Herbalists group and a popular local lecturer on culinary herbs and herbs for health, raised bed gardening, and horticulture therapy.