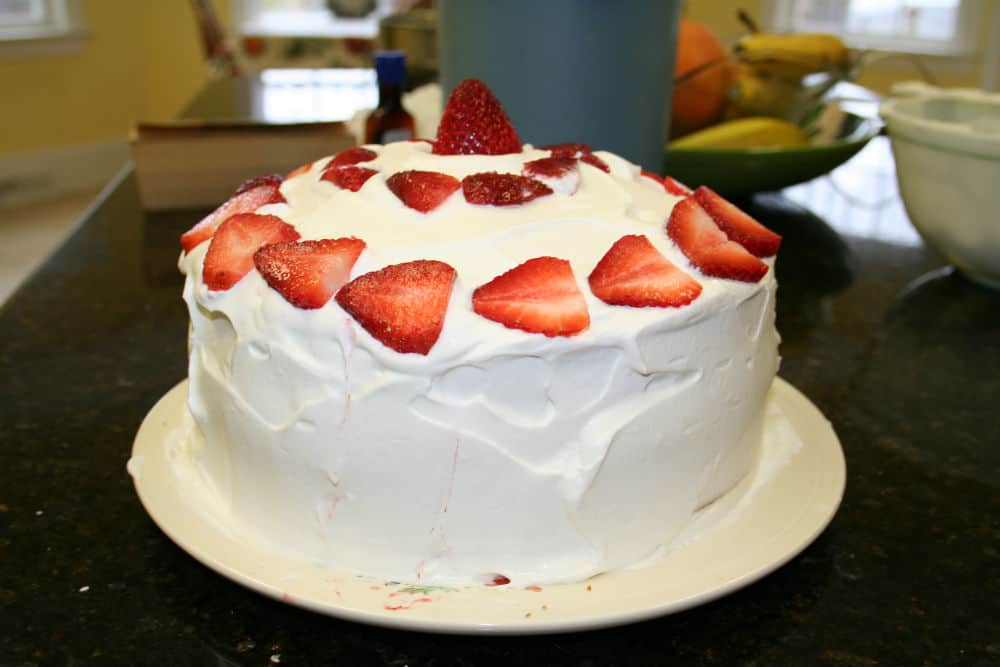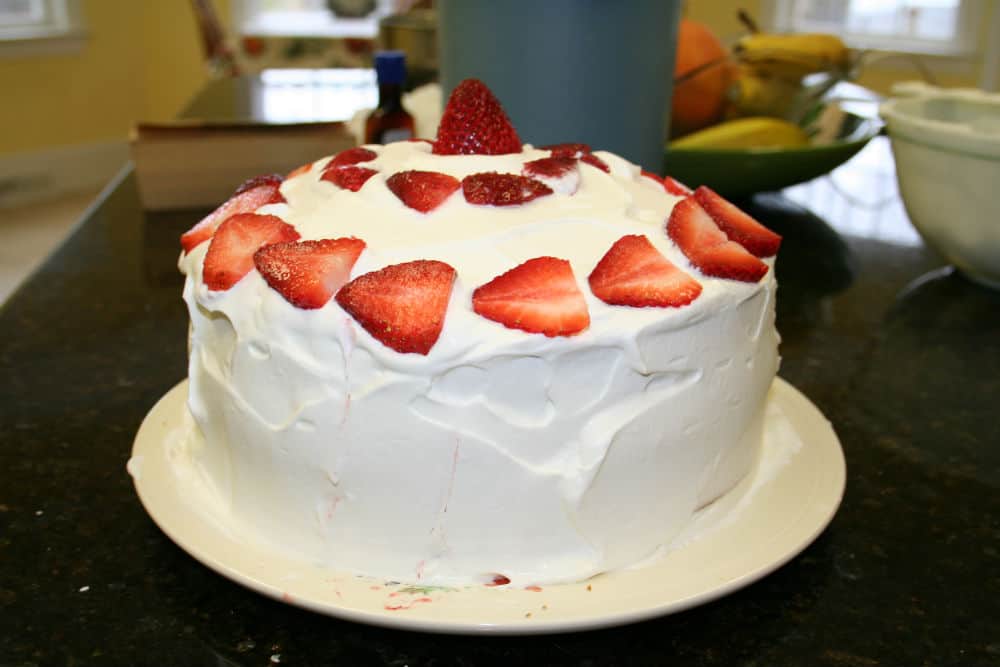 Strawberries are in season now, and every day I pick about a pint. They're also very inexpensive at the grocery store at this time of year, and of course for the more adventurous out there, you can pick-your-own strawberry farms.
My favorite way to eat strawberries is right off the plant. I have a bad habit of picking a berry and eating it immediately, something you can do in an organic garden if you don't mind the occasional grit.  But my husband makes the cake, above, using strawberries, fresh whipped cream, and boxed yellow cake.  It's a favorite in our family and an easy recipe to make. The trickiest part is finding a way to put the entire cake in the refrigerator after assembling it, as it must be refrigerated to keep the cream fresh.
J's Strawberry and Cream Cake Recipe
You'll need two 8″ round cake pans to make this recipe.
1 box of packaged yellow cake mix, plus oil, water and eggs as per the cake recipe
1 container heavy whipping cream
1-2 teaspoons sugar
1 tablespoon vanilla extract
Shortening to grease the pan
1 quart of washed, cored, and thinly sliced strawberries
Preheat the oven and grease pans according to the instructions on the cake mix box. Make the yellow cake mix and bake it as per instructions. Let cool when done.
After the cake cools, prepare the whipped cream frosting. Whip heavy cream in an ice cold bowl on high speed. Add 2 tablespoons of sugar a little at a time while the creams whips, along with the vanilla extra. Whip it until it is spreadable, like frosting.
Prepare the strawberries by washing them, slicing off the steams, then slicing them into even, thin slices.
Place one layer of cake on a plate. Frost with whipped cream. Layer strawberries over the whipped cream. Place second layer of cake over first. Frost the entire cake with whipped cream. Place the remaining strawberries over the top as decoration. We like to place one in the center, like the cake shown above, which is the actual cake made for Easter this year.
Refrigerate the cake until serving it, and refrigerate all unused portions.