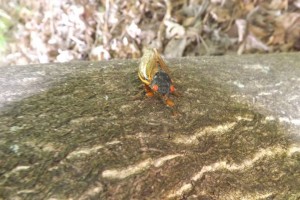 Photo of the 17 year cicada by Regina Clancy Hiney. Used with permission.
(She named this guy "Fergus")
My ears are ringing. I can't walk the dog without getting whacked upside the head by a flying block of buzzing cicada. Beady orange eyes, and libidos in the extreme…welcome to the world of the 17 year cicada cycle.
I'm just lucky I don't have more than seven oaks on our whole property. Well, I guess we have more than that – we have never surveyed them – but living on a timber farm does have its advantages, one of them being the 17 year cicada plague is near the road. Apparently, they don't care for pine trees, and I live on 17 acres of mostly pines. There is a big stand of hardwood trees across the road from my driveway, and the plague of Biblical proportions resides there, but the sound travels. And travels.As soon as it warms up past 65 degrees F, the chorus begins. It ends approximately half an hour before sunset, as if a switch is turned off.
I'm embarrassed to say that's what I thought it was. My speculation at first was a joke. I said to hubby, "The aliens have landed." We couldn't figure out what the deafening noise was two weeks ago. Back on Long Island, I would have said instantly, "Someone's burglar alarm is going off." That's how loud the sound is.
With houses few and far between once you get beyond my little immediate area of the world, and the noise loudest from the stand of trees near my neighbor's cattle farm, I had a feeling it wasn't a burglar alarm. Why would they have an alarm? Someone is stealing heifers?
My next guess was even funnier. "I'm betting it's some kind of noise maker to scare away crows," I said to my husband.
For over a week, we would say, "Oh, yes, that's someone scaring crows from his corn fields."
And then on Saturday, we tried to sit outside on the deck. It was a gorgeous spring afternoon, with friendly clouds puffing along a crystal blue sky, birds on the feeder, bees buzzing on the flowers and a gentle breeze wafting the scents of newly cut grass and flowers to us. We poured glasses of sherry and settled onto our lawn chairs on the deck.
We had to go inside after only 10 minutes. "If that noise doesn't stop, I'm calling the sheriff's office and filing a noise complaint," I grumbled.
Luckily, I thought better of that move and instead emailed a neighbor who lives even closer to the din. "Do you know what that terrible noise is?" I asked her. I knew she had grown up on a farm, too, so I figured if that scare-the-crows noisemaker theory of mine was correct, she would know more about it than I did. Such as how long it would continue.
Instead, she sent me a link to an article about the 17 year cicada…and there, staring back at me from the web page, was the orange-eyed freak of nature. The scourge of my oak trees. The noisemakers du jour.
My ears hurt. They actually ring with the noise. The 17 year cicadas are making me deaf.
Fortunately, I won't have to put up with this plague again until I am in my 60s…then my late 70s…and then, if God wills it, just once more….
But by then, maybe I won't hear so good anymore, and I'll just think it's a soft medley of crickets chirping, instead of someone's burglar alarm going off nonstop from dawn to dusk.
You can take the girl out of the city…but you can't take the city out of the girl. Of course I thought it was a burglar alarm. I'm from Long Island!