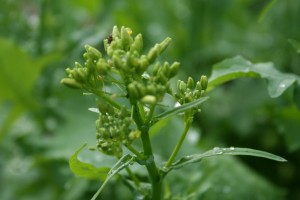 Broccoli rabe floret, ready to eat (sans spider)
Broccoli rabe, rapini…whatever you call it, it's delicious. This green, leafy vegetable tastes like a cross between broccoli and chard.
Broccoli Rabe Recipe
Bitter green leaves, stems, and tiny broccoli florets cook into a tasty dish full of vitamin A, C, and K, iron, folate and fiber, plus lots of good-for-you antioxidants.  I'm a big fan of raab and plant it from seed every spring. The harvest is now at peak, and it must be eaten quickly before the plants produce seeds. So get out your gardening scissors, clip some leaves and stems, and whip up a fast lunch cooking with broccoli rabe.
Basic Broccoli Rabe Cooking Instructions
The easiest and safest way to cook broccoli rabe is to steam it or sautee it in water. Clip stems from the plant and rinse under cold water. Remove the leaves and florets, and discard the tough, fibrous stems. Chop the leaves and florets into one-inch pieces. Boil one cup of water in a large saucepan, add the broccoli rabe, and stir until it's wilted over medium heat. Lower the heat to simmer, cover, and let it simmer another five minutes. Done!
Broccoli Rabe, Pasta and Chick Peas
I make this recipe on Monday, and then eat leftovers for lunch for several days. It's a delicious, healthy and fiber-rich meal flavored with garlic and olive oil.
You'll need:
Fresh broccoli rabe (you can substitute chard or spinach) – about 4 to 6 cups, rinsed and diced
1 cup of water to cook the broccoli rabe
1 can of chick peas
1/2 box of bow tie pasta
2 tablespoons olive oil
1 clove of garlic, peeled and minced
salt and pepper to taste
Dice and cook the broccoli rabe in one cup of water as per the directions above. While it is cooking, boil water in a separate pot and cook the bowtie pasta according to package directions. Rinse the canned chick peas under running water; drain and set aside. Dice the garlic and add it to the steaming broccoli rabe, letting the garlic flavors seep into the greens.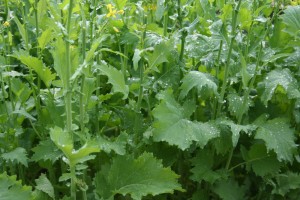 Harvest, clean, dice and cook the rabe
Cook bowtie pasta according to package directions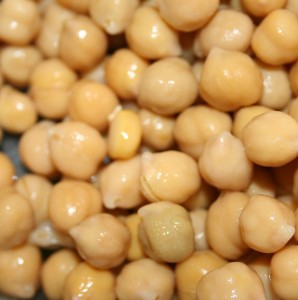 Rinse and drain chick peas
Rinse and drain the pasta, then combine the cooked pasta and chick peas into the broccoli rabe and garlic simmering in the saucepan. Stir until well mixed. Dress with olive oil and serve with salt and pepper to taste.
——-
Welcome to Foodie Friday! Each Friday, I'll share with you either tips on cooking what you grow, recipes from the garden, or something related to food, especially seasonal recipes. Enjoy and let me know what you'd like to learn to cook by leaving a comment below.