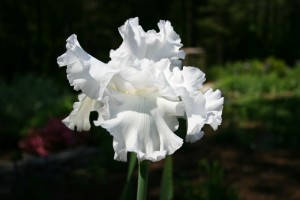 Iris "Immortality," a gift from Patty
Thought I'd share with you my latest writing, an article called "The Iris that Inspired a Garden."  Partially a photographic walk through my iris collection and partially a gentle how-to-grow iris story, it includes lots of pictures of this year's iris collection.
Blooming right now is iris "Immortality," a gift from my friend Patty; my father in law's grape soda pop scented purple and white iris; a purple iris from a Pat, a fellow Master Gardener's garden; and light purple and yellow iris from my friend Joan's garden. There are also two iris I purchased, the burgundy colored one and Cherub's Smile, but iris are very perennial flowers begging to be shared. Digging up an iris rhizome and passing it along to a friend is as natural around here as taking over a batch of cookies or a loaf of bread when you bake. It's just something you do as a gardener.
I've begged a root from my friend Cynthia's garden of a new iris that looked from her pictures like shimmering crimson silk, all rainbow swirls and colors.  Since iris are named after the Greek goddess of the rainbow, somehow adding a rainbow colored iris to my garden seems appropriate.
Please feel free to like, share, or Pin the link to  my article.
The Iris That Inspired a Garden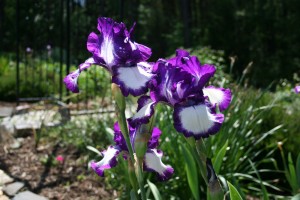 My in-laws iris that smells like grape pop.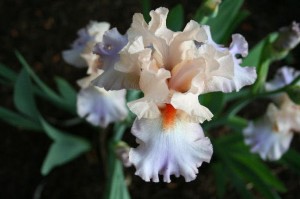 Iris "Cherub's Smile"
Jeanne Grunert is a certified Virginia Master Gardener and the author of several gardening books. Her garden articles, photographs, and interviews have been featured in The Herb Companion, Virginia Gardener, and Cultivate, the magazine of the National Farm Bureau. She is the founder of The Christian Herbalists group and a popular local lecturer on culinary herbs and herbs for health, raised bed gardening, and horticulture therapy.