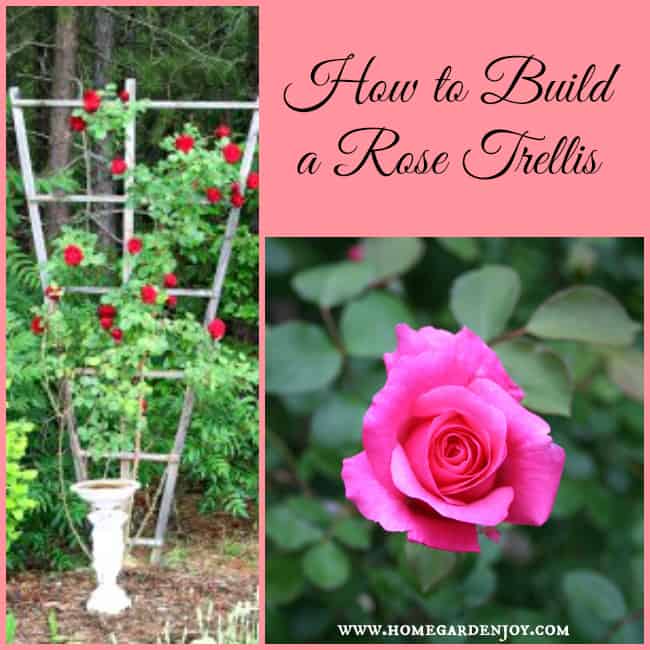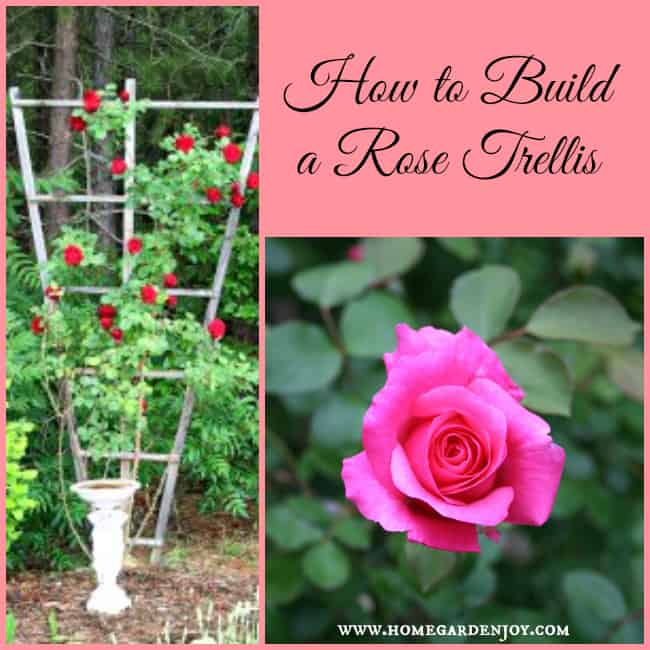 These tips on how to build a climbing rose trellis can help you build one from scratch. If you have some extra lumber from another project, you can build a climbing rose trellis.
Building a climbing rose trellis is fairly simple, and takes an hour for assembly. Climbing roses are lovely, fragrant, and some are very hardy. The "Blaze" climbing rose at left thrives despite annual attacks from Japanese beetles and black spot; "Dream Waver", a vibrant pink climbing rose my husband purchased for me a few years ago, is also very hardy for our zone 6B garden in the piedmont area of south central Virginia.
How to Build a Climbing Rose Trellis
Although we could have purchased a trellis, my husband decided to build a climbing rose trellis for me as a birthday present. He used several 2″ x 1″ x 8′ sections of lumber we had in the scrap pile. All he did was arrange three in a fan shape, measure and cut the cross pieces, and hammer it together.  We added a strong vertical support along the back and braced it again.
The basic procedure for building a simple slat-type trellis is as follows:
Cut your slats to the desired length. A typical rose trellis that stands against a home or garage is about six to seven feet tall. I like to use 1″ width slats. The trellis you see here was made from scrap lumber and features three vertical slats.
Lay all of the slats on top of each other like a pancake.
Mark with a pencil a spot about 1/3 of the way up the trellis.
Drill where you marked, and affix a heavy-duty screw or bolt.
"Fan" the slats to the desired width.
Use shorter slats nailed to the fan for the vertical supports.
Add a heavy duty metal stake or post to the bottom with a screw and then place it in the ground.
If leaning the trellis against a building, you may need to use masonry screws to affix it to brick or cement. Roses can be heavy, and as the canes mature, they can pull it down.
Instructions for building a traditional 5-slat fan shaped trellis can be found here.  And this website provides instructions for building a really fancy trellis with a planter box.
Two Climbing Roses to Try
In my experience, climbing roses tend to be hardier than tea roses. The only other rose variety I have found to be as hardy, if not hardier, are the floribunda-type roses with tiny flowers and a more shrub-like form than tea roses.
When you say "rose flower" or "red rose" to someone, they usually imagine a tea rose. The traditional florists' roses of Valentine's Day and lovers' gifts, tea roses are also notoriously finicky in the garden. My opinion is strong on this but I won't grow tea roses anymore. I have lost far too many rose bushes, hope far too long, and spent too much money on sprays, fertilizers, and all sorts of gimmicks just to coax one bloom from a tea rose.
Anything that needs that much TLC in my garden doesn't last long because I have neither the time nor the patience to baby a plant. I'll baby the cats, I'll give the dog TLC, and it goes without question that the people in my life get lots of TLC, but plants? Rarely.
So tea roses went bye-bye. Instead, I found climbing roses, like this: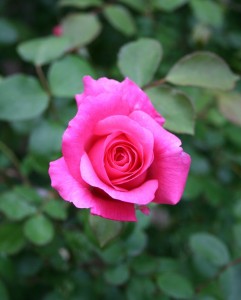 Dream Weaver, photographed May 21, 2013 in my garden.
Which look just as beautiful as tea roses but without the fuss.  This is "Dream Weaver," a vibrant dark pink climbing rose.  A relatively new introduction, Dream Weaver is very disease resistant and hardy. The blooms begin life as this rich pink color, then unfurl into showers of coral-colored petals with a light, gentle rose fragrance.  When the sun heats that part of the garden in the late afternoon, the rose fragrance beckons visitors down the garden path.
Dream Weaver can be grown on a trellis, arbor, or even in a tangle, as this blog author relates. Hardy to zone 6, Dream Weaver offers abundant blossoms on flexible canes that are easy to train to the arbor or trellis. I use twine and tie the canes loosely to the wooden arbor my husband made in the rose garden. Around the perimeter of the rose garden I've planted lavender – when the duo blooms, the bees rejoice. It makes you want to bottle it and wear it as a perfume.
My second favorite climbing rose is the red climber, Blaze. Hybridized in 1932, it is a vigorous climbing rose with long, sturdy yet flexible canes. The thorns are fierce, so wear gloves when you work with this rose or expect it to treat you like a pin cushion.
My mother grew two gigantic Blaze roses against our garage in Floral Park. They may have been there when the house was built; I'm not sure. I just know that her little garden was my favorite. My dad ripped it out to build his greenhouse, and while I know the greenhouse was important to him, I mourned the loss of those roses for a long time. I'm just glad he moved the American Beauty rose bush to another corner. My sister transplanted it to her garden when the house was sold, so it lives on. My mom rescued the American Beauty rose from a neighbor's house when they were ripping out the landscape – our best guess is that it is nearly 60 years old now!
Anyway, back to Blaze. I have two growing in the garden. One grows against the homemade rose trellis as you can see in the top picture. The other grows in the rose garden, opposite to Dream Weaver. I've noticed that it seems to be munched more by the Japanese beetles, but recovers quickly. New growth is a ruby red, which is also beautiful. And the scent – strong, velvety, pure rose. Heaven!
The cut flowers last a long time, too. I have one in a vase on my kitchen table now.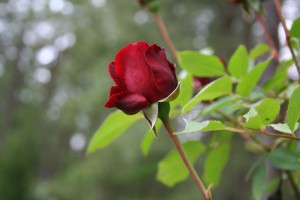 Blaze climbing rose photographed in my garden (Jeanne Grunert)
Caring for Climbing Roses
Climbing rose care is fairly simple. You do need to tie up the canes and train them against the trellis, arbor or fence. Unlike annual vines such as morning glories or perennials like clematis, climbing roses don't have vine tendrils to cling to the supports. Instead, their canes grow long and pliable. They need free air circulation around the canes, so don't tie them up too close together. I trim out canes that are diseases or broken, and trim others sparingly to shape the rose. During the heaviest black spot and beetle times (June here in south central Virginia), I use an organic Neem-oil based spray on the roses. It does work, but must be applied frequently, sometimes daily during rainy weather, to work.  I fertilize my roses with compost, manure and 10-10-10 in the spring, but cut back during the summer.
I don't cover the climbing roses or lay the canes flat as some books say to do during the winter.  Yes, some canes break from snow and ice. Some break from the cats playing "catch me if you can" on the rose arbor. Groucho and Whitey like nothing more than to scale the arbor, mince across the top bars, and chase one another up and around. It's like my husband built a cat jungle gym instead of an arbor.
Growing climbing roses is rewarding. You can grow them along a post and rail fence. You can use them to create screening, placing arbors near a pool to make a little screened area behind the arbor for relaxing. You can use them as a focal point in the garden, as I've tried to do with my trellis.  They are hardy, beautiful, and vigorous.  Climbing roses are worth the time it takes to build an arbor and reward you for years to come.
Jeanne Grunert is a certified Virginia Master Gardener and the author of several gardening books. Her garden articles, photographs, and interviews have been featured in The Herb Companion, Virginia Gardener, and Cultivate, the magazine of the National Farm Bureau. She is the founder of The Christian Herbalists group and a popular local lecturer on culinary herbs and herbs for health, raised bed gardening, and horticulture therapy.