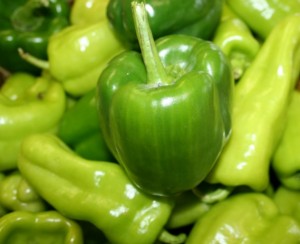 This is the time of year when the peppers are so plentiful I could give away bushel baskets of them today and find another 10 more baskets tomorrow.
If you're also drowning in peppers, take heart; there's more you can do with them then garnish a salad. This recipe for Italian sausage and peppers is time consuming but delicious. Like all my best recipes, it's from my husband's family. Ready to start cooking?
You'll need for four servings…
Four mild Italian sausages
1 to 2 pound of peppers, cored, seeded, rinsed and sliced into strips
2 mediums sized onions, peeled and sliced
Olive oil as needed – at least 2 to 4 tablespoons but probably more
1/4 cup marinara sauce
1/4 cup water
Rolls (optional)
Preheat the oven to 350 degrees F.  Place the sausages in a glass oven-proof dish. Pierce them with a fork. Add the quarter cup of water and bake for 45 minutes.
While the sausage are baking, saute the peppers. Heat 2 to 4 tablespoons of extra virgin olive oil in a large saucepan. Add the pepper strips carefully (the olive oil may splatter).  Stir every 30 seconds while it cooks. This is time consuming, and it's going to take a good half hour for them to cook enough for the next step so you might want to turn on the radio or get comfortable.
When the peppers are cooked through, add the onions. You may need to drizzle more olive oil on the vegetables as they cook. Continue stirring.  They should be cooked at the end of 45 minutes; 30 minutes for the peppers and 15 minutes for the onions.
Just when the vegetables are finished, the sausage is probably finished cooking, too. Remove from the oven. Slice off the ends and discard them, then slice the remaining sausage into coin-shaped pieces and add to the skillet. Discard cooking liquid in the trash — do not pour it down the drain. There's enough grease to clog the sink.
Add the marinara sauce to the pan and stir until heated through. Serve immediately with hard rolls for an authentic taste. Enjoy — or is it mangia?
Jeanne Grunert is a certified Virginia Master Gardener and the author of several gardening books. Her garden articles, photographs, and interviews have been featured in The Herb Companion, Virginia Gardener, and Cultivate, the magazine of the National Farm Bureau. She is the founder of The Christian Herbalists group and a popular local lecturer on culinary herbs and herbs for health, raised bed gardening, and horticulture therapy.