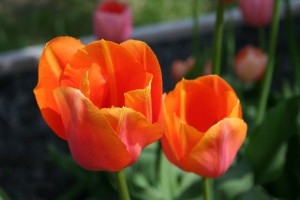 Layering spring bulbs is somewhat controversial, but this gardening technique can be used to provide continuous color for spring-blooming bulbs in a section of the garden. I've used layering successfully in my flower garden here at Seven Oaks to enjoy my favorite spring flowers — crocus, tulips, iris — from March through June.  With a little planning, you can do the same.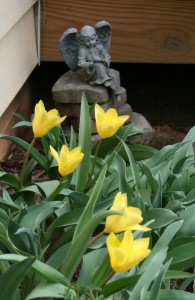 Layering bulbs means planting bulbs at different depths, depending on what they need. If you've ever bought a package of flower bulbs, you may have noticed the chart on the back of the package. It shows different flowers with an arrow indicating flower height and planting depth. Planting depth is important. If you plant bulbs too deeply, they'll struggle to grow, and if you plant them too shallowly, they can freeze and thaw or get dug up by rodents.
My rule of thumb is that the bigger the bulb, the deeper the hole. When I layer bulbs, I usually plant the daffodils and tulips on the bottom, followed by several layers of soil, to raise the depth of the hole. Then I plant smaller bulbs such as crocus, Siberian squill and late-blooming Dutch iris. (Don't confuse Dutch iris bulbs with German bearded iris rhizomes. The two are very different plants, and are grown differently. German bearded iris rhizomes need to be planted very shallowly or else they won't grow at all.)
Here's how I layer spring bulbs:
I start by choosing my favorite flower bulbs. For me, that always includes tulips, but it may include crocus, glory-of-the-snow, Dutch iris and daffodils.
I choose complimentary colors. For example, if I have purple crocus, I look for pink, white or purple tulips and yellow daffodils to join them.
I choose a spot in the garden where the bulbs can grow undisturbed for several months.
I dig the hole to the deepest depth indicated by the bulbs. If I have three packages of bulbs, and Package 1 says to dig a hole 8 inches deep, Package 2 says 6 inches and Package 3 says 4 inches, I dig the hole 8 inches deep.
I layer the bulbs requiring the deepest planting depth first.
Then I cover these bulbs with soil to bring the soil level up to the next level.
When I place the second layer of bulbs, I try to arrange them so that they aren't on top of the previous layer. I'll make patterns with the bulbs so I remember where each layer is planted.
I repeat steps 6-7 for the last layer, filling in the soil, adding new bulbs.
I cover the hole with a layer of mulch and mark the spot with plant markers that will last through the winter. I'm notorious for digging in the garden in the spring and pulling up my poor bulbs.
Here's an article I wrote a while back on
Choosing Spring Flowers for Continuous Color
. If you're feeling adventurous, and you love spring flowers the way I do, try layering today. Some argue that it's not good gardening practice, but I've had good success with it. Try it and let me know how it worked for you.
Jeanne Grunert is a certified Virginia Master Gardener and the author of several gardening books. Her garden articles, photographs, and interviews have been featured in The Herb Companion, Virginia Gardener, and Cultivate, the magazine of the National Farm Bureau. She is the founder of The Christian Herbalists group and a popular local lecturer on culinary herbs and herbs for health, raised bed gardening, and horticulture therapy.