Learn how to tell the difference between fir, spruce or pine.
Fir, spruce or pine? This is the first year since living in Virginia that we purchased a live tree from Lowe's rather than from the local Christmas tree farm. The tree farm is only open on the weekends, and we are having guests over on Saturday to celebrate Christmas.  This past weekend, the weather was lousy, so we opted for the indoor, covered tree display at Lowe's. There were only a handful of trees, and we struggled with this one: see my previous post where I called it the Drunken Christmas Tree. Apparently, its tipsy nature was actually the fault of the tree stand, which seemed to have warped in storage. Poor, misunderstood Christmas tree. Once we swapped out the warped stand for the larger, sturdier one, the tree stood tall and proud.
This year's tree is my favorite, a Balsam fir. The tree farm does not grow Balsams, and from what I learned last year and heard on the news this year, there is a disease affecting Balsam firs.  We usually purchase a Canaan fir (pronounced "Kah NAN fir", not Canaan, like in the Bible) from the tree farm.  The two are similar, but their form is slightly different, with the Cannan having a more open branching system. I find the Balsams have a stronger Christmas-tree scent.
How to Tell the Difference Between Fir, Spruce or Pine
Fir, spruce or pine…each has its fans at Christmas time. How do you tell the difference between fir, spruce or pine?
Pines are perhaps the easiest to spot. This is a photo of a pine tree on our farm, taken last year.  Pines have long, delicate needles and a soft appearance. Technically speaking, you can tell the difference among the three types of trees by the needles. Look at the place along the branch where the needles emerge. Pines always have groups of needles in twos, threes or fives.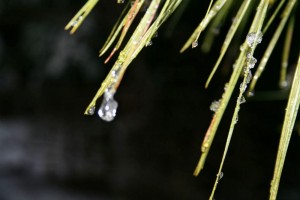 Pine
Trees that have single needles emerging from the stem are either spruces or firs.  Here is a closeup of last year's Christmas tree, a Canaan fir: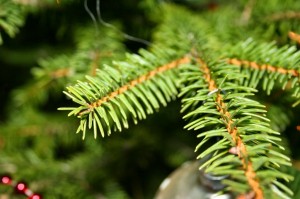 If you're really dedicated and want to tell the difference between a fir and spruce, this is what I learned when working at the garden center many years ago. Pull off a single needle and roll it around between your finger tips.  Needles with a flat side are firs. Rounded needles are spruces.
But it's easier to look at the tag, isn't it?
For more pictures, see Fine Gardening.