This recipe for five ingredient fudge is a favorite in my home at Christmas. Maybe five ingredient fudge will be your family's favorite, too!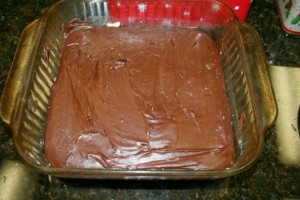 Pan of fudge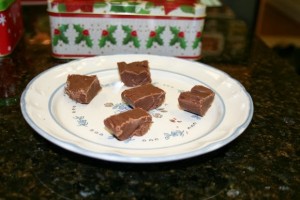 Five Ingredient Fudge
When I was a kid, I used to try to make fudge from scratch. I had my mother's old Betty Crocker cook book, and by "old", I mean…ancient.  1930s? 1950s? At any rate, the fudge came out grainy, runny, and generally like a fudge syrup. I was determined to find a recipe even I, the ultimate "non crafty one" could turn around to make not just palatable but delicious fudge.
And then, many years ago, an office mate gave me these instructions for five ingredient fudge. And that's it: just FIVE, count 'em, five things you need to make this fudge. It's so easy you won't believe it. Every time I make it, my husband wanders in half an hour later and asks, "Are you cooking the fudge?" I smile and say, "It's done!"
Recipe for Five Ingredient Fudge
Here's what you need…
1 bag of semi sweet chocolate chips
1 cup (half a bag) of butterscotch chips
1 can of sweetened, condensed milk
1 teaspoon of vanilla extract
Butter (about 1 tablespoon)
That's it!
The only caveat is, please don't try to substitute, say, margarine for butter. It doesn't work. Make sure you have sweetened, condensed milk.  I have a habit of seeing evaporated milk on sale; it won't work. Sweetened, condensed milk is it.
Ready?
Take your butter and rub it over an 8 x 8″ glass pan. Rub it in good, sides and bottom.
In a saucepan, on the stove top, melt the entire bag of chocolate chips, 1 cup of butterscotch chips, 1 small can of sweetened condensed milk, and 1 teaspoon of vanilla. Stir it constantly and keep the heat low to avoid scorching it.
When everything is melted, pour it into the pan.  You can add nuts if you wish.
Refrigerate for several hours. Cut out the squares and serve. You may need to let it warm up to room temperature if it's very cold; it's nearly impossible to cut when it's ice cold.
That's it! It ships well, by the way….and yes, several of my friend reading this will get a 'care package' of this very special fudge.
Enjoy!