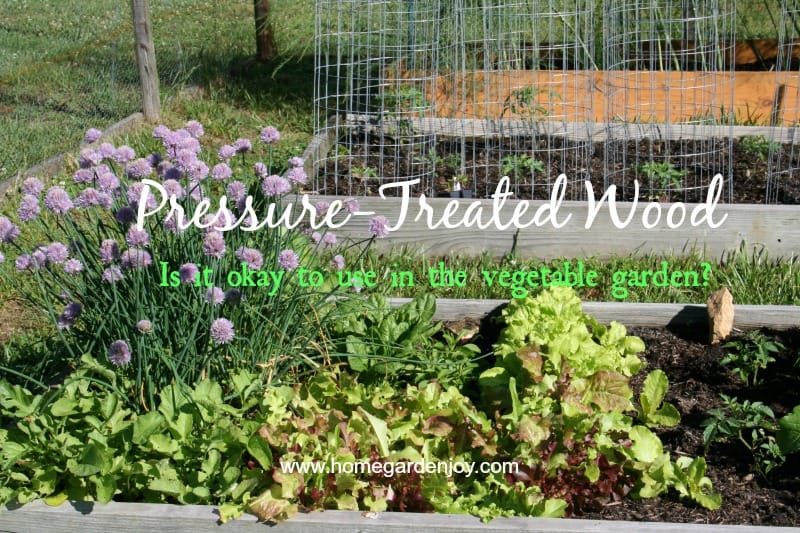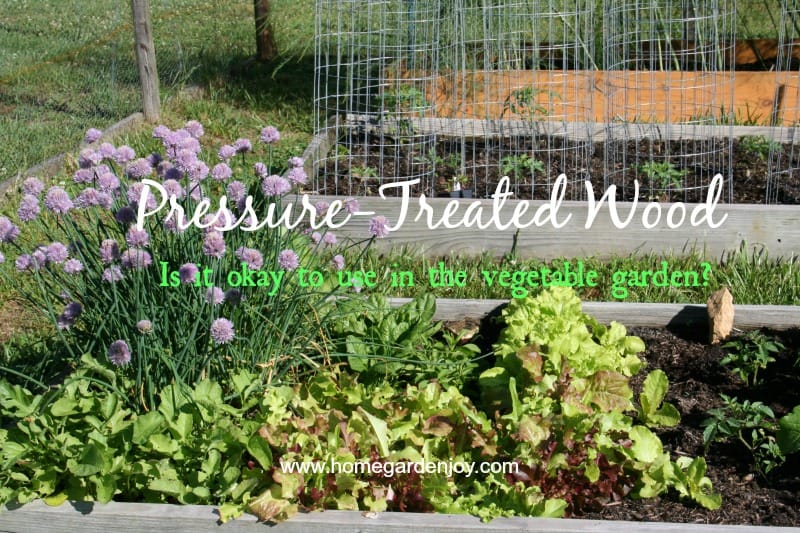 Can you use pressure treated wood in a vegetable garden? After my last several posts on building a raised bed vegetable garden, a few loyal readers wrote to ask if using pressure treated lumber is okay in a vegetable garden. They'd heard rumor, or spoken to friends, and heard that pressure treated wood releases arsenic and all sorts of bad chemicals into the ground, and wondered why I had used any of it in my garden if I'm so concerned with organic gardening. 
Before we built our raised garden beds, we did a lot of research into this topic, and at the end of today's blog post I've listed the links I've found to good research from universities and Master Gardener websites. The answer to whether or not you can or even should use treated wood in your vegetable garden isn't an easy one. There are pluses and minuses, pros and cons, and you have to weigh them carefully against scientific research as well as your own personal preferences and beliefs before you can make an educated decision about what to include in your garden or not.
From a little after World War II to about 2004, pressure treated lumber was treated with yes, pressure, but also chemicals to reduce rotting and insect damage. Some of those chemicals, depending on the wood and the factory treating it, included arsenic, chromium and others. It took scientists nearly five decades to see a connection between pressure treated wood and exposure to workers handling and using the wood. It took a bit longer for researchers to examine if plants are affected, and if so, how that might translate into human health.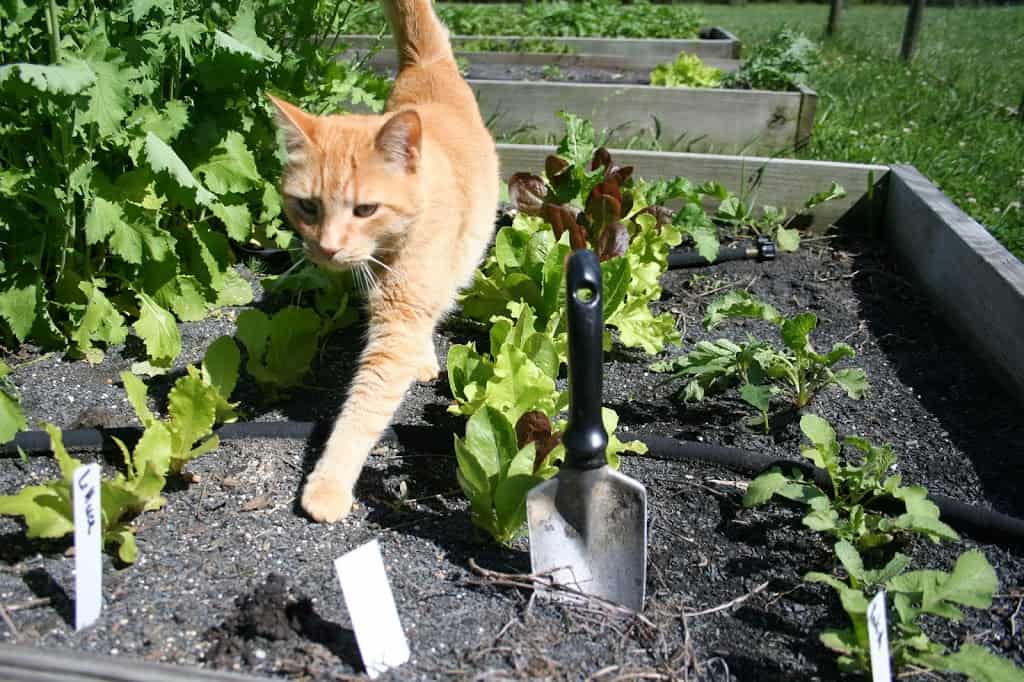 Soil Chemistry and Pressure Treated Wood
The key to understanding and balancing all of the factors involved with using pressure treated wood in the garden is understanding what happens to the wood over time. According to some of the research linked at the bottom of this article, most of the chemicals wash off during the first rainy season. These chemicals may penetrate into the soil a few inches, but not much. From there, the uptake of these chemicals by the plants grown near them depends on several factors. These factors include how much compost is in the soil, the pH of the soil itself, and the plants. Beets tend to absorb a lot of chromium; lettuce and tomatoes take up a bit more arsenic than other vegetables.Compost can also bind harmful chemicals into the soil, rendering them untouchable by the root system. So even if they do leach into the soil, depending on your soil pH or compost amounts, you may or may not get any into the vegetables themselves.
Is it a threat to human health? Apparently not much. The EPA results, cited in some of the links, note that even the amount of arsenic taken up by vegetables grown near treated lumber is within the safety limits for human health. The real exposure danger lies in sanding the wood and breathing in the particles, or working with treated lumber on a day-in, day-out basis.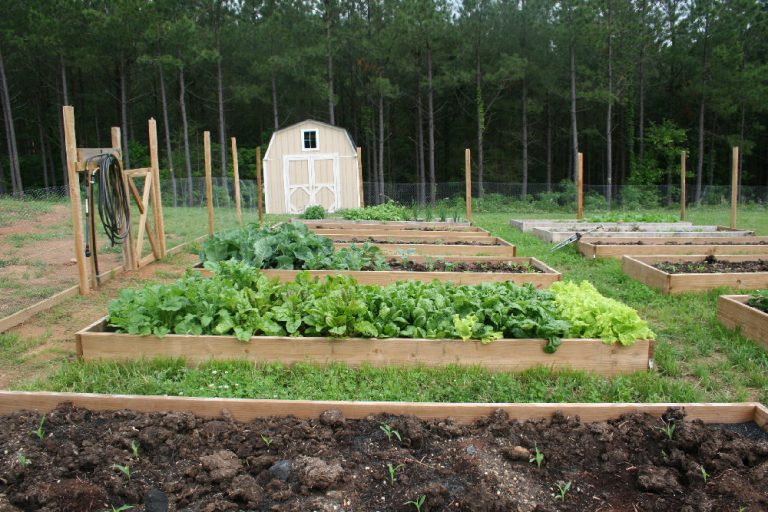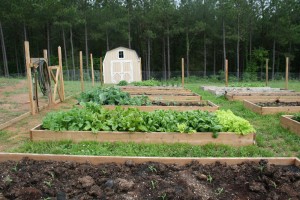 That Was Then…This Is Now: Today's Pressure Treated Lumber Is Different
But that was then, this is now. Since 2004, manufacturers voluntarily removes the worst chemical offenders from the market for household use. The same arsenic concoction used on older consumer lumber products is still used on railroad ties, utility poles and other wood products used in commercial locations, but is not sold to the general public to make decks, play sets and yes, raised bed vegetable gardens.
So what is on that pressure treated lumber at your local Lowe's or Home Depot? A concoction of other chemicals deemed safer.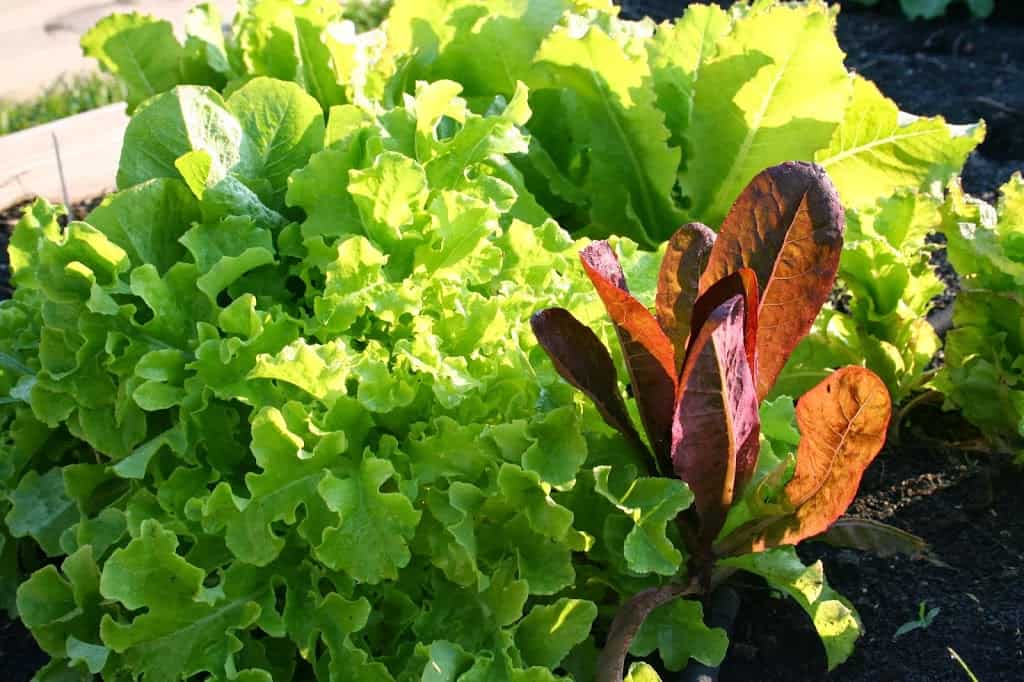 Alternatives to Pressure Treated Lumber
Many of the experts state that coating pressure treated lumber with a sealant helps prevent leaching of any chemicals into the soil, and significantly minimizes anything that does in fact leach out. Cedar is highly rot-resistant and may be less expensive than pine and other woods if you live on the west coast. 
Best Practices
If you do use pressure treated lumber and are worried about chemical leaching, the experts recommend a few steps:
Plant vegetables several inches away from the edges of the wood. The chemicals leaching into the soil cannot travel more than a few inches away from the source, so keeping vegetables away from pressure treated wood may help.
Use sealants to keep chemicals from leaching out.
Avoid cutting or sanding pressure treated wood, which exposes more surface area and chemicals.
Replace pre-2004 wood, which may have been treated with arsenic, with newer products, or seal it with a wood sealant.
There you have it, a summary of what the experts say. Frankly, I think topical pesticide applications add more chemicals to the toxic cocktail on vegetable plants than a bit of pressure treated wood, but that's entirely my personal perspective. Unless you're going for organic gardening certification to sell commercially, you're probably fine with whatever your garden beds are made from, and you can always get your soil tested if you think there's a problem.
Resources Cited
Jeanne Grunert is a certified Virginia Master Gardener and the author of several gardening books. Her garden articles, photographs, and interviews have been featured in The Herb Companion, Virginia Gardener, and Cultivate, the magazine of the National Farm Bureau. She is the founder of The Christian Herbalists group and a popular local lecturer on culinary herbs and herbs for health, raised bed gardening, and horticulture therapy.