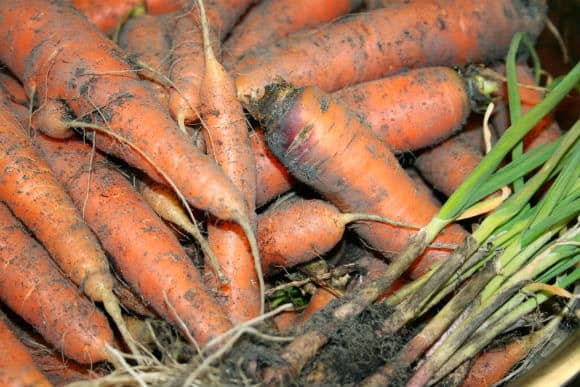 This carrot slaw recipe is a delicious, healthy way to use garden carrots.
Happy Wednesday, gardening fans! I'm now participating in two food-related blogging excursions each week – Fresh Food Wednesday, and Foodie Friday.  This week, we're celebrating the crunchy, Vitamin A infused goodness called carrots. Have you grown carrots? They're easy if you have loose, friable soil. I've grown carrots in containers, too, although you can't grow too many of them. But it's fun, and if you garden in an apartment with pots on a balcony, try it. The secret to growing carrots in containers is choosing short varieties, like Nantes Half Longs and similar ones.
It's too early in my garden to harvest carrots, so I relied on store-bought ones for this week's recipe. You can either catch a great sale on carrots or wait until you have fresh ones from your garden to make the recipes this week.  Today, we're going to make Carrot Slaw. It's like coleslaw but with a sweet tangy that's addictive. On Friday, we'll make a carrot cake from scratch.
But I'm getting ahead of myself. In honor of Fresh Food Wednesday, I present: Carrot Coleslaw or Carrot Slaw.
[Tweet "This carrot slaw recipe is a delicious, healthy way to use garden carrots."]
Carrot Slaw Recipe
To make one quart of slaw, you will need:
3 large carrots
1 slice of onion
1 stalk of celery
1 large apple
1 tablespoon
1/2 to 1 cup of light mayonnaise
Slice the ends off of the carrots and peel them. With a hand grater or a food processor, shred carrots into a large bowl. Dice the slice of onion very fine and add it to the carrot mixture. Remove the ends of the celery, wash well, dice and add to the vegetables. Peel, core and dice one large apple and add to the vegetables along with 1 tablespoon of raisins. Mix well with half to one cup of mayonnaise, as much as you need to mix the ingredients into a salad. Serve immediately and refrigerate the leftovers.
We ate a simple meal on Sunday evening with this salad, hamburgers, and a green salad and baked beans. It was simple, filling, and nutrient-rich.  The great thing about this recipe is that aside from the mayo, it's also a raw food recipe!  Instead of dressing the Carrot Coleslaw with mayo, if you eat a raw food diet, mix with your favorite equivalent dressing. 
Jeanne Grunert is a certified Virginia Master Gardener and the author of several gardening books. Her garden articles, photographs, and interviews have been featured in The Herb Companion, Virginia Gardener, and Cultivate, the magazine of the National Farm Bureau. She is the founder of The Christian Herbalists group and a popular local lecturer on culinary herbs and herbs for health, raised bed gardening, and horticulture therapy.