Is rain water better for plants than ground water? The experts agree…all water is not created equal.
Have you ever noticed how the garden looks better after a rainy day or a good shower during a thunderstorm? I thought it was just my imagination. As I look out my office windows this morning at the flower garden, the plants look greener, perkier. The blooms look more robust. The leaves seem stronger and more upright. No, it has to be my imagination….right?
Is Rain Water Better than Ground Water for Plants
I peer out the back windows down into the vegetable garden and I'm struck by the same thought. The chard looks greener, and I know that's not my imagination, because I'm picking chard every three or four days for my lunch. The tomatoes are also ripening today; on Sunday, I picked one red tomato that tasted like cardboard. It wasn't quite ripe yet. There weren't any other tomatoes even close to ripe on Sunday. Today I counted two that looked promising, with more starting to flush pink and red on their smooth green cheeks. That happened overnight.
My vegetable garden receives plenty of well water through the soaker hoses. So what gives? Yesterday the garden received 7/10th of an inch of rain, according to my trust rain gauge. Is it just more water, or is the quality of the water itself different when it falls from the sky?
As usual, my curiosity was piqued, so I did a little informal online research today. I uncovered the following facts about rainwater versus ground water for the garden:
Rain water, especially rain during thunderstorms, contains more nitrogen than ground water. Nitrogen is the first number in a fertilizer listing – 5-10-5, for example, is 5% nitrogen, 10% phosphorous, and 5% potash (potassium).  Nitrogen greens leaves. The first number helps leaves, the middle number boosts flowers, the last number boosts roots. Nitrogen is a macro nutrient that plants need.
Ground water doesn't lack nitrogen, but the soil tends to add various organic salts to the water as it percolates through the soil particles. These salts interfere with a plant's ability to absorb nitrogen. It's not that ground water lacks nitrogen, it's that it contains other chemicals which may hinder a plant's ability to absorb nitrogen.
Thunderstorm rain contains the most nitrogen because of lightning.
Other particles in the air from pollution, including nitrogen, descends in the dirt particles attached to rain. These also feed plants!
On the whole, then, rain water IS better for the garden than ground water. It's not my imagination.  I can't control rain, and I can only hope and watch the weather forecasts. This summer we actually have too much moisture. Look at my
miniature rose
, below: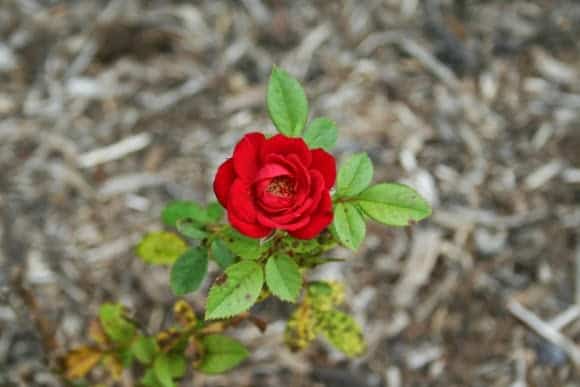 Can you see the yellowed leaves and black spot on the leaves? Black spot is a fungal disease, and all of my roses are typically attacked by black spot during Virginia's humid summers. However, this year, even the rose relatives like the wild blackberries exhibit black spot, and rust, another fungal disease, appeared on the native sweet bush growing on the forest edges. It's unusual to see that on wild plants. Most exhibit better disease resistant than the tender hybrids like my miniature tea rose, above.
I'm not complaining, though. The more rain, the better for the garden and for my water well. Rain replenishes the soil and nurtures the plants. Rain, rain go away? Not for a gardener!