Signs of deer damage are easier to recognize than you'd think. Neatly trimmed (bitten) off branches, and favorite plants like hosta eaten to the ground are all signs of deer damage.
Bambi may be cute in the movies, but the damage that she does to your home garden can be extensive. Before I moved to rural Virginia, I'd never seen deer damage in the garden up close and personal. Rabbits, sure. Slugs, of course. But deer? Never.
The first year I planted hosta in my shade garden, every single one disappeared. I thought they had simply died, but I planted annuals instead each year in the same area of the garden. This year, I divided hosta in the garden near our patio, and planted the divisions in the shade garden area. They were just starting to take root and flourish when I went outside to water them a few evenings ago and saw this: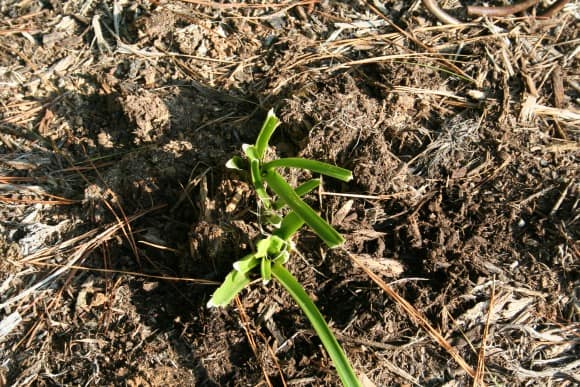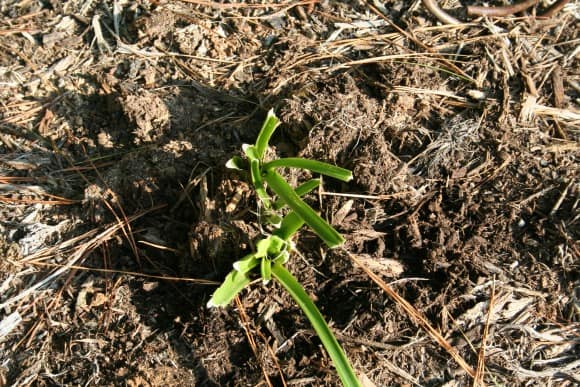 This is a classic example of deer damage.
Typical Signs of Deer Damage.
Deer leave telltale signs when they munch on ornamental plants:
Leaves, stems and flowers completely bitten off, as in the photo above. Rabbits tend to nibble and insects eat around the margins of leaves or in the center, but rarely chomp off entire leaves like this.
Trampled plants near the eaten plant. Deer hooves smash nearby plants. In the photo above, there were ferns growing to the right, more transplants from areas of my garden. One was ground into the soil from a hoof.
Bark rubbed on nearby trees.
Deer droppings or scat left nearby. Deer droppings look like rabbit droppings, only larger. Think black marbles.
I created this infographic to show you the points made above:
Hosta are like candy to deer. I grow them successfully directly against the house, but whenever I try to grow them in the perennial garden near the woods, this is the result.
If anyone tells you a plant is "deer proof", they don't know what they're talking about. No plant is completely deer proof! Hungry deer will eat anything – anything! However, there are some plants they love, and some they avoid if they can.
The key to gardening successfully in areas where white-tailed deer are prevalent is to plant deer resistant varieties. Rutgers University published a paper on deer-resistant landscape plants (you can download it here). If your garden, like mine, is on a path frequented by deer, be smart and plant deer resistant plants. Or else accept the fact that some, like my poor hosta above, will get eaten by the deer.
Some gardeners swear by products like Milorganite, an organic compound that has a scent that is said to repel deer. Home remedies abound. For example, I've heard of deer repellent recipes that include human hair, dog hair, strongly scented soaps like Irish Spring or Life Buoy, or other scents to repel deer. None have proved effective in my garden. I brush my long haired German shepherd dog, Shadow, daily, and leave piles of her hair around the garden. Aside from giving the local bird population some nice soft dog hair to line their nests with, it doesn't do anything to repel deer. I've tried sprays, but not Milorganite – a neighbor swears by that product but I can't vouch for it. The only thing I've found to be effective is to plant perennials and shrubs that deer find distasteful.
If Bambi frequents your garden, learn from my mistake. Plant hosta near the house, like this patch in my garden, below, if you love the plant as much as I do. If you plant it where deer can access it easily, enjoy the stubs, because that's all that will be left!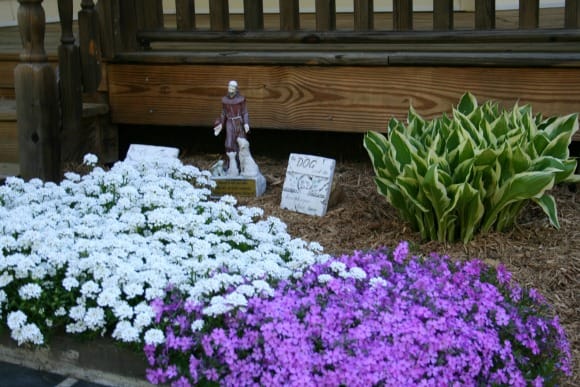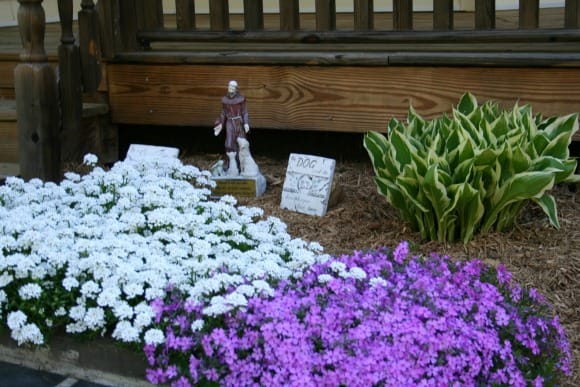 More Gardening Articles
If you enjoyed this article, you may also enjoy:
Jeanne Grunert is a certified Virginia Master Gardener and the author of several gardening books. Her garden articles, photographs, and interviews have been featured in The Herb Companion, Virginia Gardener, and Cultivate, the magazine of the National Farm Bureau. She is the founder of The Christian Herbalists group and a popular local lecturer on culinary herbs and herbs for health, raised bed gardening, and horticulture therapy.