September garden tasks include harvesting the remaining sweet potatoes, preserving the herbs and vegetables, and the ever-present weeding.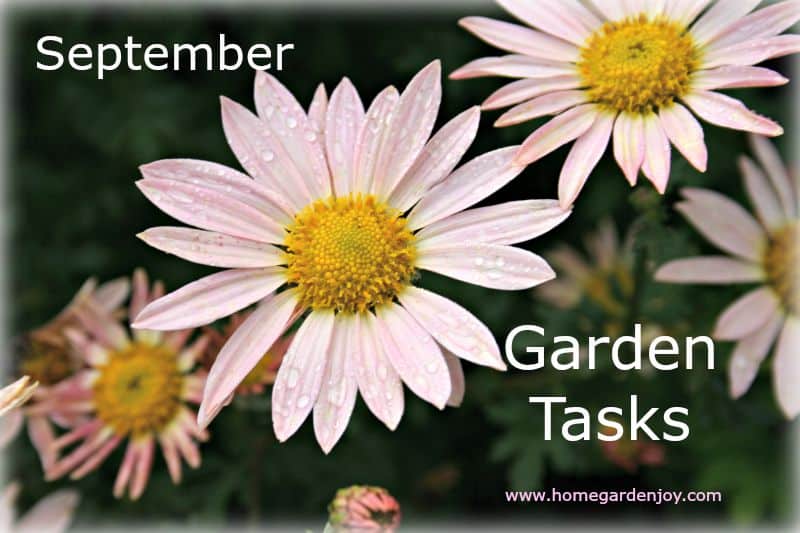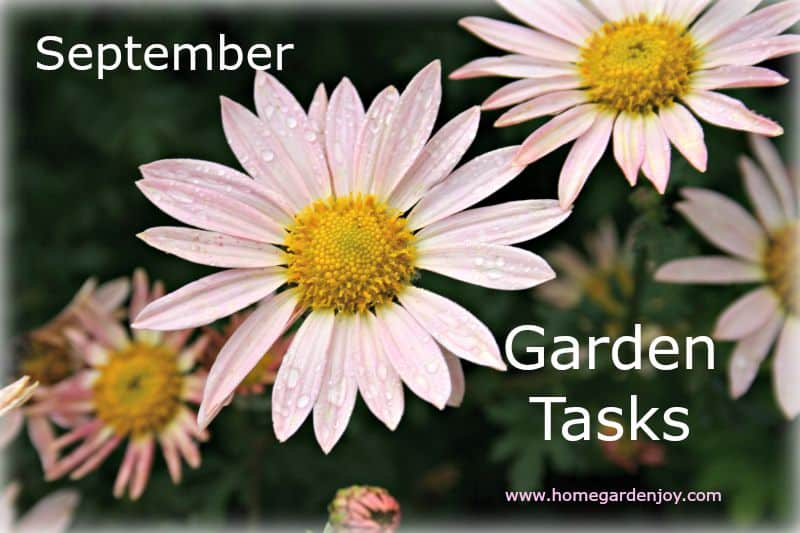 I can't believe it's already mid-September and a few days away from fall! Well, I guess I can believe that since I've got a long sleeved t-shirt on today and the leaves on the tulip trees at the edge of our woods are starting to turn yellow. It's truly the start of fall here at Seven Oaks Farm.
I love fall for many reasons…but not for pumpkin spice everything. I'm not a huge fan of pumpkin spice lattes, donuts and you name it. I do love apples though, and this fall, we're going to celebrate apple season as well as pear season here at Seven Oaks with plenty of posts on growing, cooking and enjoying both apples and pears.
At this time of year, the garden is winding down. My flower beds are filled with weeds, especially dandelions and grasses of various sorts. I usually finish weeding by November. That's the time when I clean up the perennials and cut many of them back. I also take down the morning glory vines from the trellis then. The seeds get everywhere, but it's part of the fun of growing morning glories!
September Garden Tasks
The main task for me this weekend, however, isn't in the flower bed. It's in the sweet potato bed. The sweet potatoes are ready to harvest. It's a messy, time consuming and back breaking job, but I love sweet potatoes and cooking with them.
I harvest the sweet potatoes by hand. I go to the original mount and dig with gloved hands, pulling up the potatoes and placing them into one wheelbarrow. I use a second wheelbarrow for the vines. The vines are composed at the edge of the woods.
I am going to store the smallest tubers and try growing my own slips next spring. Slips are the tiny cuttings you use to start new sweet potato plants in the spring. I'm also going to experiment with some vine cuttings, trying to keep them alive over the winter. I don't know if this is possible, but the experiment will be interesting. I'll share the photos with you. I'll also try to document the harvest tomorrow if I remember to bring my camera outside!
Other garden chores on the list tomorrow include:
Harvesting the last crop of beets.
Pulling up the green bean plants – most are spent. If I get enough green beans, I'll combine them with the bag of previously harvested beans and cook some  up for Sunday supper as well as can some on Sunday.
Pull out the pepper plants. I got a whopping two peppers this year and the plants are still struggling. Something was very wrong with them or with the soil. I'm still investigating it.
Pull out some of the tomato plants that are struggling.
Harvest and dry more basil and catnip. I'l sewing up catnip mice now for my own kitties and for friends, and if they come out nice I'll sell a few as fundraisers for the local SPCA.
If you would like more tasks lists by month, I have a whole page of FREE downloadable monthly garden tip and task lists. Visit Garden Guides: Monthly Gardening Task Lists.
What do you have on tap this weekend in your garden?
Have a great weekend and enJOY it!
Jeanne Grunert is a certified Virginia Master Gardener and the author of several gardening books. Her garden articles, photographs, and interviews have been featured in The Herb Companion, Virginia Gardener, and Cultivate, the magazine of the National Farm Bureau. She is the founder of The Christian Herbalists group and a popular local lecturer on culinary herbs and herbs for health, raised bed gardening, and horticulture therapy.