These quick and easy fall flower bed ideas can transform a blah landscape into a beautiful one. A few plants, a little digging, and voila – gorgeous landscape!
Easy and Beautiful Fall Flower Bed Ideas
With these fall flower bed ideas, you can keep your garden looking beautiful until snow blankets the ground. Just because the days are grow shorter, and the weather turns colder doesn't mean you have to give up on your flower garden. These fall flower bed ideas can transform your front garden or landscape into a colorful accent until the first hard frost.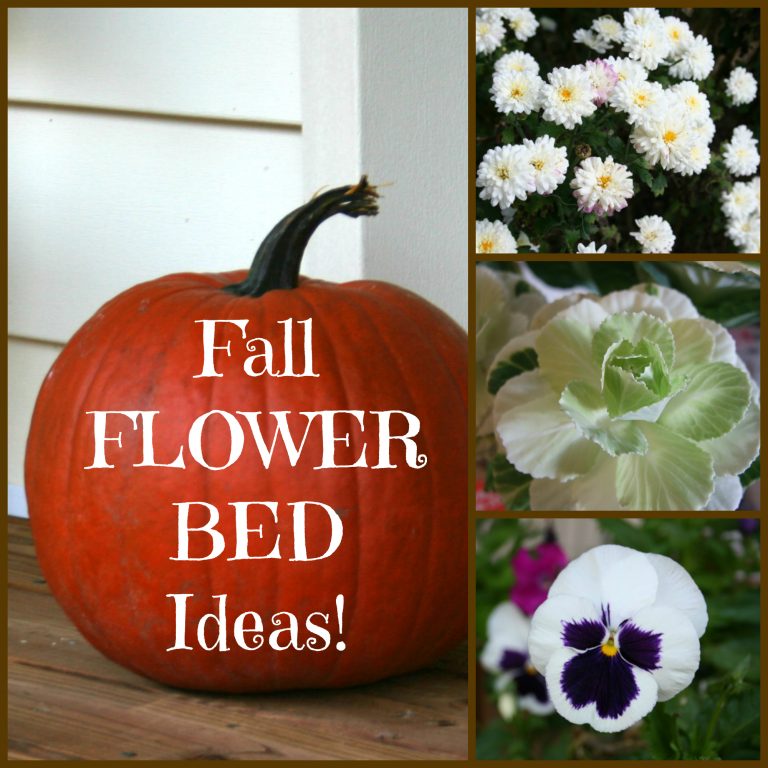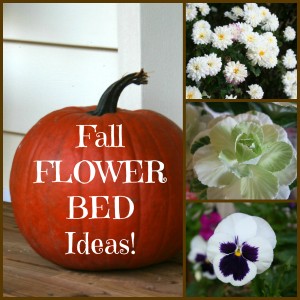 Easy Fall Flower Bed Ideas: What to Plant
Most summer annuals die back during the cold weather or cannot sustain flowering. Impatiens, a favorite summer bedding plant in many gardens, dislikes cold weather and turns yellow and straggly during cooler temperatures until finally dying during a frost.
However, several flowers will thrive in your fall flower bed.
Pansies: Pansies aren't just for the spring. They love cool weather and can tolerate temperatures at night near freezing. Just don't let them get completely frozen, and they'll do just fine. You can find pansies in many garden centers during the fall months or start them from seed.
Chrysanthemums: Mums of all types look great in the fall flower bed. Look for short, pincushion mums for edging plants, and consider adding some perennial mums to dot the landscape for yearly color in the fall.
Ornamental cabbage and kale: Although technically not flowers, these colorful autumn plants add shots of brilliant purple, pale lime green and other colors, as well as interesting texture contrasts from their crinkly foliage, to the fall flower bed. You can use them as accents or even window box plants.
Spring Flowers? Yes, They Love Cool Weather!
Several other spring and summer flowers will survive cooler temperatures. If you already have these in your garden, leave them the garden until a hard frost kills them back. Then, clean them up so that the dead plants won't spread diseases in the garden.
Petunias: Petunias actually like cooler temperatures especially cool evening temperatures. You may find that petunias actually revive during September and October thanks to the warm days and cool evenings. Keep them well-watered until the first hard frost of the season.
Geraniums: Like petunias, geraniums can tolerate some evening chills, but probably nothing colder than 50 degrees F at night. Cover up containers or bring pots inside if a temporary cold snap threatens.
Marigolds: Although considered a hot weather plant, I've had marigolds bloom here in Virginia right until November. As long as a truly hard, long-lasting frost doesn't descent on the garden, marigolds will continue blooming for as long as they can. Don't forget to harvest their seeds, which are easy to pick and store once the seed pods turn brown and dry.
Simple Fall Garden Bed Ideas and Designs
I've put together three simple designs for fall garden beds. The first is a window box design, the second a planter, and the third, a flower bed. For each design, all you need are pansies, mums and ornamental cabbage. Choose any colors that you like, but keep in mind that grouping similar colors together produces a calming, harmonizing effect, while including a kaleidoscope of colors creates an informal effect.
In this first design, a window box idea, you simply use one large mum in the center as a focal point. Plant two pansies on either side of it. I like to plant one closer to the front edge of the box and one a little behind so that it doesn't look like a line of soldiers marching on ahead.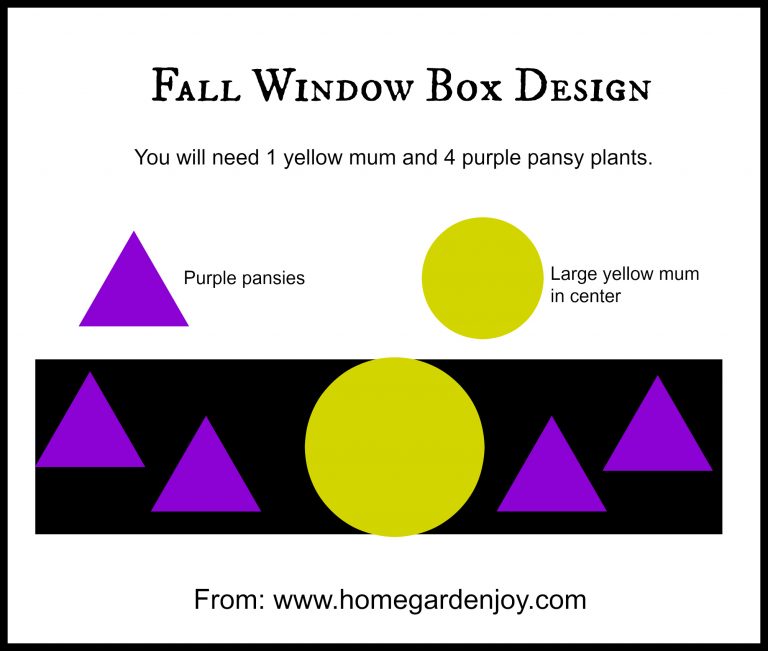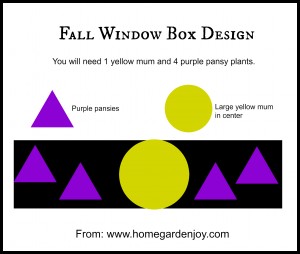 For the garden bed design, I've grouped three large mums in a line near the rear. Then, I've used ornamental cabbage planted in a slight V shape around the mums to bring more color and texture into the garden bed. Lastly, I've filled in the open areas with pansies – lots of pansies. Feel free to plant more than I've indicated if you love pansies as much as I do!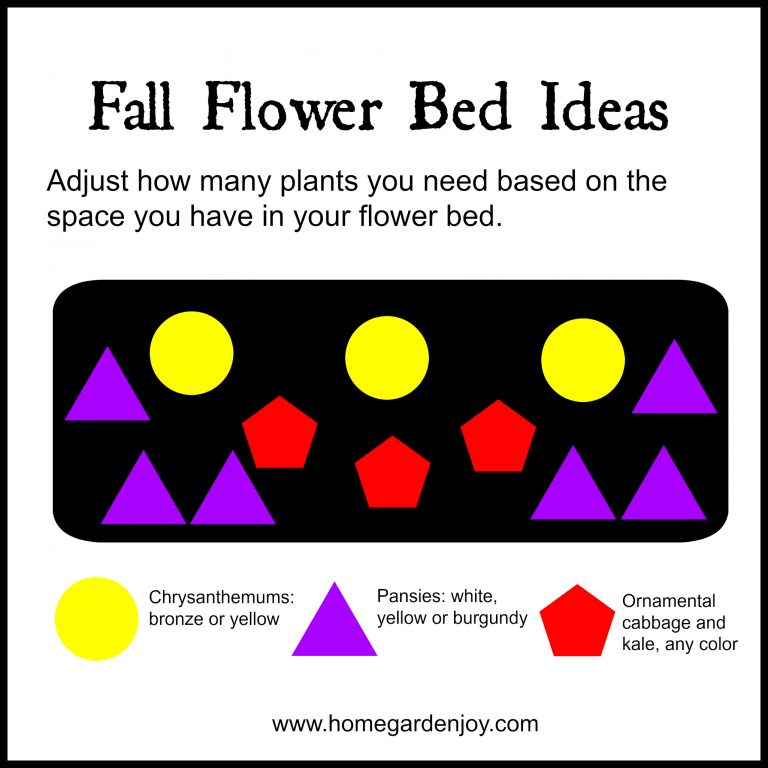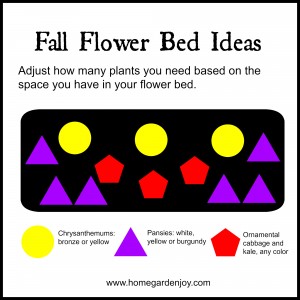 Now your garden is ready for the fall and to greet trick or treaters for Halloween and guests for Thanksgiving. I'd love to see photos of your fall flower garden ideas, too, so do let me know using the comment box if you have photos to share.
First Published: October 2014
Jeanne Grunert is a certified Virginia Master Gardener and the author of several gardening books. Her garden articles, photographs, and interviews have been featured in The Herb Companion, Virginia Gardener, and Cultivate, the magazine of the National Farm Bureau. She is the founder of The Christian Herbalists group and a popular local lecturer on culinary herbs and herbs for health, raised bed gardening, and horticulture therapy.