This easy recipe for Sweet Potato Soup uses homegrown sweet potatoes, carrots, and other vegetables from your garden. If you planted a raised bed vegetable garden this year, it's time to cook with food from the garden.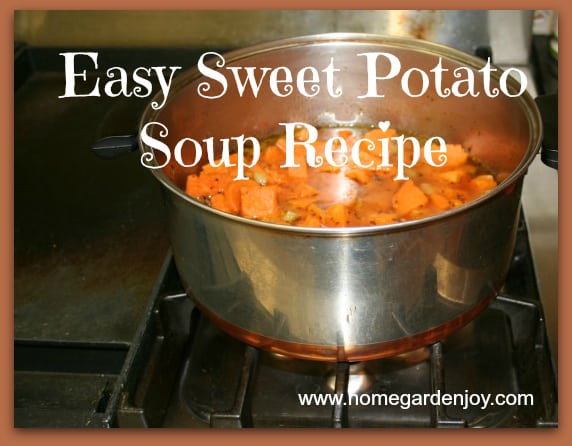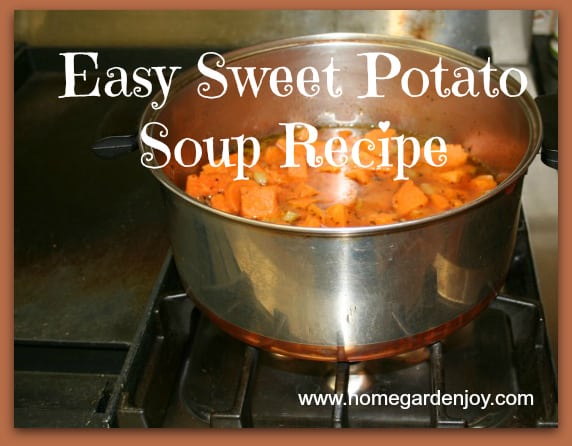 This sweet potato soup recipe is so easy to make even those new to making soup from scratch can make a great pot of soup. You need just six ingredients and time. Time is probably the hardest commodity to find, but you can leave the soup simmering and cooling and go off to do other things like weed the garden.
I had a huge sweet potato already peeled in the fridge. I simply cleaned it up and diced it into small chunks, then cleaned two additional smaller sweet potatoes for good measure. The result was a thick, creamy puree that was almost like mashed sweet potatoes with savory spices – absolutely delicious on an October day.
Sweet Potato Soup Recipe
You'll need a large pot or Dutch oven and a blender to make the soup.
Ingredients
1 to 2 pounds of fresh sweet potatoes
2 cans of chicken broth
1 cup of diced celery
1 small onion, peeled and diced
1/2 teaspoon of dried basil
2 tablespoons vegetable oil
Dice the celery and peel and dice the onion. Heat the vegetable oil in the pot, then cook the onion and celery until soft. Peel the sweet potatoes and dice them into cubes. Carefully pour the chicken broth into the pot with the celery and onion, then add the sweet potatoes and basil. Simmer for 30 minutes or until sweet potatoes are soft. Take the pot off of the heat and allow it to cool for another 30 minutes or more, then transfer to a blender in small batches. Puree and refrigerate until ready to serve. Heat before serving. Garnish with raw pumpkin or sunflower seeds. Delicious!
Makes about 8 one-cup servings.
Other Easy Soup Recipes You May Enjoy
Check out these other easy homemade soup recipes on Home Garden Joy, perfect for fall!
Jeanne Grunert is a certified Virginia Master Gardener and the author of several gardening books. Her garden articles, photographs, and interviews have been featured in The Herb Companion, Virginia Gardener, and Cultivate, the magazine of the National Farm Bureau. She is the founder of The Christian Herbalists group and a popular local lecturer on culinary herbs and herbs for health, raised bed gardening, and horticulture therapy.