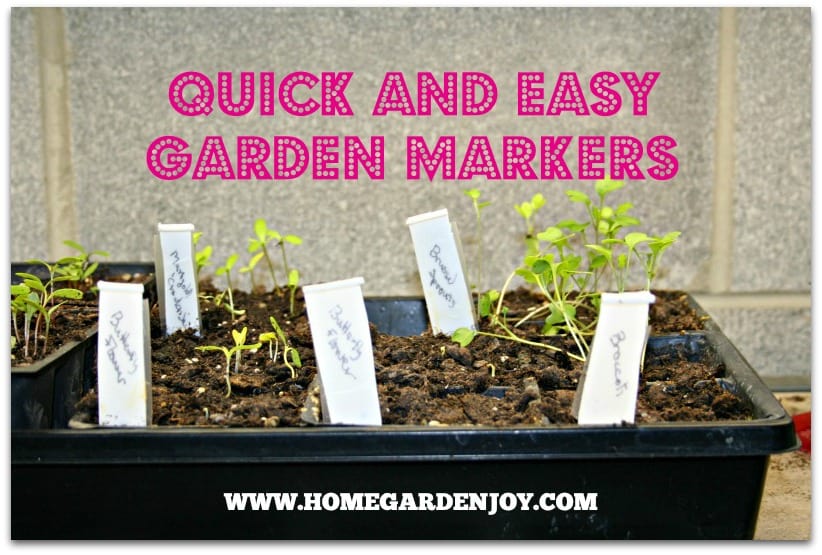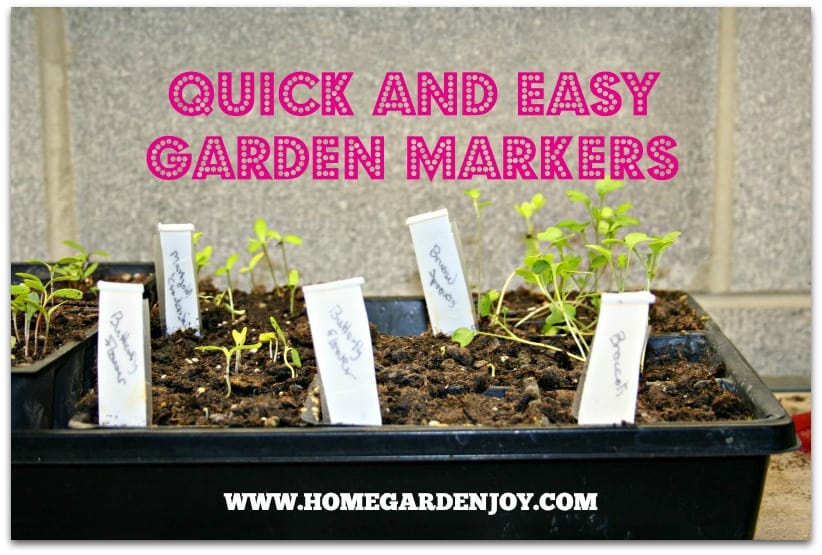 Have you seen some of the insanely creative ideas people have come up with and shared on Pinterest to make plant markers? I've seen rocks painted to look like books, rocks painted to look like veggies, and spoons stamped with plant names. Really, some people make their plant markers into works of art.
I'm not very handy or "crafty" so I have to settle for what I know I can do…and that means focusing on 1) easy and 2) cheap, because I am, as they say, "thifty" when it comes to my gardening accessories.
So without further ado, I give you my latest two plant marker projects.
Quick and Easy Plant Marker Ideas
#1: Spray Painted Rocks
You'll either think these are awesome and clever or so stupid they should have been left as rocks. My husband thinks I'm nuts, but I like the gold spray paint. We had a few cans of it in the basement from when I spray painted a metal plant stand a few years ago, so I simply found some rocks that had a flat side, spray painted them, and used black craft paint to paint the vegetables names on them.
I tried using some pink paint we had in storage, too, but the rocks turned the color of Pepto-Bismol. I don't know about you, but when I think delicious, appetizing vegetables….I don't want to think about Pepto-Bismol, much as that particular remedy has saved my sanity on occasion. The pink rocks will be painted again.
#2 Plastic Frosting Cans and Tape
If you bake cakes, you probably purchase commercial frosting. Most frosting comes in plastic cans. After cleaning the frosting cans and removing the paper labels, I use scissors to cut the bottom off, then I cut small, thin plastic strips from the can. I put a piece of Scotch Tape over the plastic, the kind of tape that has an opaque look to it (not shiny and clear.)  A Sharpie marker or another waterproof marker makes the plant name crisp and clear. Writing it on the tape also makes it easy to remove at the end of the growing season; just pull off the tape, clean the markers, and store them for next year.
Sure, you can buy plant labels, and I have purchased them at the garden center. You can recycle Popsicle sticks. You can spend hours hand-stamping letters onto gorgeous serving spoons purchased at a garage sale, or hand-painting rocks into tomato shapes. These ideas are all wonderful, but for the "craft challenged" like me, these ideas are quick, easy and get the job done.
Share you ideas for plant labels here in the Comments field!
Jeanne Grunert is a certified Virginia Master Gardener and the author of several gardening books. Her garden articles, photographs, and interviews have been featured in The Herb Companion, Virginia Gardener, and Cultivate, the magazine of the National Farm Bureau. She is the founder of The Christian Herbalists group and a popular local lecturer on culinary herbs and herbs for health, raised bed gardening, and horticulture therapy.