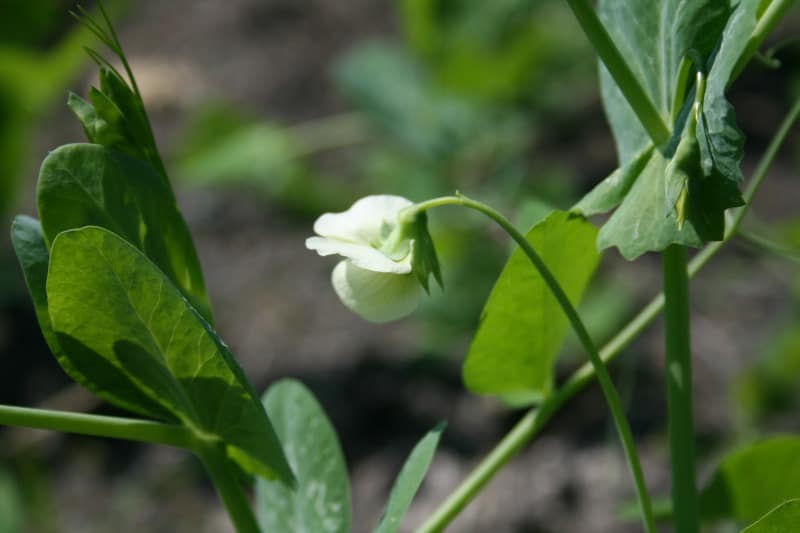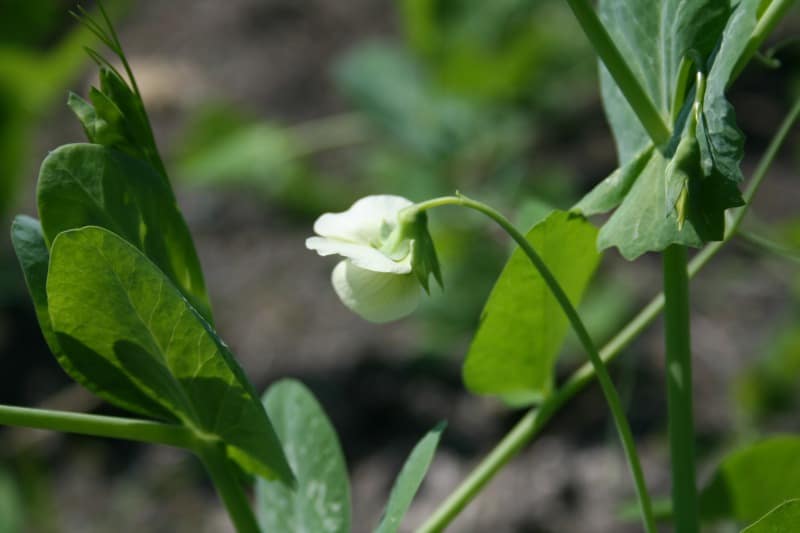 The green pea harvest is in full swing, and this is the best harvest I've ever had. I'm talking about several POUNDS worth of sweet green peas. I shelled peas for over an hour yesterday, netting approximately six or seven cuts of tender green peas. I love eating them raw on top of salads, and my husband loves them cooked, but you can only eat so many servings of peas by themselves. The plethora of fresh peas and herbs in the garden called to mind a recipe I'd read a while back for risotto, so I went on the hunt for the recipe. Armed with the ingredients list, I went to the grocery store…and promptly decided to make my own recipe up from what I had on hand.
Don't get me wrong; I love risotto. I could eat it every day. Okay, maybe not every day – there would have to be pizza, pasta and salads in there somewhere. But I do love the rich, creamy taste of risotto.
What I don't love about risotto is the price for Arborio rice. Six dollars for a small jar of it? Hello, what is this stuff – gold? I paid about $5 for 10 pounds of white rice. There's no way I am going to pay $5 per pound for rice when I can get it for 50 cents a pound!
I know what you're thinking. Purists will say that only Arborio rice makes risotto. Well, I beg to differ. Although my dish uses different ingredients and a different cooking method, the taste is very similar to risotto. And isn't it the taste that counts?
This recipe made enough for four servings and the leftovers were wonderful. I hope you enjoy it!
Chicken, Fresh Peas and Spring Herb Risotto
Makes four 1-cup servings
Ingredients
One boneless chicken breast cut into small pieces
Four tablespoons of butter
1 tablespoon olive oil
2 cups chicken broth
1 cup of white rice
1 cup of fresh or frozen green peas
1 teaspoon of minced fresh basil
1 teaspoon of minced fresh parsley
1 teaspoon of minced fresh chives
1 slice of onion, diced fine
1/2 cup grated Parmesan or Romano cheese
Heat the chicken broth and 2 tablespoons of butter in a stock pot with lid. When it boils, add the rice, cover, and turn to simmer. Simmer for 20 minutes.
While the rice cooks, cook peas on the stove top or according to package directions in the microwave if using frozen. Drain the cooking liquid. Set aside.
In a large skillet, melt the remaining two tablespoons of butter and the tablespoon of olive oil. Add chicken, sauteing until brown and no longer pink in the center, about 10 minutes. Add onion and stir constantly; add herbs. Turn off the heat and let it sit until the rice is done.
Add the rice and peas to the chicken, onion and herb skillet mix. Heat gently over low heat. Just before serving, stir in half cup of grated Parmesan cheese. Serve warm with more Parmesan or a sprinkle of shredded low fat mozzarella.