I was writing about garden pots in an article, casually using phrases like "make sure there's good drainage" and "make sure the pot is slightly larger than the root ball" and I realized, "What if people don't know what makes a great garden pot?" This series on types of garden pots, and the pros and cons of each, should answer all your questions about choosing garden pots and containers…without making new gardeners feel dumb!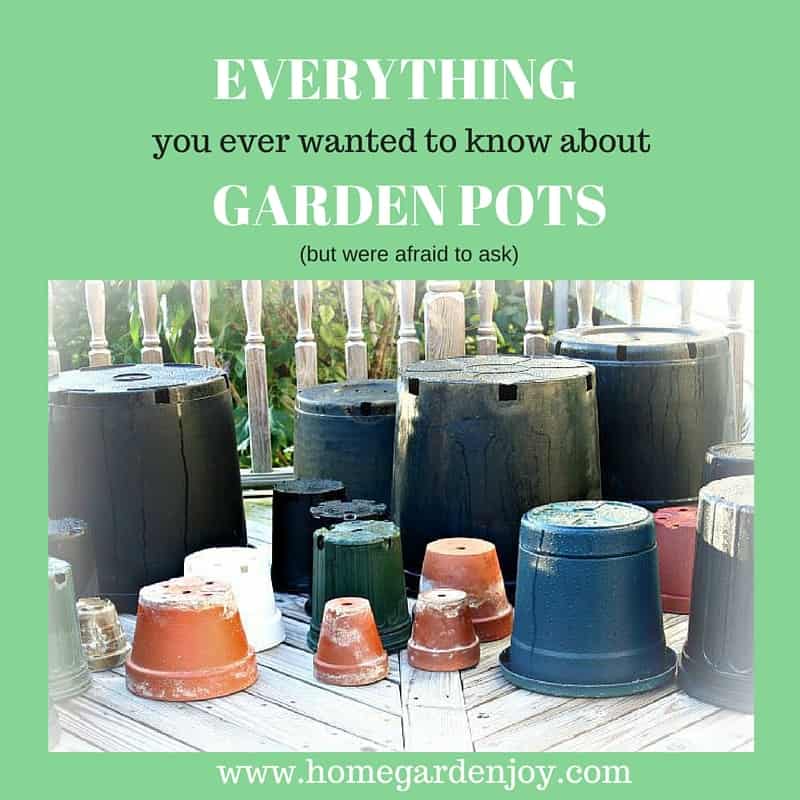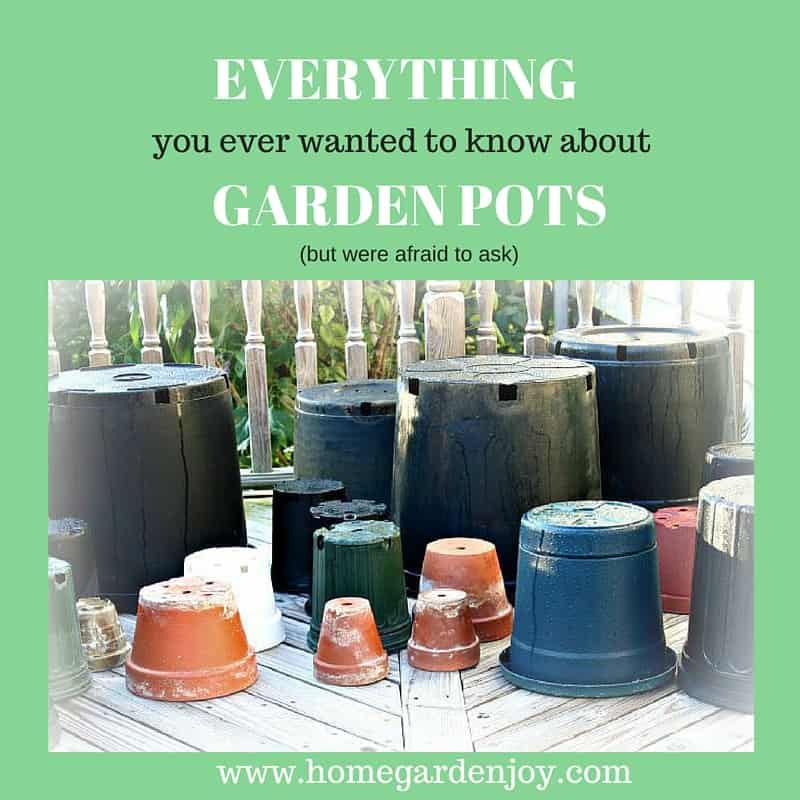 Types of Garden Pots
Walk into any nursery and garden center and you'll be faced with myriad choices of garden pots. Colorful, decorated ceramic pots, big plastic pots, formed resin garden containers, clay and stone pots…which should you choose? Is your choice based solely on aesthetics, or is there some benefit to the plants by choosing, say, a clay pot versus a plastic pot?
In this series of articles, I'll share with you the different types of pots, containers and more in which to grow plants. I'll help you understand the differences between each, and why one might be better than another. I'll walk you through the pitfalls of certain pots, and how to use what you may already have in your shed or garage. Lastly, I'm happy to answer any questions you may have about garden pots and garden containers, so drop me a note in the comment box under a post to ask a question. Check back for the answers, which will be left as replies to comments.
Garden Pots and Containers
This weekend, my husband needed to go into the crawl space under our house to fix a wire for the television antenna. He found a whole stash of garden pots and containers I'd forgotten I had. Boy, was I embarrassed!
We went through the pots, throwing out some and keeping others. I washed the remaining garden pots to put away in the shed so that I can find them more easily. As I tossed aside some of them, my husband asked, "Why are you throwing that one away?"
I spoke without thinking, talking about poor drainage holes, flimsy construction, and more. It was only after I returned to my office and began writing an article in which I casually mentioned which garden pots to select that I realized I took it for granted that new gardeners and casual hobby gardeners know their way around the various containers and pots available to the gardeners.
There are four general types of garden pots or containers available to purchase:
Plastic garden pots are the most common type of container for plants. Many plants are sold in plastic containers, but you can also buy them separately when transplanting your house plants. They're economical, easy to clean, and usually rather plain.
Resin pots are made from a heavier plastic. Many are molded with fanciful designs or using resins with colors and textures added to mimic stone.
Clay pots are made of porous red clay or terracotta. They are heavier, have a drainage hole in the bottom, and are quite heavy. Clay pots are typically used for plants that like it dry (think cacti).
Cachepots are decorative pots or containers. They are usually made of ceramic, but can also be made from metal or plastic.
Of course there are more types of garden pots and containers available, but these are the four that you'll see most often at your local "big box" store or garden center, and the four that most gardeners end up with in their collection.
Over the next several days, I'll add more specifics on each type of pot or container. This should help you choose the best one for your plants.  In the meantime, happy gardening!
More Articles in this Series on Garden Pots