Have you ever wondered how to organize recipes that you've printed, clipped or saved in paper format? Each January, I complete what I've dubbed "the great recipe purge". Friends suggested I share with you my method of how to organize recipes, so here goes. I hope it's helpful!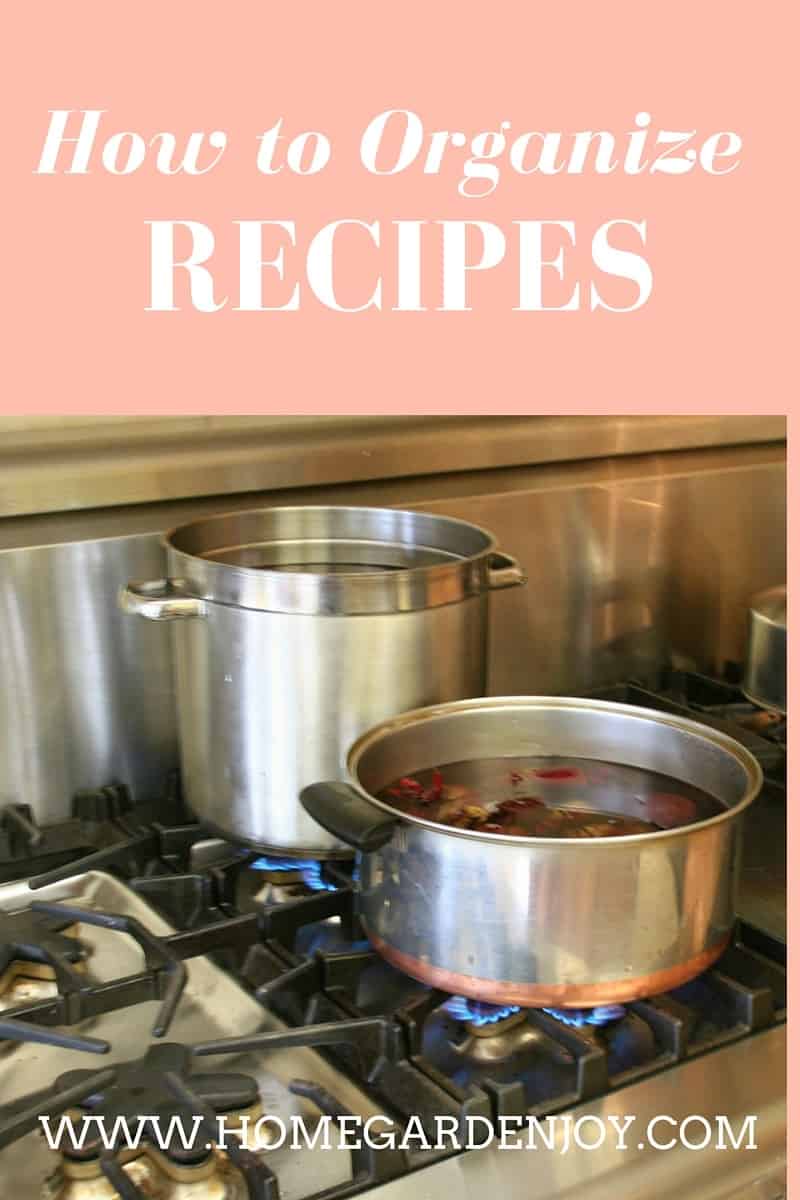 How to Organize Recipes
I love to cook and bake. I'm an inveterate recipe saver, too. Sure I have a Pinterest board devoted to Recipes. I have a little ebook I give away of recipes to all who subscribe to my newsletter. But I also have a drawer STUFFED with recipes in my kitchen. So this blog post is for all you cooks who also print out recipes with all good intentions of making them.
Do you have that drawer? The one where all good intentions go to die? I bet you do. We all do.
It's time to clean out that drawer and organize those recipes.
You'll need:
A 3-hole punch
Two three-ring binders, each with different colored covers
Printed recipes
Three-hole punched plastic sleeves for your most frequently used recipes
Purge Your Printed Recipes
Once a year, I go through all of my printed recipes. I throw out any that I know now I will never make. My criteria for recipes I'll never make are any that I've printed out that require hard-to-find ingredients. I live in a rural place with very few shopping options, so unless I'm willing to order special ingredients online, I've got to stick to ingredients I can grow in my garden or find at a local supermarket or Wal-Mart.
Next, I throw out recipes I made that we didn't like. Leg of lamb in the Crock Pot? I liked it, my husband hated it and said it ruined a good piece of lamb. Uh-oh. Out it went.
Lastly, I throw out recipes that I clipped because boy oh boy, that picture looked good, but on second thought I just know that making it is going to be a hassle…or the calories aren't going to be worth the taste. I'm talking about all those frothy drink recipes, super-fancy cupcakes and cakes, and Christmas cookies that look like mini snowmen, reindeer or elaborate nativity scenes, none of which I have the talent to make. Out they go.
Sort Recipes Into Dinners (Food) and Desserts (Sweets)
Take the remaining pile of printed recipes and sort them into two piles.
One pile should be for FOOD – as in salads, soups, and dinners.
Another pile should be for SWEETS – as in desserts, cookies, cakes, candies or other treats
Take the two binders you've purchased and choose one for FOOD and the other for SWEETS. You can make up a pretty cover for yours if you wish and print it out on the computer, inserting it into the plastic sleeve.
Organize Your Recipes by Popularity
When I looked at my recipes, I knew immediately which ones I'd make several times a year, and which ones would be made just for special occasions. The strawberry jam recipe was a hit, but I only make it when I have extra berries from the garden in May and June, so that went near the back of the book. The recipe for Waldorf salad, broccoli salad, Chinese Crock Pot Chicken, and many other recipes my family loves I placed in the front of my binder.
I organized recipes like this:
Recipes I make often (more than a few times a month) I slipped into clear plastic sleeves to keep them clean. I placed these at the front of the recipe binder.
Next, I used the three-hole punch and punched holes into the remaining print outs.
Recipes I would make more than once a year came next.
Recipes I make for special occasions are placed next in the binder, close to the end.
Recipe that I haven't made yet but that I still intend to try are placed at the end of the binder.
Make a List of Potential Meals to Organize Recipes and Meals
One additional time-saving tip I can share with you is to make a list of your family's favorite meals, grouped by main ingredient. List all beef recipes they like, chicken and so on. Then, print out that list and place it as the first page in your three-ring binder. Whenever you get stuck for inspiration, and you're staring at a freezer full of ingredients without a clue what to make for dinner, just turn to your list and pick a meal.
It's a simple idea to organize recipes but one that ensures you will always have plenty of ideas on hand for nights when you're tired, stressed or late coming home! I included a few meal ideas on my list that I can make in under 15 minutes for those crazy-late-night-stressed-out evenings, as well as meals for company, etc.
Recipe Ideas
Would you like to try some new ideas? I have many free recipes on my blog. Fridays are generally Foodie Fridays around here where I share great new recipes with an emphasis on "recipes from the garden", or recipes to cook what you grow.
For winter time, I suggest:
Happy organizing and make it a great, healthy, family meal year!


Jeanne Grunert is a certified Virginia Master Gardener and the author of several gardening books. Her garden articles, photographs, and interviews have been featured in The Herb Companion, Virginia Gardener, and Cultivate, the magazine of the National Farm Bureau. She is the founder of The Christian Herbalists group and a popular local lecturer on culinary herbs and herbs for health, raised bed gardening, and horticulture therapy.