These are my favorite and five best asparagus recipes for spring. If you love spring's first tender spears of asparagus from the garden, try these on for taste!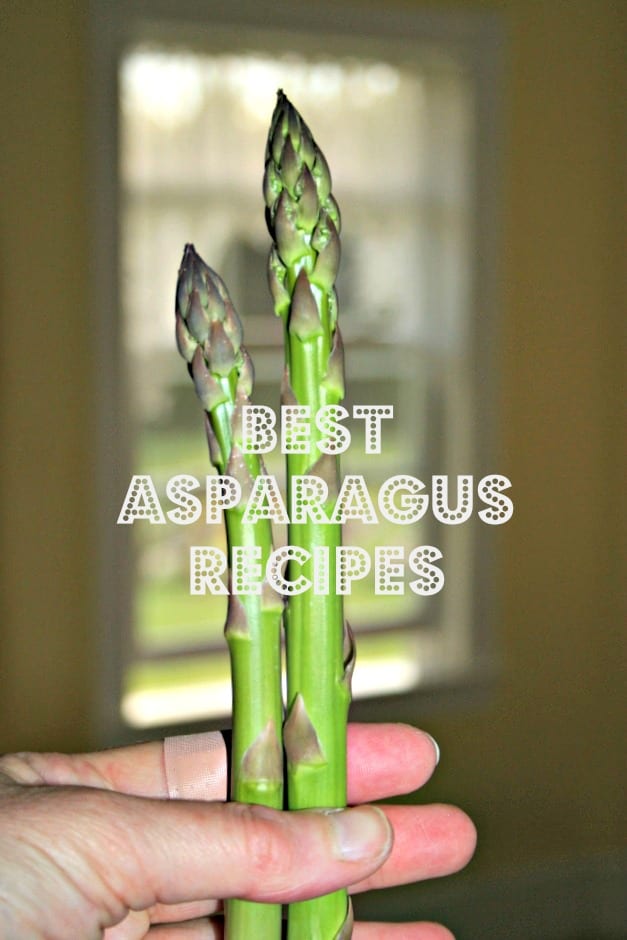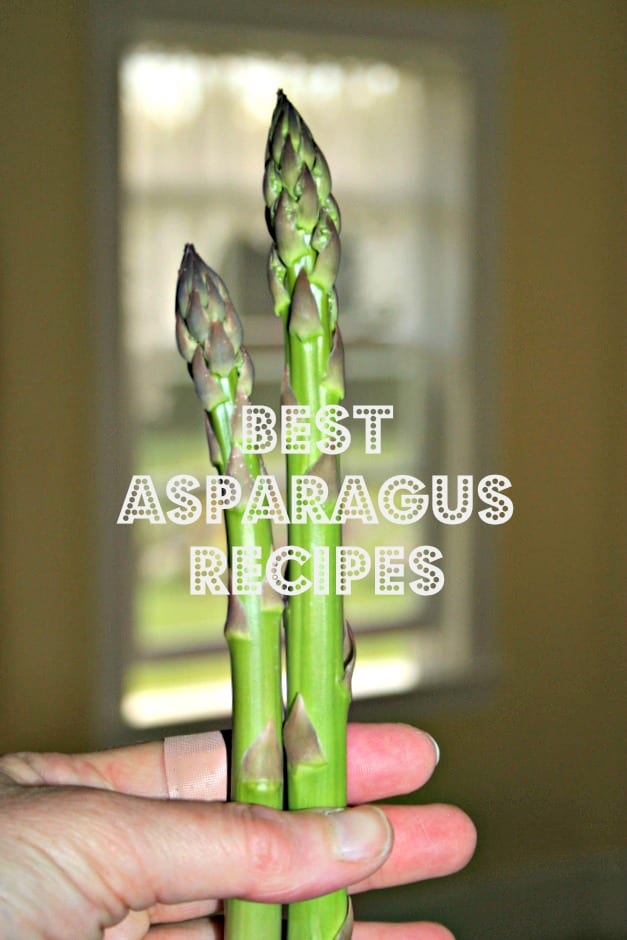 The Five Best Asparagus Recipes
I've always like asparagus, but I didn't love it until I married Hubby. Hubby's family was big on asparagus. They liked it canned or fresh. I didn't care for the canned asparagus, but fresh? Oh my. Good stuff!
When I planted my asparagus patch a few years ago, I was hoping for bountiful harvests, but it's been slow growing here for the asparagus. The spears I have picked from my asparagus patch have, however, been unsurpassed in flavor.
Cooking Asparagus
The simplest way to cook asparagus from the garden is to snap, rather than cut, the spears off near the base. They keep for about a week in the fridge. I harvest my asparagus a little each day, placing the spears into a zip-plastic bag to retain freshness, and keep them in the fridge.
When I have enough for a meal, I take them out of the fridge and snap a little bit off the bottom edge again, especially if it's gone brown. Next, I get a pot of water boiling nicely on the stove. I add a pinch of salt and ease the spears in. I use metal tongs to push them about gently in the boiling water so that they cook evenly. After about five minutes, they are ready to be enjoyed.
Five Great Asparagus Recipes
If you're feeling more adventurous, I'd like to introduce you to five great asparagus recipes that use fresh produce, spices and a few other common kitchen ingredients to transform an already tasty vegetable into something extraordinary. Try these when you have fresh asparagus either from the garden or store-bought.
#1: Asparagus and Tomato Side Dish
This recipe uses fresh cherry tomatoes, asparagus, olive oil and Parmesan cheese to make a delicious and healthy side dish. It goes great with chicken, either baked or roasted chicken or grilled chicken breasts.
Recipe: Asparagus Side Dish
#2: Roasted Garlic Asparagus
This recipe from Epicurious uses garlic and a host of tasty spices and herbs, many right from the garden, to dress up a simple asparagus side dish. It's divine if you love garlic!
Recipe: Roasted Garlic Asparagus
#3: Bacon-Wrapped Asparagus Bundles
Our friends made us this treat as a side dish for dinner on Sunday night. It accompanied delectable steaks and fried potatoes, and I loved it. It's easy to make. The bacon adds salt and moisture to the asparagus.
Recipe: Bacon-Wrapped Asparagus Bundles
#4: Asparagus Casserole
I love casseroles, and this recipe uses warm asparagus, saltines, cheese and more to make a creamy and filling casserole. It's homemade goodness will make you feel like your favorite relative is cooking for you.
Recipe: Asparagus Casserole
#5: Asparagus with Cranberries and Pine Nuts
At first, I wasn't sure I was going to like this recipe. I could imagine the pine nuts with the asparagus, but I wasn't at all sure about the cranberries. But the sour-sweet taste of the cranberries balances out nicely with the other ingredients. Try it, especially if you like cranberries.
Recipe: Asparagus with Cranberries and Pine Nuts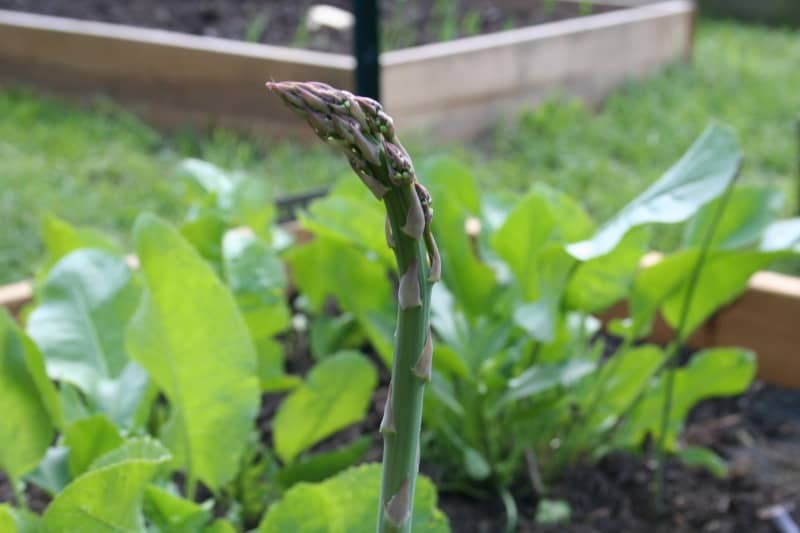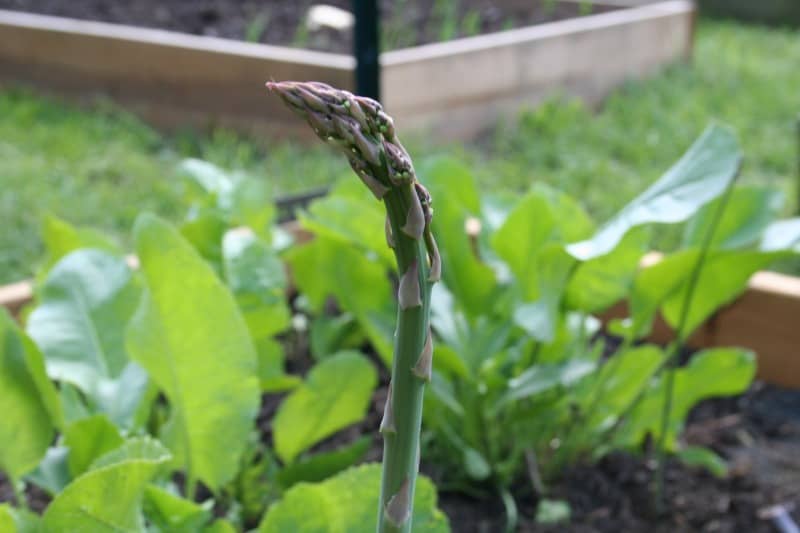 Grow Your Own Asparagus
Interested in growing your own asparagus? These articles here on Home Garden Joy will help you grow your very own fresh asparagus.
Enjoy your day! Keep growing!


Jeanne Grunert is a certified Virginia Master Gardener and the author of several gardening books. Her garden articles, photographs, and interviews have been featured in The Herb Companion, Virginia Gardener, and Cultivate, the magazine of the National Farm Bureau. She is the founder of The Christian Herbalists group and a popular local lecturer on culinary herbs and herbs for health, raised bed gardening, and horticulture therapy.