This easy to make and freeze pear butter recipe provides a smooth, delicious, and tasty alternative to applesauce.
This post was sponsored by Jarden Home Brands
Freeze or Can This Pear Butter Recipe
Jarden Home Brands, the parent company of Ball canning products, sent us a brand new FreshTECH HarvestPro Sauce Maker and the new Collection Elite Wide Mouth Canning Jars as a thank you for promoting the event.
I've created this new recipe, adapted from the original found in the Ball Complete Book of Home Preserving. This book is my "go to" book for any and all canning projects. It offers excellent receipts plus step-by-step instructions demonstrating how to use a water bath canner and a pressure canner, depending on the recipe.
Where to Buy the Book and Machine
The following are affiliate links. We are a participant in the Amazon Services LLC Program, an affiliate advertising program designed to provide a means for us to earn fees by linking to Amazon.com and affiliated sites. Thank you so much for being a part of Home Garden Joy!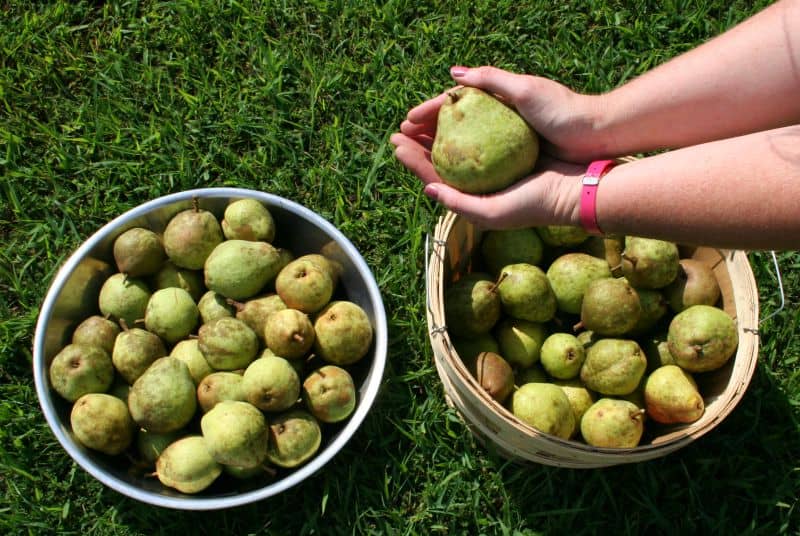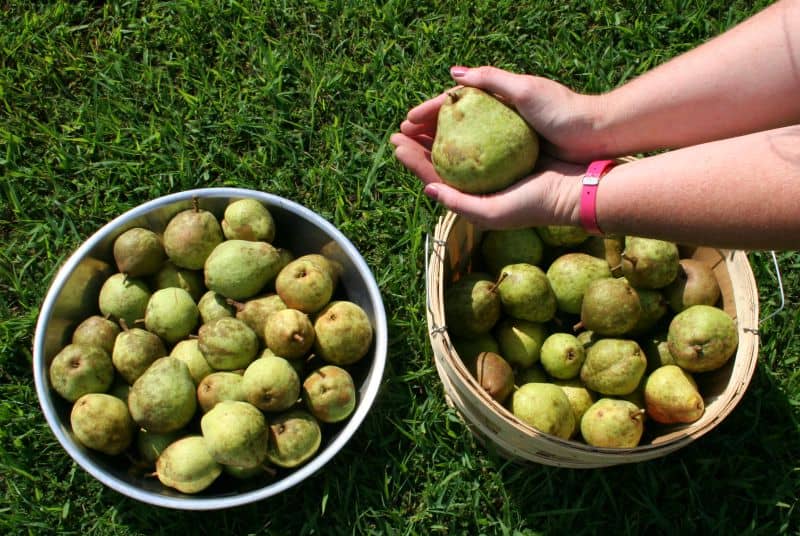 About the Fresh Pear Butter Recipe
What is pear butter? It's sort of a cross between a rich puree and a jam. You may be familiar with apple butter. Pear butter is very similar to apple butter but made with fresh pears.
Pear season here in the south begins in late August or early September and continues throughout the fall. Here at Seven Oaks Farm, my home in south-central Virginia, we grow fresh pears. I can them in sugar syrup for the most part, but I also love to make fresh pear butter.
Freezer Version of Pear Butter
Because this recipe freezes well, it's ideal for folks new to home food preservation. I remember when I first began to learn how to can fruits, vegetables, pickles, and jams just a few years ago. I was scared I was going to poison my entire family! It's very liberating, however, when you realize that you CAN preserve your garden's bounty right at home.
Ball's new Elite Wide Mouth Pint Jars are freezer-safe, and ideal for this project. They are also beautiful!
Use Colorful Canning Jars for Fun!
I love stained glass, colorful glass jars, and I'm absolutely in love with Ball's line of colorful canning jars. The purple jars last year were so pretty I put two on the shelf above my kitchen cabinets just to look at. The blue ones in the series this year? Swoon-worthy icy arctic blue. Almost too pretty to use…but use them I shall.
Homemade Pear Butter Recipe for the Freezer
To make this recipe, you will need:
7 cups of chopped, peeled and cored fresh pears
1/4 cup of water
1 cup of granulated sugar
1/2 cup dark brown sugar
1 pouch of FREEZER jam pectin
1 teaspoon of cinnamon
1/4 teaspoon nutmeg
1/4 teaspoon allspice
You can add a pinch of ground cloves if you like the taste.
The Equipment: FreshTECH Harvest Pro Sauce Maker
The new FreshTECH Harvest Pro Sauce Maker is ideal for making the pear butter puree. It is a versatile machine that can be used to make many types of pasta sauces, salsa, baby food, applesauce, and puree fruits for jams, jellies and pear butter like this recipe. You can also use it to make vegetable soups such as tomato bisque, carrot, and sweet potato soup, potato leek soup and much more.

Jarden Home Brands TV205946 Harvest Pro Sauce Maker, Black
What if I Do Not Buy the FreshTECH Machine?
If you do not own the FreshTECH Harvest Pro Sauce Maker, you can use a potato masher, but it takes a lot of effort.
Four beautiful freezer-safe Elite Wide Mouth Pint Jars. If you do not have these beautiful jars, any freezer-safe Ball canning jar is great. The recipe makes about 4 pints. You can also freezer-safe plastic containers.

Ball Wide Mouth Elite Collection Pint Jars (4 Pack), Blue
Labels and marker pens.
Medium saucepan
Medium bowl
Measuring cups
Wash the jars, lids, and rings. Set aside. Because these will be used in the freezer, they do not need to be heated.
Instructions to Make Pear Butter
Peel, core, and chop the pears.
Place pears and water in a medium saucepan and bring it to a boil over medium heat.
Reduce heat to simmer. Cover the pan and boil 5 to 10 minutes or until fruit is soft.
In a separate bowl, combine the rest of the ingredients – sugar, pectin, spices. Blend with a fork.
Remove cooked fruit from the heat and allow it to cool slightly. Following the directions on your FreshTECH Harvest Pro Sauce Maker, puree the cooked fruit. (If using a potato masher, allow to cool almost completely, then mash 5 minutes or more by hand).
Pour the fruit puree into the bowl of sugar, pectin, and spices. Stir until well blended.
Ladle the fruit butter into the Collection Elite Wide Mouth Pint Jars, leaving 1/2 inch or more of head space between the top of the jam in the jar and the lid. Clean the rim of the jar with a damp paper towel, then run a dry paper towel over the rim.
Place lids and bands over top of the jar. Tighten by hand.
Make a label with the date and name of the food. Place that on the top of the jar lid.
Let the jars stand at room temperature for an hour.
At this point, you can enjoy the jam immediately. It thickens a little more in the fridge. Or, you can refrigerate or freeze the jam.
Refrigerate unsealed jars of jam for up to three weeks.
If you'd like to freeze the jam, first refrigerate it to thicken it. Then pop the jars into the freezer. It keeps for up to a year. Defrost as needed, enjoy, and place opened containers back in the refrigerator.
What Types of Pears Can You Use?
I've successfully canned Bartlett pears, but prefer Kieffer, Bosc, or Anjou pears for the task. Bartlett is very sweet, so you may need to reduce the amount of sugar in the recipe. Kieffer pears are a very old variety that many of the farms around here grow, but I have yet to find them in the supermark. If you do come across Kieffer pears at the farmer's market, they are an excellent canning pear to make pear butter or simple canned pears in sugar sauce.
I hope you enjoyed this recipe! This is my own recipe, but it is adapted from a base recipe found in the Ball Complete Book of Home Preserving. This is the book that I used to teach myself how to can fresh fruits and vegetables. You can do it, too.

Ball Complete Book of Home Preserving
Notice of Sponsored Post and Affiliate Links
This post was sponsored by Jarden Home Brands. The company sent me the new FreshTECH Harvest Pro Sauce Maker (Value $149), one case Collection Elite Wide Mouth Pint Jars (Value $7.99) and a $5 coupon for additional canning supplies in exchange for the creation and posting of a recipe and information about Can It Forward Day. The information included in this post and any opinions expressed here are my own.
This post was originally written in July 2016. It was updated September 30, 2021 with new images, new links, and new product information. It was also revised for recipe instruction clarity.
Jeanne Grunert is a certified Virginia Master Gardener and the author of several gardening books. Her garden articles, photographs, and interviews have been featured in The Herb Companion, Virginia Gardener, and Cultivate, the magazine of the National Farm Bureau. She is the founder of The Christian Herbalists group and a popular local lecturer on culinary herbs and herbs for health, raised bed gardening, and horticulture therapy.