I never thought that one day, I'd be starting a home orchard. If you have ever wanted to grow fruit in your backyard, starting a home orchard and growing apples, pears, peaches and more is possible.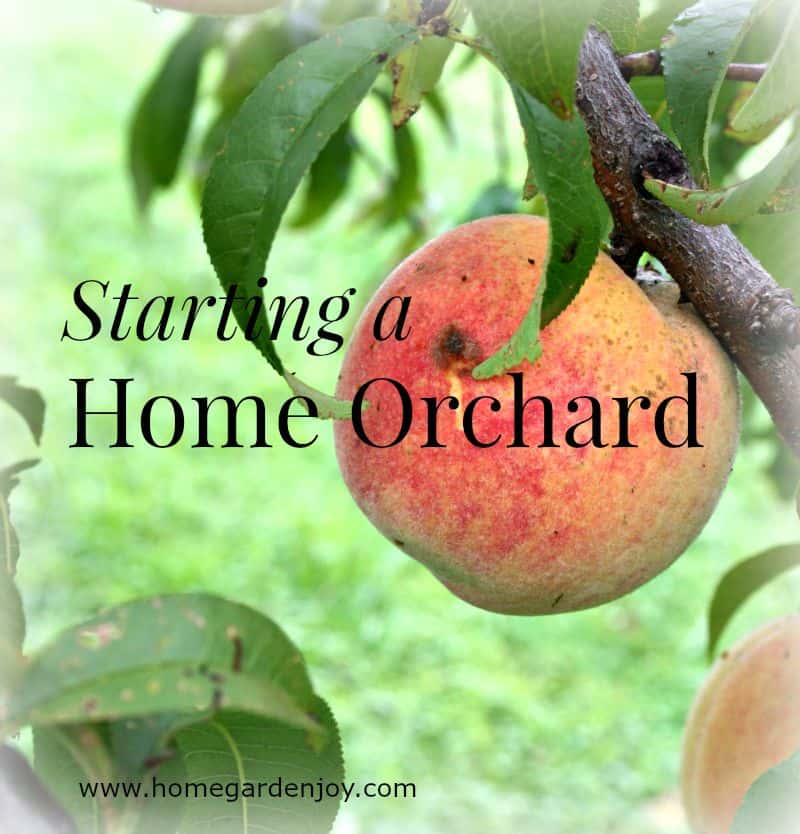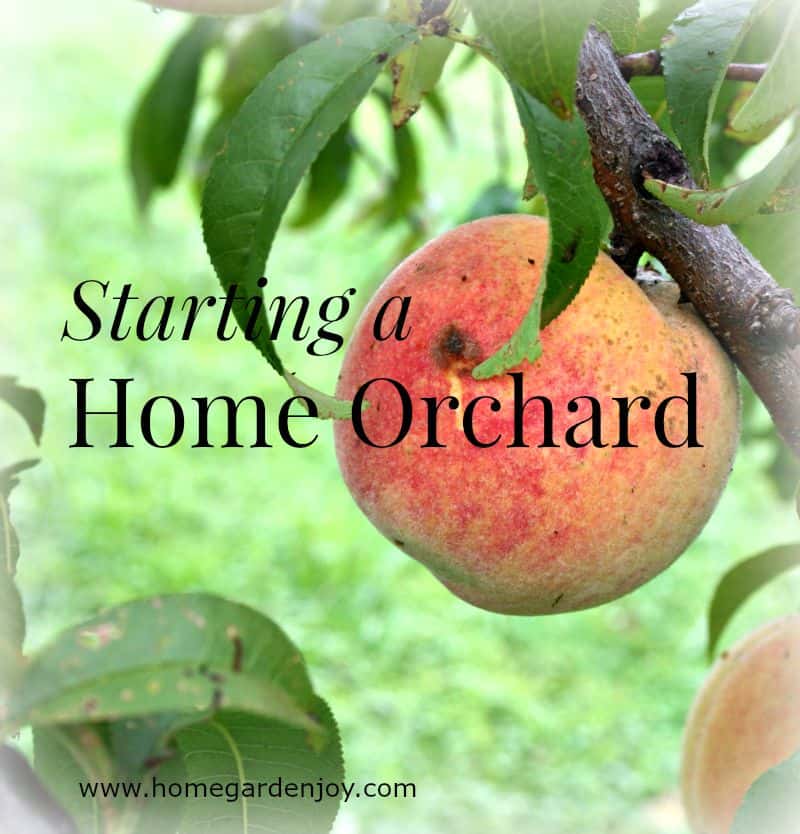 When I lived on Long Island, New York, I dreamed about owning a farm. In my dreams, I owned an old farm, one that had been settled long ago. It had a dusty old barn filled with mysterious shadows and a beloved farmhouse with creaky floorboards. Always, always in my dreams, there were two things: animals in the farmyard and an orchard producing abundant fruit from gnarled old apple trees.
Dreams are one thing, but reality is another. Hubby and I are, above all else, realists. We dream big but plan carefully to make our dreams come true. When our dreams and reality collide, and it becomes apparent that a dream will cost more than it's worth to us to make come true, we shift gears, adjust our plans, and find another way. It's a good partnership for that reason among many others.
I don't think I've ever shared the stories of how we found Seven Oaks, our farm in Virginia.  
Unlike my dream farm, it didn't have any buildings on it. We've learned since purchasing the property that it was once part of a much, much larger farm settled sometimes around 1865. The old farmhouse still stands on the property behind ours, but the roof and second floor are long since gone. You can see that it had electricity and telephone service, but the switching box and meter on the outside of the house look like it was last installed around 1940-50 or so. That's our best guess as to when this land was last actively farmed. According to some neighbors, the cash crop grown here was tobacco – the most common crop grown in south central Virginia until recently.
We know that after it was divided into parcels, the parcels were sold off, and most of our lot
was transformed into hay fields and cattle fields. As I walk through the woods, I have to be very careful, because rusted barbed wire fences lurk under fallen leaves and brush. I find them occasionally embedded in tree trunks that have grown up around the old fence lines, and once or twice, we've found a decayed fence post in the middle of the woods.
Around 1985 or so, the land was planted with the loblolly pines you see here today. When we bought the property about 10 years ago, we cleared three acres for the home, the garden, and the orchard.
Although I  had dreamed of an old farm, reality soon set in as we accompanied our Virginia real estate agent to look at properties. Most of the older farms didn't have quaint farm houses. The old farm houses lay in ruins next to a single wide or double wide trailer that the family now called home. Barns were tobacco barns, and unless I wanted to buy a horse farm with hundreds of acres, my dreams of an old farm would have to adjust. None of that was for us, so we shifted gears again. Reality dictated that newcomers to the country like us would do better with a smaller farm; too much land felt overwhelming.
And I knew I wanted to travel frequently back to New York City to visit family, friends and clients, so too many animals would place too large a burden on Hubby's shoulders. It seems like I raise cats now instead of chickens and horses, but that's the way it happened. Shadow, my dog, found the cats. Maybe she can find me a horse some day….
We bought the land instead and built our own dreams from the ground up. We cleared about three acres for the house, the gardens, and the orchard. It's the orchard I want to share with you today, and then a series of how-to articles for home gardeners looking to plant their own orchards. It's a fun, useful hobby that produces edible fruit. What more could you ask for from a hobby?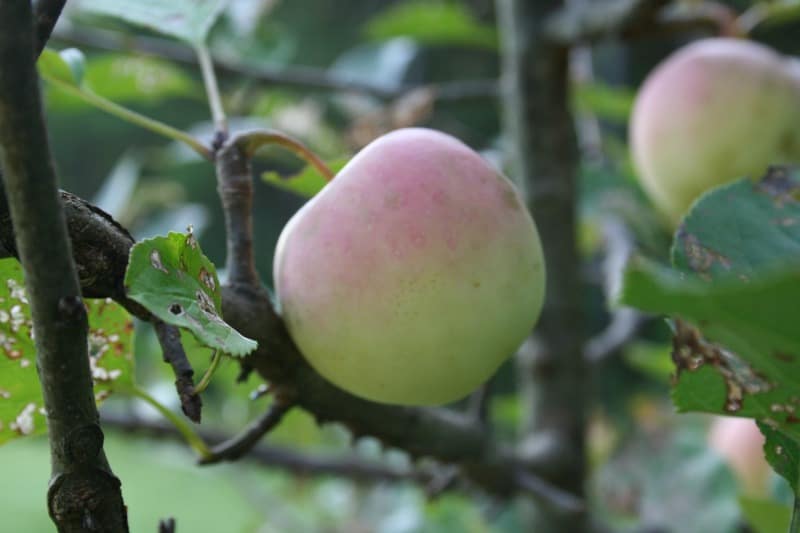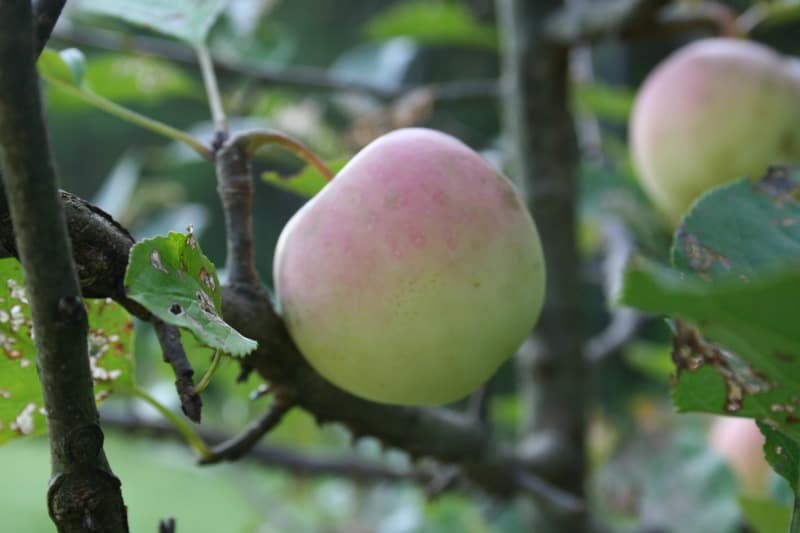 Starting a Home Orchard: How I Did It
Before planting a single tree, I read a lot of books about planting a fruit tree orchard. Books are a double-edged sword. On the one hand, they provide a great deal of useful information for a novice like me. On the other hand, there are chapters devoted to nothing but problems, which makes me feel like everything is going to grow wrong! Of course not everything will go wrong. Authors include problems because you never know what will come up with your plants. But it can be scary reading about the zillions of insects and diseases that can kill off your beloved fruit trees.
I gleaned several important facts from the books I read:
Some fruit trees need a particular species of tree to pollinate their blossoms. Pollinating trees must be planted in proximity to others. We chose Lodi and Golden Delicious as our apple pollinators, and planted them at the corners of the apple section of the orchard so that the central Jonathan and Winesap trees would receive the benefits of cross pollination.
Fruit trees take years to mature to the point where they can bear fruit, but if you start with mature trees, you can greatly shorten the time to benefit from your work.
Trees are grown in three sizes: dwarf, semi-dwarf, and standard. The sizes refer to the height of the tree, not to the fruit. A dwarf tree produces full-sized fruit and is easier to care for because you can more easily reach the branches to spray, prune or harvest fruit.
We ended up planting standard-sized trees. I'm not so sure that was a good idea. I have a feeling that 10 years from now, we are going to have monster trees and so much fruit I'll be begging the deer to stop by for a snack.
Right now, our trees are at a manageable stage. We planted whips, or small sticks with a tiny bit of root that we bought from the Arbor Day Society. We have replaced one cherry tree and one plum tree that didn't make it.  One peach tree looked sickly, so we moved it to another spot, where it thrived.
Our orchard contains apple, peach, pear, cherry, plum and apricot trees.  We planted most of the original trees in 2007-2008.  To date, we have harvested peaches, a few pears, and apples.
Here is our orchard, photographed today, July 31, 2014 by me: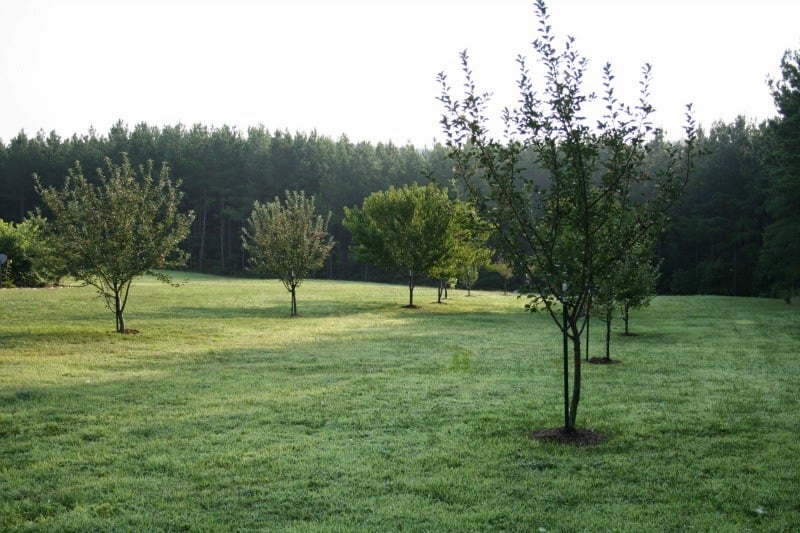 We have about half an acre to an acre planted with our orchard trees, but you can grow one or two fruit trees in the average suburban yard. My grandmother's house was located in Bellerose, Queens, a borough of New York City, and she grew abundant apples and pears in her little backyard. Drive around Brooklyn or Queens and you'll see fig trees, apple and pear trees in the front yards – many immigrant families planted them as a sign of prosperity and to recall to mind their homelands. If these folks could grow abundant fruit in an urban yard, you can, too!
More information on starting a home orchard to follow. I hope you enjoy the series. Let me know what questions you may have about home orchards, and I will try to answer them in future posts. 
If you enjoyed this article, you may also enjoy:
Jeanne Grunert is a certified Virginia Master Gardener and the author of several gardening books. Her garden articles, photographs, and interviews have been featured in The Herb Companion, Virginia Gardener, and Cultivate, the magazine of the National Farm Bureau. She is the founder of The Christian Herbalists group and a popular local lecturer on culinary herbs and herbs for health, raised bed gardening, and horticulture therapy.