This fresh peach smoothie recipe uses – what else? – fresh peaches in a delicious low-sugar blend of lowfat milk and plain yogurt. If plain yogurt isn't to your taste, use vanilla yogurt or vanilla almond milk. Whip up a container and enjoy it for a protein, calcium and fiber-packed breakfast.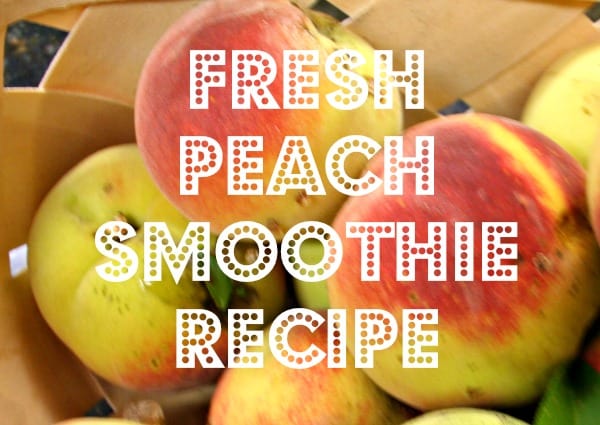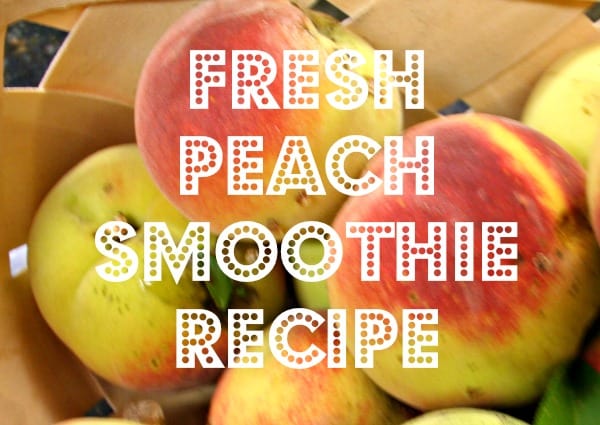 Fresh Peach Smoothie Recipe
My husband went a little crazy buying peaches this weekend, and I have a bowl full of them on the kitchen table rapidly turning wrinkly. They're still hard as rocks, mind you, but the skin is taking on that I'm about to burst into fuzzy mold and you can't stop me look that peaches in the summer humidity get. I thought to myself, what can I make? Peach pie? Yes, but I'm trying not to eat too many sweets. What about a healthy breakfast smoothie? Bingo!
I have half a container of plain yogurt left thanks to the Chilled Cucumber Soup recipe I shared a week ago. Time to use up before it too joins the peaches on their march towards fuzzy mold heaven.
The smoothie turned out so creamy, so naturally sweet and good, that I immediately wanted to share the recipe. It's simple, and all you need is a blender. I spent an hour gardening this morning, then made the smoothie and drank it while sitting on my front porch. It was the perfect refreshing summer breakfast.
You can make it with lowfat milk, and if you'd like to increase the protein quotient, add a scoop of your favorite protein powder. Vanilla would probably taste delicious with this.
Ingredients for the Fresh Peach Smoothie
1 cup no fat or low fat milk
1 cup plain low fat or no fat yogurt
2 fresh peaches, pit removed and cut into pieces
Six ice cubes
Place milk, yogurt, and peaches into a blender. Process on High/Smoothie setting for 30 seconds. Add ice cubes, making sure lid is secure, then blend on HIGH/Smoothie setting for 30 to 60 seconds. Unplug the blender and pour into two tall glasses. Makes 2 servings.
More Healthy Smoothie Recipes
Jeanne Grunert is a certified Virginia Master Gardener and the author of several gardening books. Her garden articles, photographs, and interviews have been featured in The Herb Companion, Virginia Gardener, and Cultivate, the magazine of the National Farm Bureau. She is the founder of The Christian Herbalists group and a popular local lecturer on culinary herbs and herbs for health, raised bed gardening, and horticulture therapy.