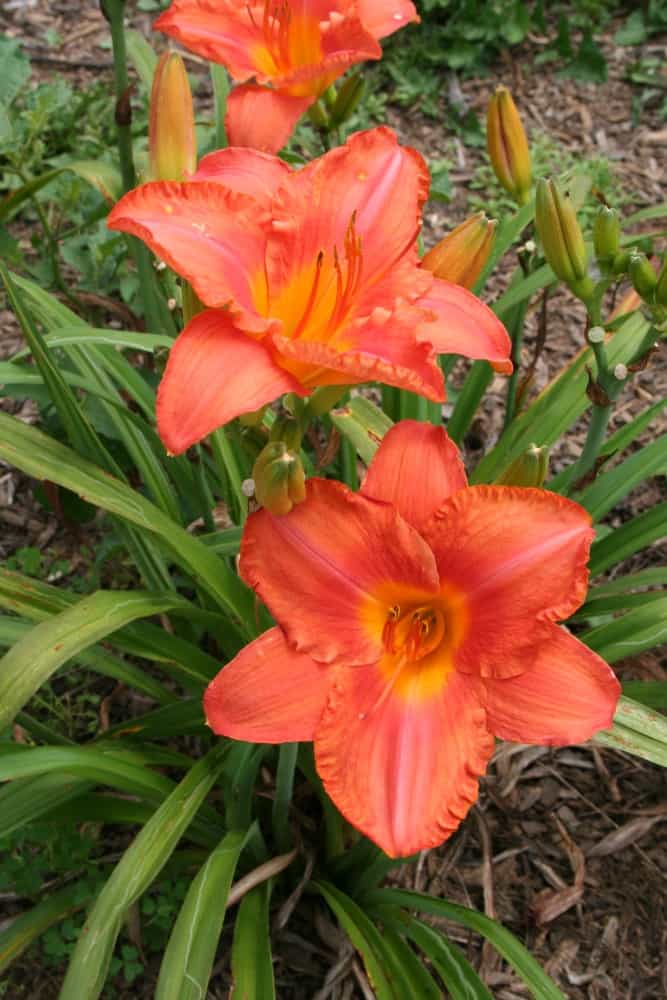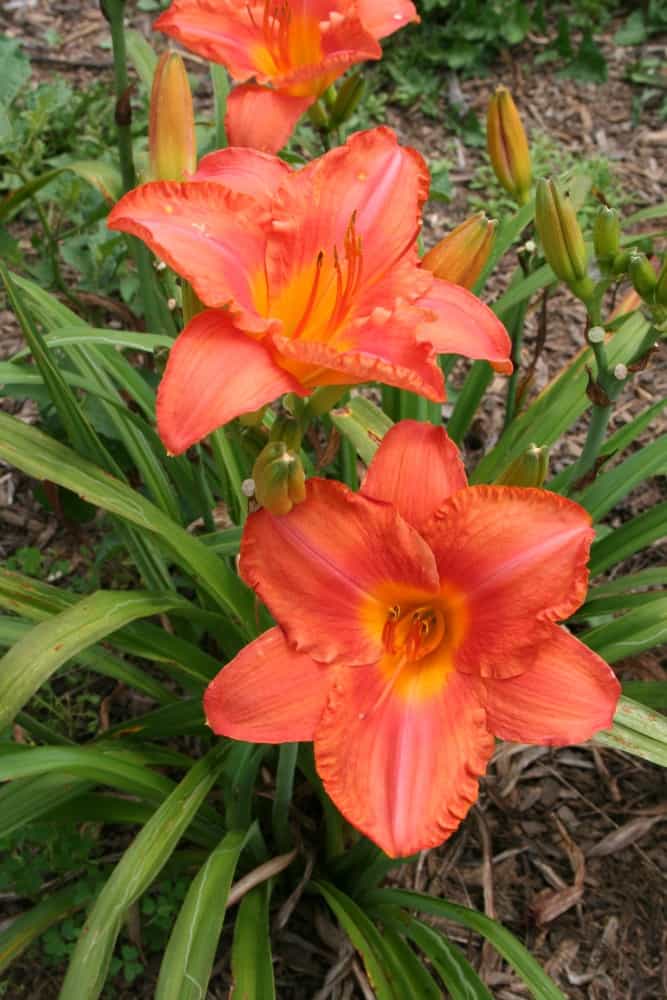 This past Saturday, I took a trip to the Daylily Festival at Deb's Daylilies. Officially, the event is called the Wine & Flowers Event, with Hunting Creek Vineyards providing the wine and some great country singers providing the entertainment. The $5 entrance fee was donated to a local cancer fundraiser, so the fee went to a good cause.
My friend Cynthia has mentioned Deb's Daylilies several times to me – "We should take a field trip! You won't believe this place!" Cynthia is a collector, an aficionado. When she falls in love with a plant, she must have more, and daylilies are one such plant for her.
For me, daylilies are nice, but not a love-and-must-have. I planted yellow stella d'oro daylilies and the orange 'ditch lilies' all throughout the gardens here, but aside from a few others acquired when Cynthia divided her treasures, I've haven't added many more.
All that may have to change after my visit to Deb's Daylilies.
Acres, and acres, and acres of gorgeous daylilies in bloom: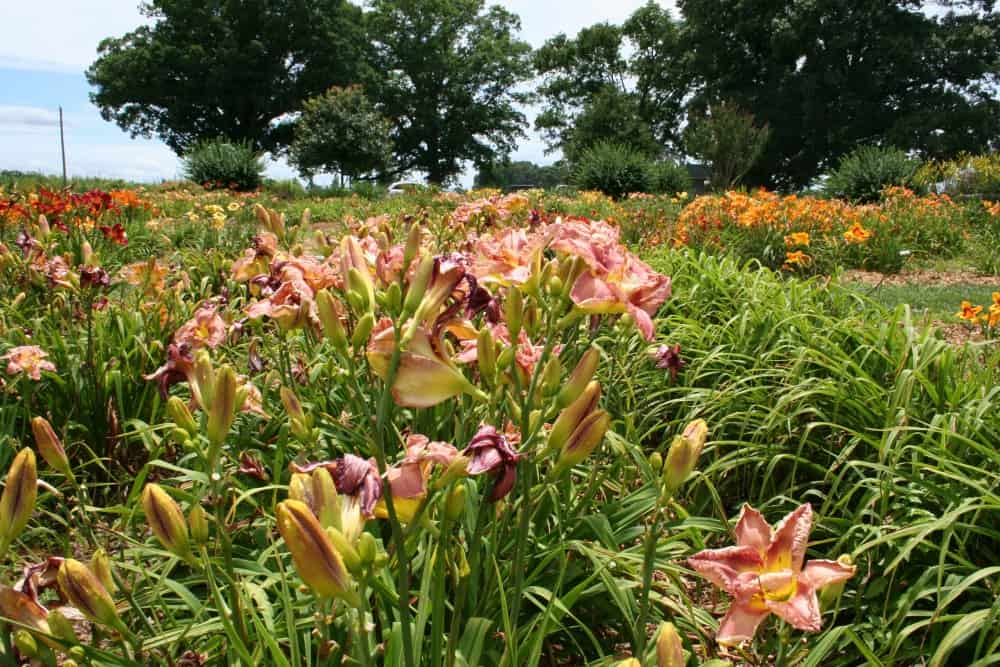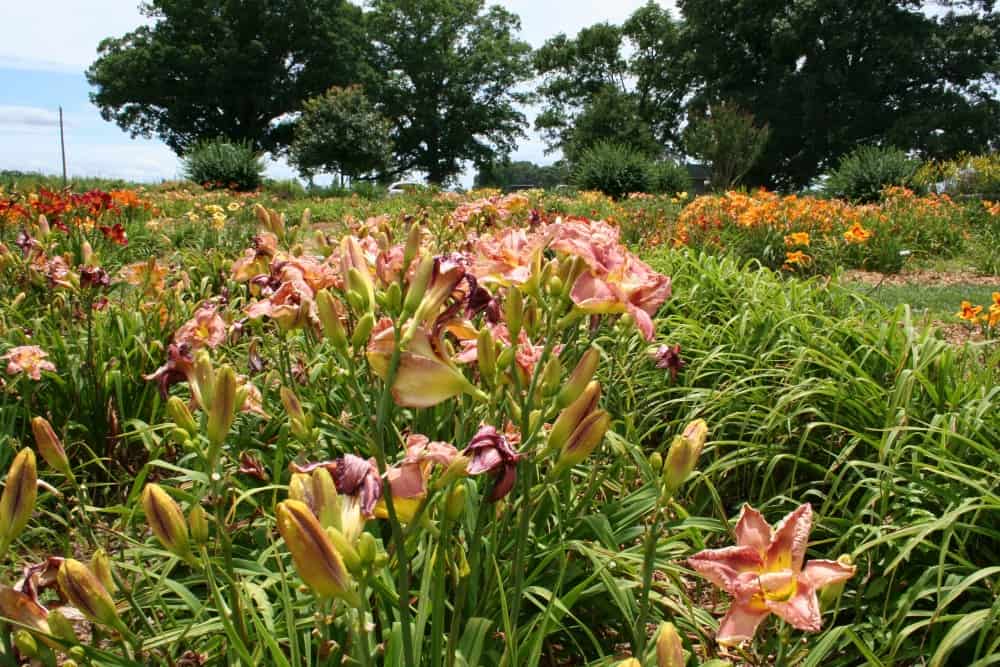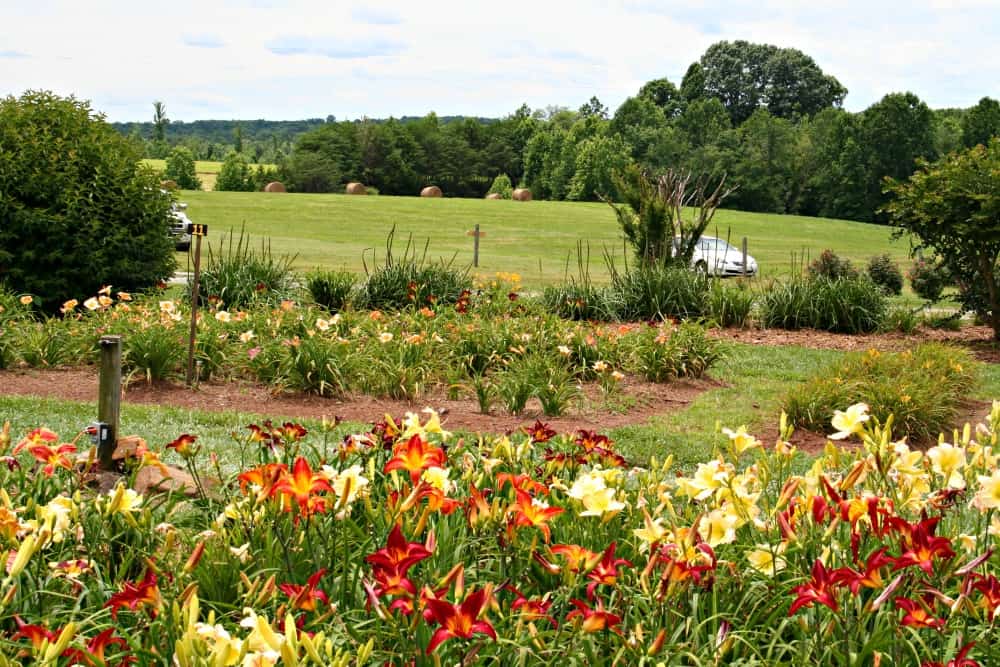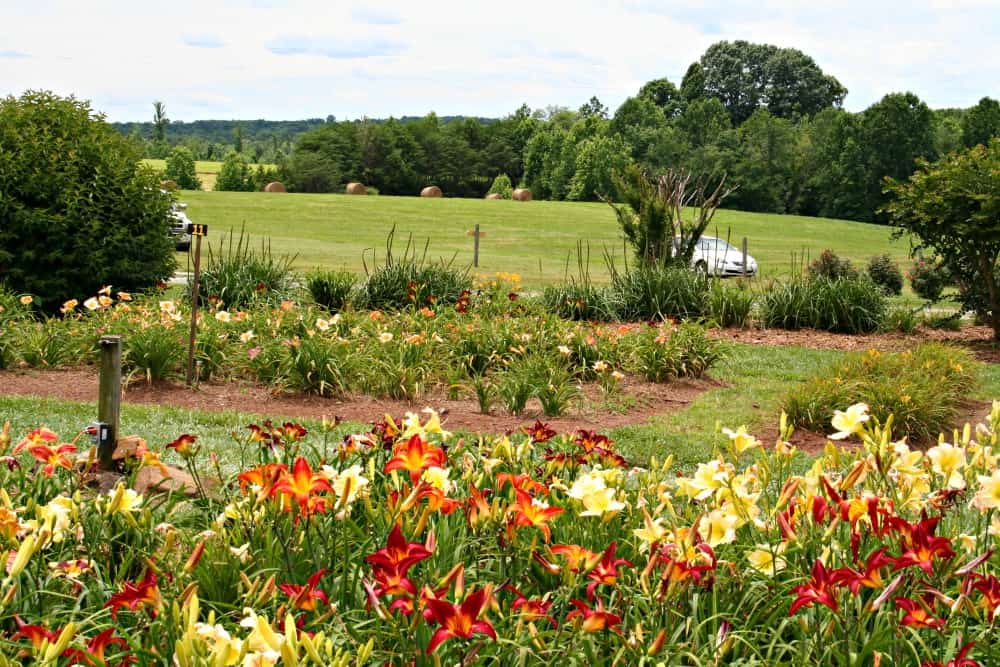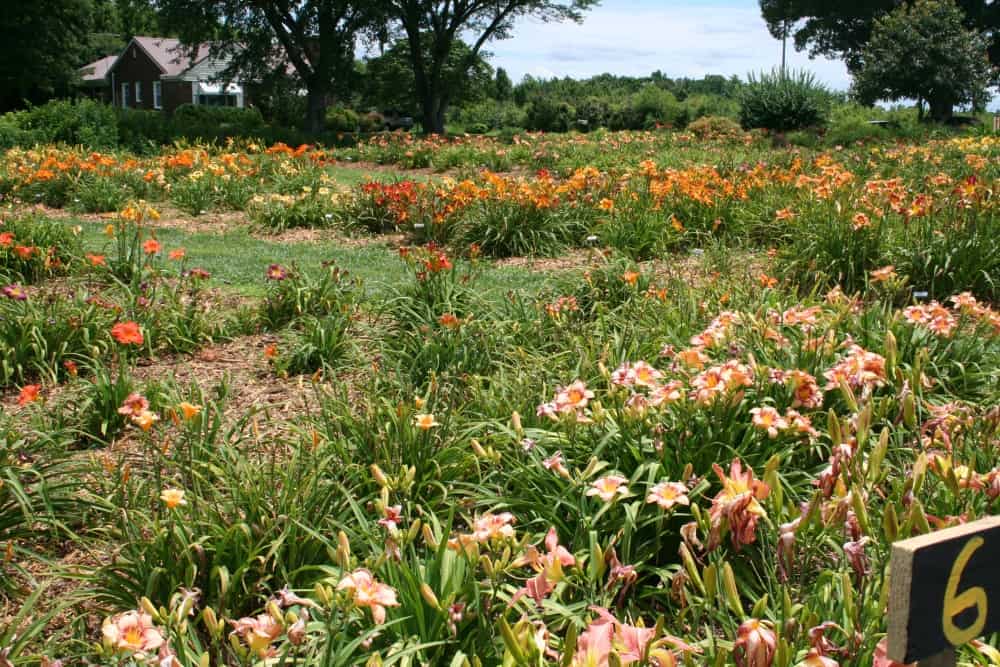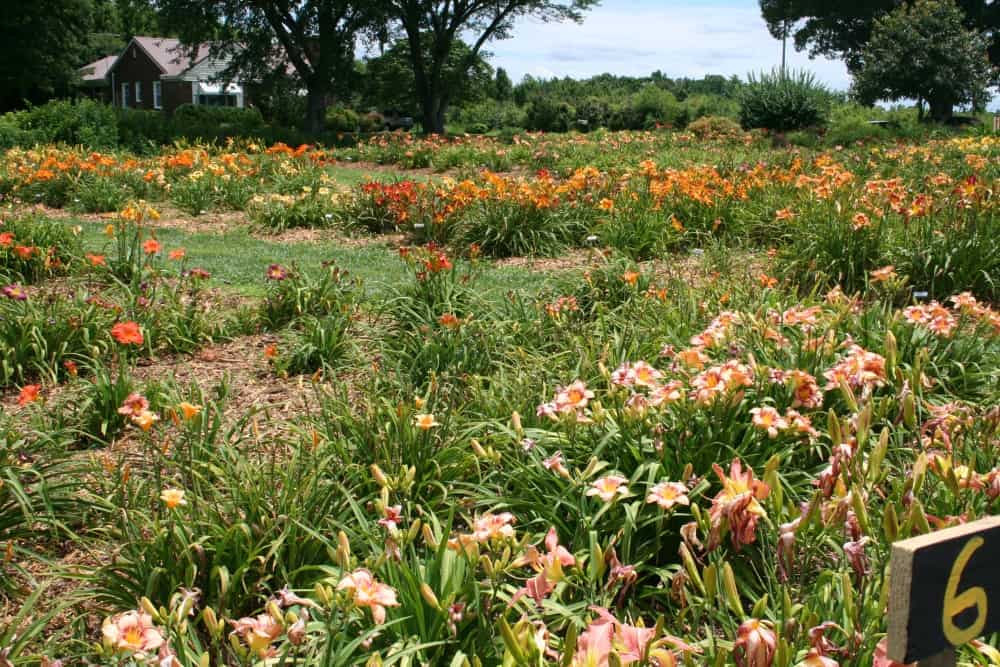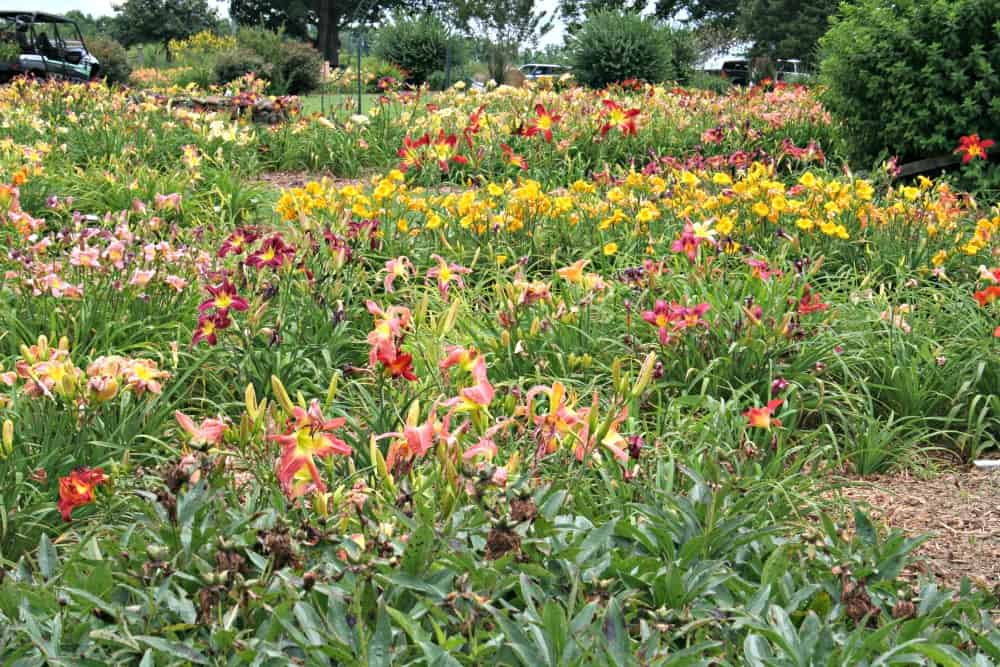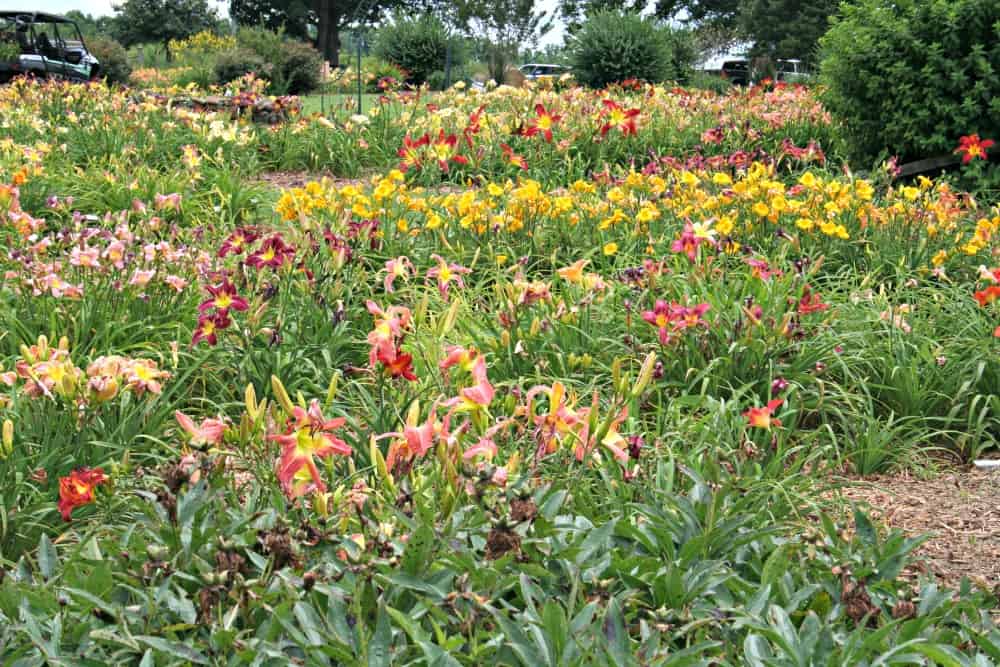 At first, I wandered about in a sort of happy daze, flitting like a butterfly from one garden bed to another. I couldn't get over the myriad flower forms and colors. I started photographing plants with name tags in the frame so that I could remember what I liked. I fell in love with daylily "South Seas", here: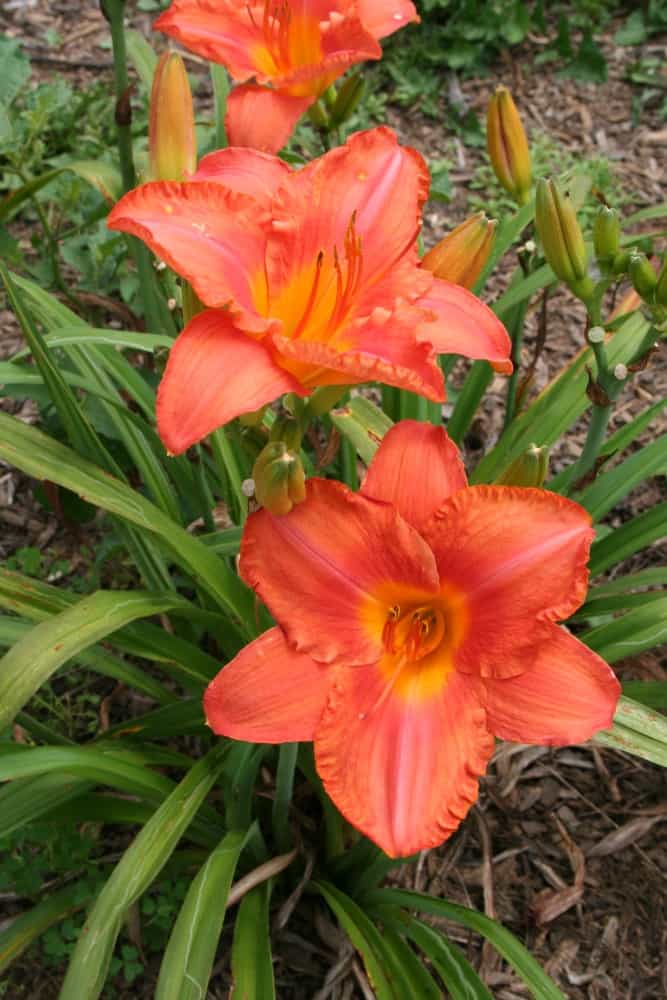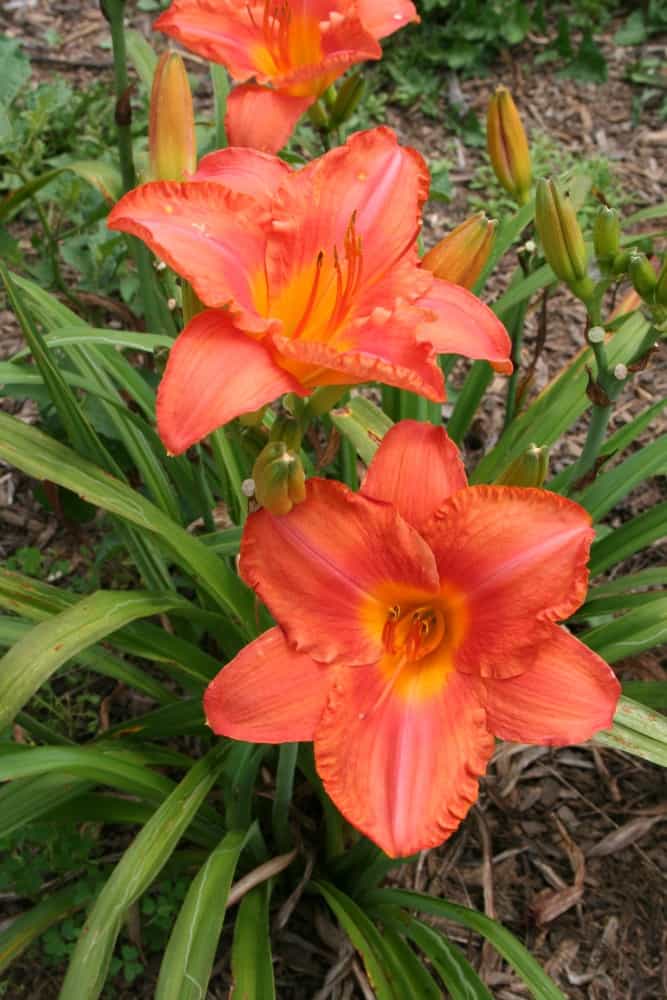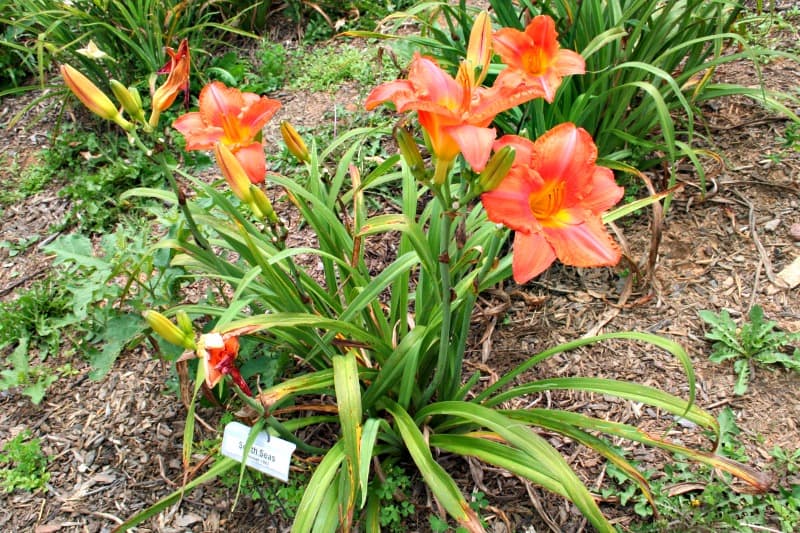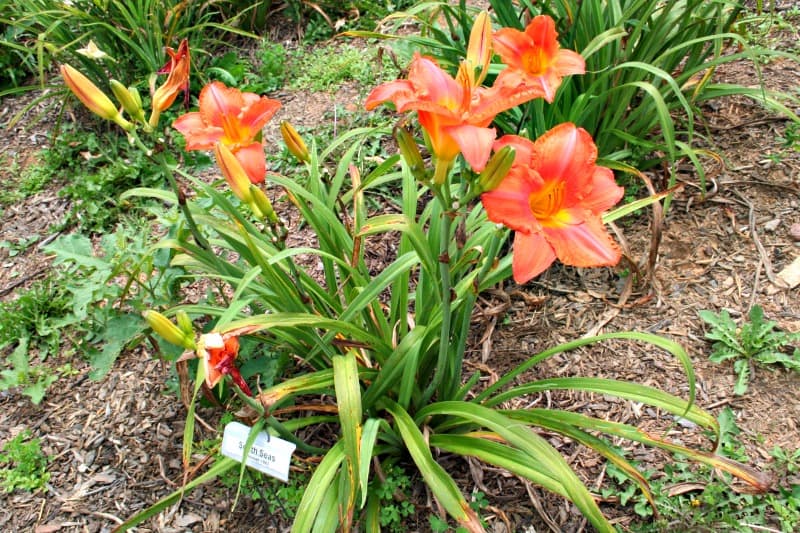 And this yellow one – it looked like someone had glued ruffles around its edges: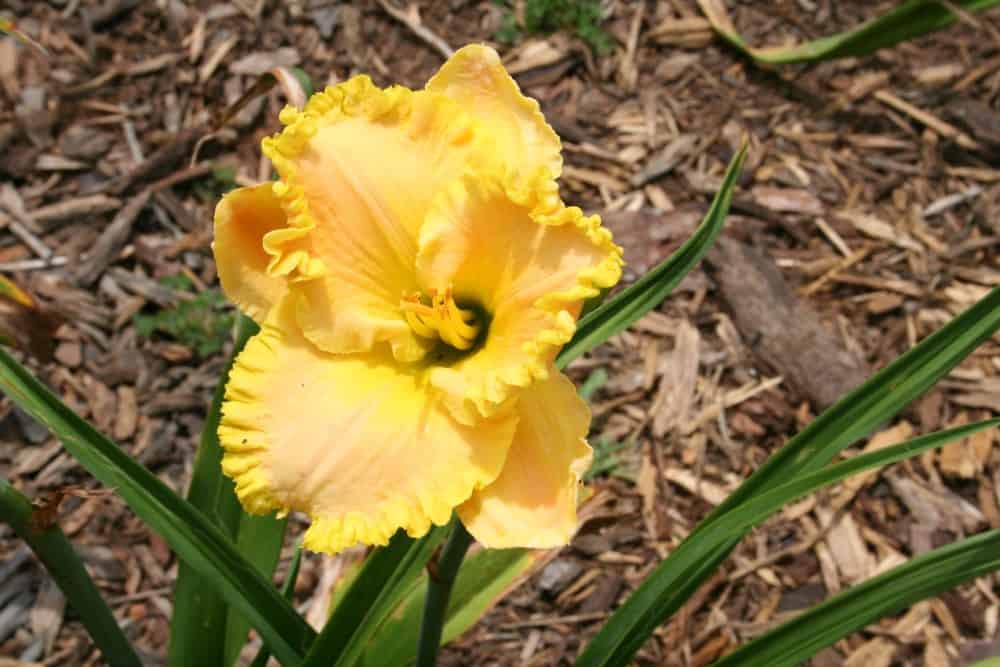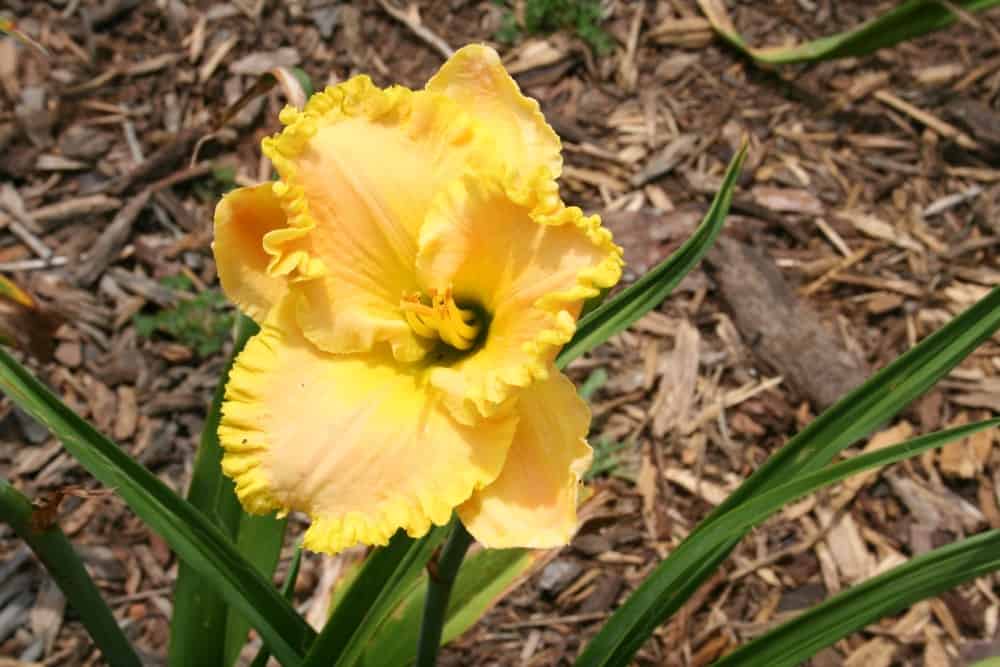 A paler lemon yellow I liked: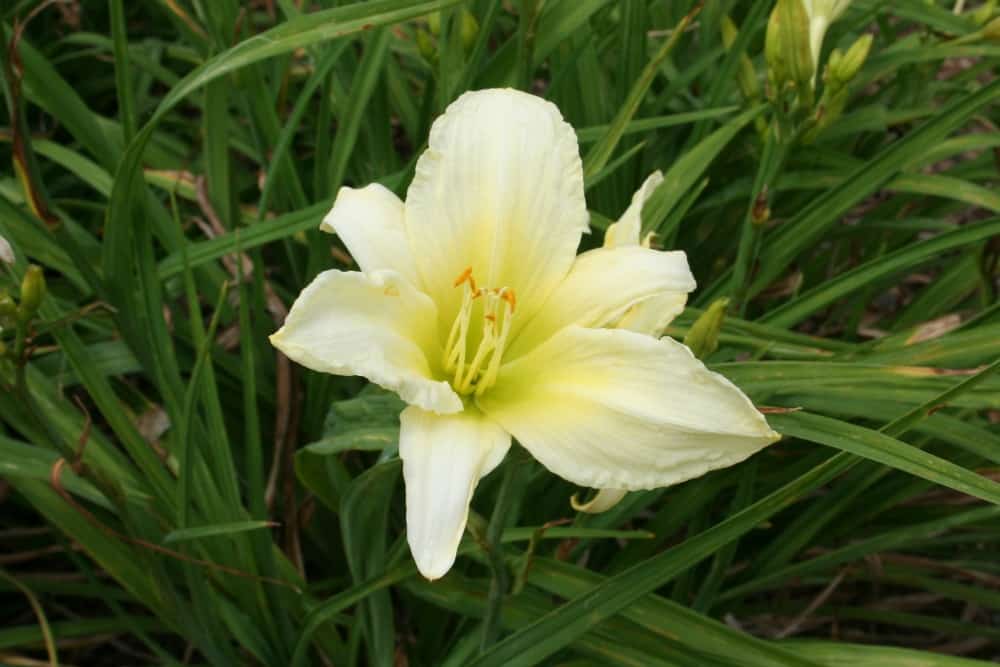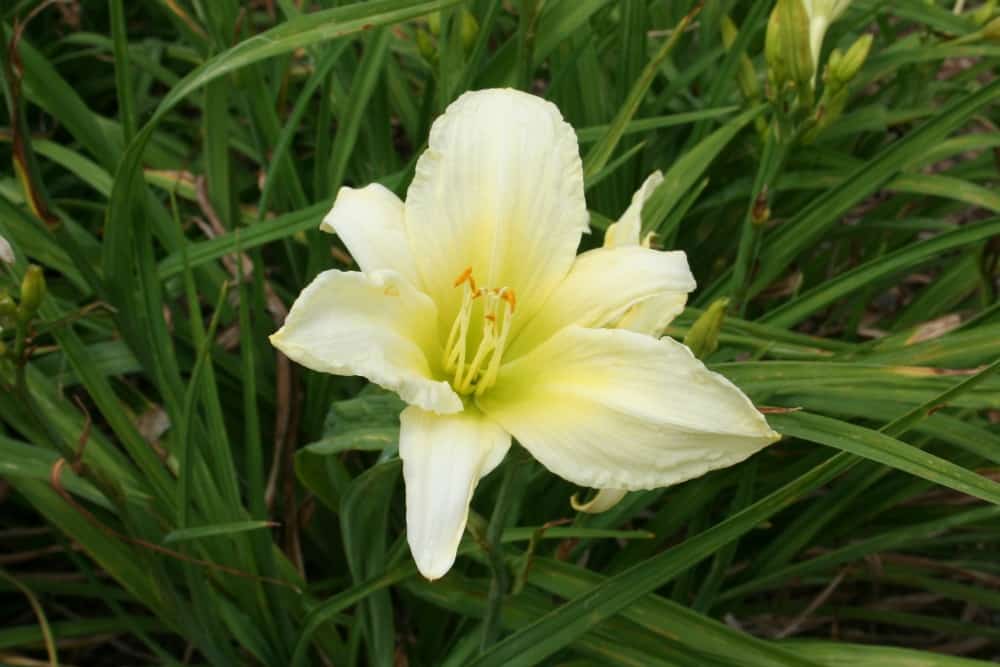 And don't forget this double peach. It looked like a cross between an orchid and a rose!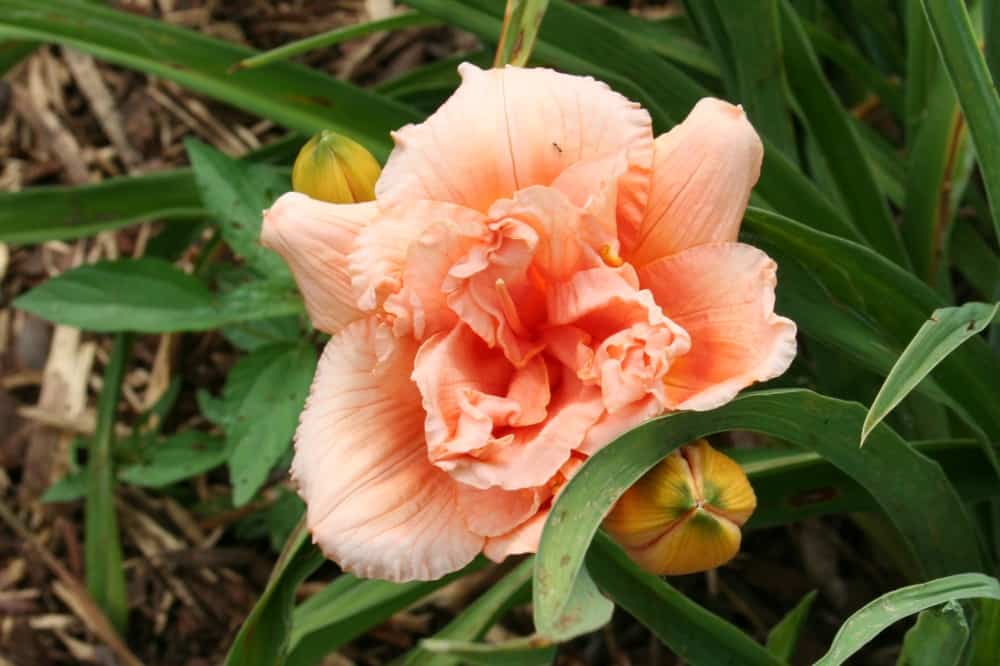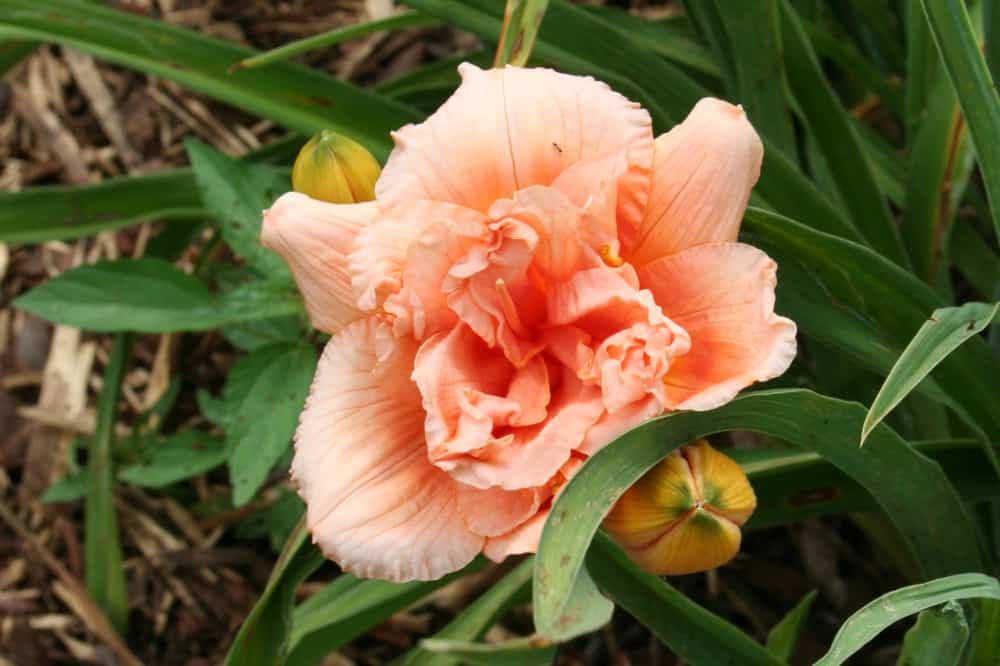 Everywhere I turned, more beauty greeted my eyes.
I photographed as much as I could, took plenty of notes, and marked which ones to buy next year. Daylilies are relatively easy care, but my own succumb to a fungal disease often that turns the leaves an unpleasant brown. It doesn't hurt the flowers, but the leaves aren't as beautiful as sthey could be.
Deb's Daylilies started as a family farm. On her website, Deb explains that she started collecting daylilies that reminded her of family and friends. As her collection grew, she and her family decided to expand their horizons and start growing the plants commercially. Today, the farm boasts over 600+ varieties of daylilies. I can attest personally to the quality.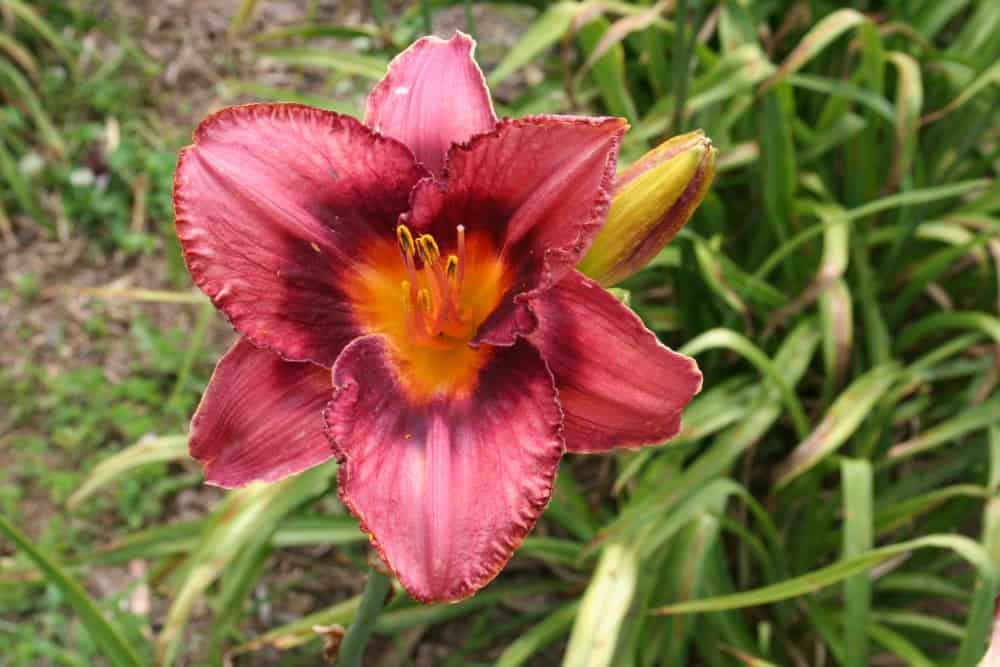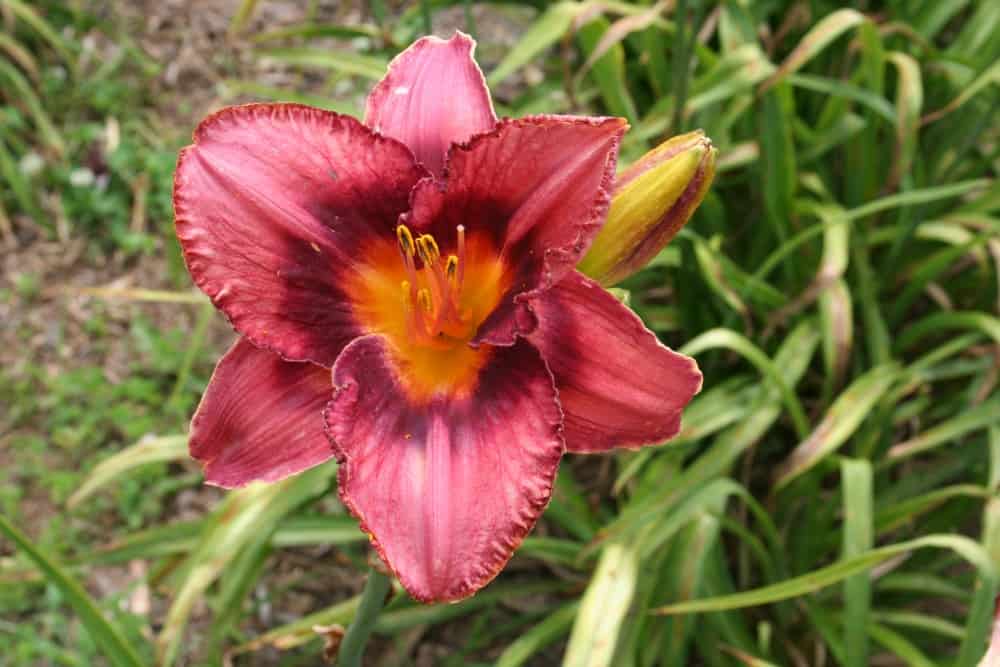 The trip alone was worth it. There is a sizable Amish population in Charlotte County, Virginia, and my trip took me through the back roads. I passed an open wagon pulled by a chestnut horse, and warmed to the beatific smiles and waves from the Amish children riding in the back of the wagon. Even their dad, holding the reins, smiled and nodded as I slowed so as not to frighten his horse. I also passed a traditional closed Amish wagon, the plain squash buggy you see in Lancaster County, Pennsylvania.
But for me, the thrill of seeing working draft horses was the best part of the drive. On my way to the daylily farm, I passed a man working two Belgian horses in his corn field, plowing and cultivating the corn. On my way home, I had to slow down as a team of gorgeous jet black Percherons, snorting and walking in perfect unison, pulled a mower behind them alongside the road. The farmer was cutting the grassy swale that abutted the roadway, just the way my husband does with our John Deere. Except his "John Deere" consisted of two of my favorite creatures on Earth, two beautiful horses, of my second favorite horse breed, the Percheron (my favorite breed is Thoroughbred.) It was worth the drive and the blinding headache I had when I returned home from sun glare at the event – I didn't bring sunglasses.
I have my list of daylilies here on my desk with varieties circles to buy next year. Although iris remain my all-time favorite plants and perhaps my 'must collect' flower, daylilies are now ranking a close second thanks to my visit to Deb's Daylilies.
Deb's Daylilies is open May through August on Fridays and Saturdays only. Friday hours, 12 pm – 7 pm, Saturday hours 9am to 7pm. They are located at 636 Adams Road, Randolph, Virginia, just outside of Charlotte Courthouse. Visit their website for details. They do mail order so you can order online, too!