This delightful foraged food recipe uses either dandelion greens and chickweed or store-bought greens such as spinach. If you are new to foraging, be absolutely sure of what you've picked before you eat it.
Dandelion Greens, Nutritional Powerhouse
Dandelion greens are a nutritional powerhouse! They are packed with vitamins A and K as well as folate. One cup has almost 2 grams of fiber and protein. Better still, they are free and growing abundantly around you.
If you choose to eat dandelion leaves, pick only those that have  not been sprayed with herbicide. Choose the dandelion greens from plants growing in your garden and away from the roadside.  I once saw elderly women picking dandelions along the Belt Parkway in New York City – not an ideal place given the car exhaust and road salt that the dandelions came into contact with on a regular basis.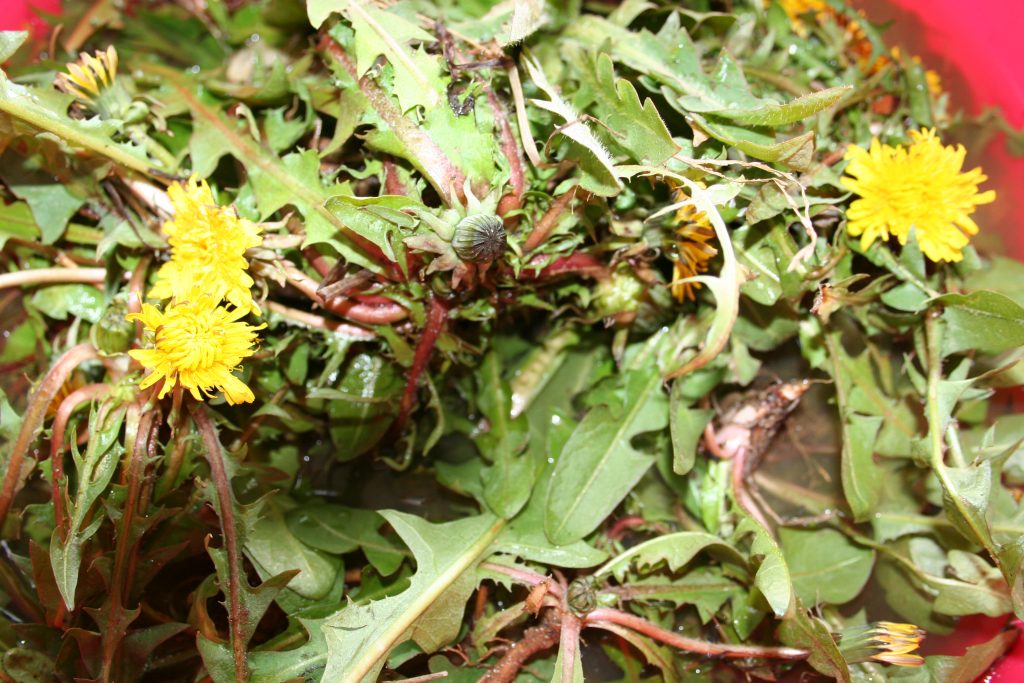 [Tweet "#foragedfood recipe using dandelion greens www.homegardenjoy"]
Dandelion Greens Couscous Recipe
To make this recipe, you will need:
One box of couscous. I like the garlic parmesan flavored couscous for this recipe but you can use almost any flavor.
One cup of fresh greens. Dandelion leaves, chickweed, or spinach works fine.
1 tablespoon of butter
2 tablespoons olive oil
1 can of drained, rinsed black beans
Cook the couscous according to the package directions. Most recipes call for boiling water with oil or butter in it. Place the couscous seasonings and grain, cover, remove from the heat, and let the grains absorb the liquid.
While the couscous is fluffing up nicely, sauté the chopped greens in the butter until wilted but not overcooked. Add the drained, rinsed beans in and quickly saute for about a minute to warm them up.
When the couscous is done, add the warmed greens and beans, stir, and enjoy.  Makes 2 – 4 portions and can be vegan if you use olive oil for sautéing instead of the butter.
SaveSave