Growing St. Johns Wort added to my list of plants I've always wanted to try to grow from seed. It's a useful plant that's also beautiful.
St. Johns Wort (Hypericum perforatum), also called by some herbalists St. Joan's Wort, is a perennial herb that is best known for its reputed properties to treat depression. But did you know that St. John's Wort, when infused into oils, also makes a good skin salve?
As a perennial, St. Johns Wort  offer attractive, cheerful yellow flowers and interesting foliage. They aren't easy to grow from seeds, but I successfully grew mine from seeds purchased online, and you can, too.  Here's all you need to know about growing St. John's Wort.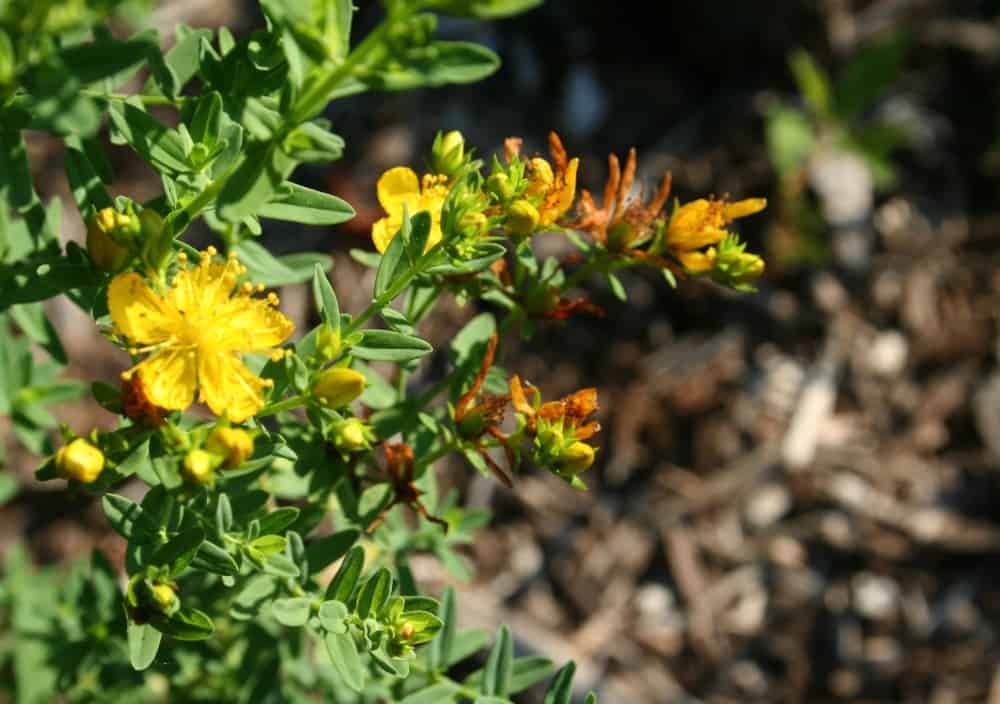 Growing St. Johns Wort from Seed
You know what drives me crazy?
When I find a plant difficult to grow from seed but all the websites I find say "It's easy!"
I'm not going to lie to you. Growing St. Johns Wort from seeds isn't easy. Out of the 30 or so seeds I planted, I had about 10 germinate, and among those 10, three plants are doing well in my garden.
That's fine for my needs….I'm growing St. John's Wort to make skin-soothing oils and for its beautiful start burst flowers.
The most interesting part of growing St. John's Wort to me has been the fact that it did indeed bloom almost exactly ON St. John's Day, which is June 24. Mine bloomed on June 23 so I'll say it was a bit over eager. But it does indeed bloom right on midsummer eve, or St. John's Day, which is what gave the plant its name.
How to Grow St. Johns Wort
You can purchase already-started plants at a good herb nursery, garden center, or mail order catalog. Seeds are economical, and that's the route that I took when I wanted to add this plant to my garden.
Start St. John's Wort seeds 6 to 8 weeks before the last frost date for your region. Grow it in flats under grow lights in seed starting mixture. Press the seeds into the soil surface but do not cover them with soil or plant them too deeply; they need light in order to germinate.
Wait until the St. John's Wort seedlings are 2-3 inches tall before moving them into the garden. They prefer "light" dry soils, which means sandy loam or loam.
My own soil is clay – hard, brick-like clay. That may be why only three plants survived, but those that did survive are doing well.
Growing St. Johns Wort for Herbal Medicine
As previously mentioned, the European prescribe St. John's Wort for depression. It works for about 30% of people with mild depression. Some people taking St. John's Wort develop photosensitivity, which means their skin tans or burns more easily, so be cautious if taking the herb.
According to  Herbal Academy, St. John's Wort is a nervine, or an herb that works holistically on the nervous system. It is said to ease anxiety, depression, neuralgia and seasonal affective disorder.
But it's not just a nervine. It can also made into an oil infusion that soothes the skin. It aids with wound healing, muscle pains and more.
If you're interested in learning more about the healing properties of St. John's Wort, I urge you to read a good, well researched site like The Herbal Academy or join Learning Herbs. If you're just interested in growing St Johns Wort as a pretty garden plant, enjoy it for it does add a cheerful little sparkle to the perennial garden.