The July garden update includes a quick update on the flowers, vegetables, herbs and more here at Seven Oaks Farm, where I garden in zone 6b-7 in Virginia, USA.
Happy Independence Day to my American readers! I described Independence Day to my British friends as the third most popular holiday in America, and I really believe that.
There are few holidays that bring people together regardless of religion or race and I truly believe that Thanksgiving and Independence Day are the two in America that bridge everyone, everywhere.
No matter who you are, what country you hail from, or what religion you subscribe to, you can be thankful for the bounty in your life and grateful for the country we live in.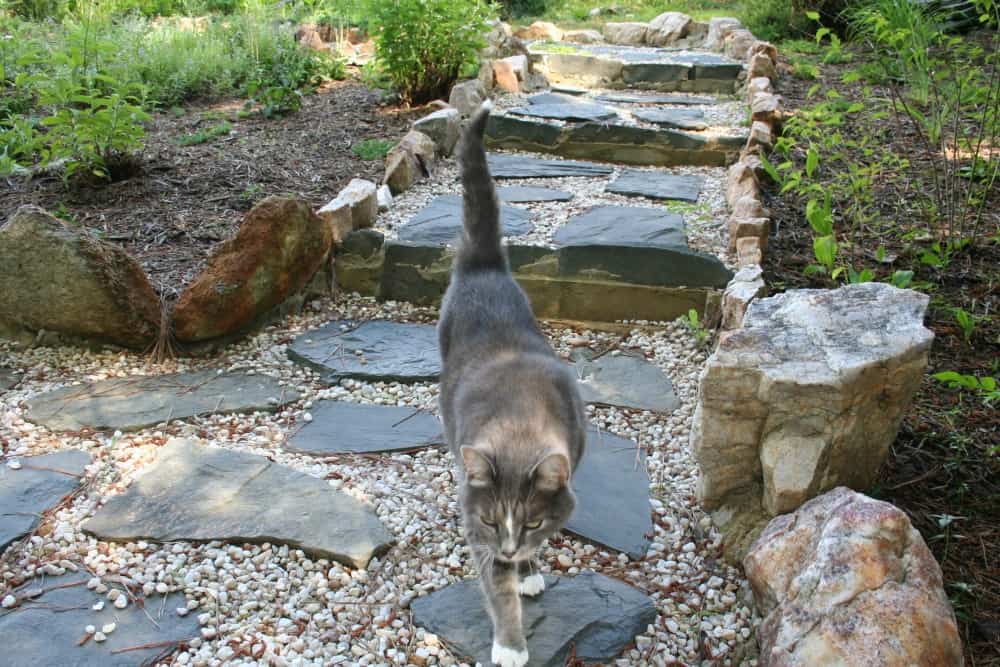 Okay, onwards to the July garden update…but first, a little "housekeeping" detail. Some of you are subscribed to our email list.
I am discontinuing our email service and our list effective this July. I know, I know, all the "experts" say you "HAVE" to have an email list. But you know what? I don't use it very much anymore and I find it's easier for me to connect with my readers on Facebook, Twitter and Instagram.
So, instead of spending the time and money to put together newsletters, I'm going to ask everyone to head over to their favorite of those three social media sites to keep in touch.
And if you don't like social media, you can subscribe to blog updates via Bloglovin' and never miss a post. It's that simple and it's all in the sidebar.
The July Garden
We picked the first peppers of the season last night and they were great! I made chicken fajitas with fresh peppers and had some leftover which I ate raw. I usually don't like raw peppers and find them too spicy, but these were so mild and sweet they didn't repeat on me. Nice. "Big Bertha" peppers are a keeper. No, I didn't take pictures….I was cooking and in a rush, so you're just going to have to take my word for it that they were good. Another time and I promise to take photos.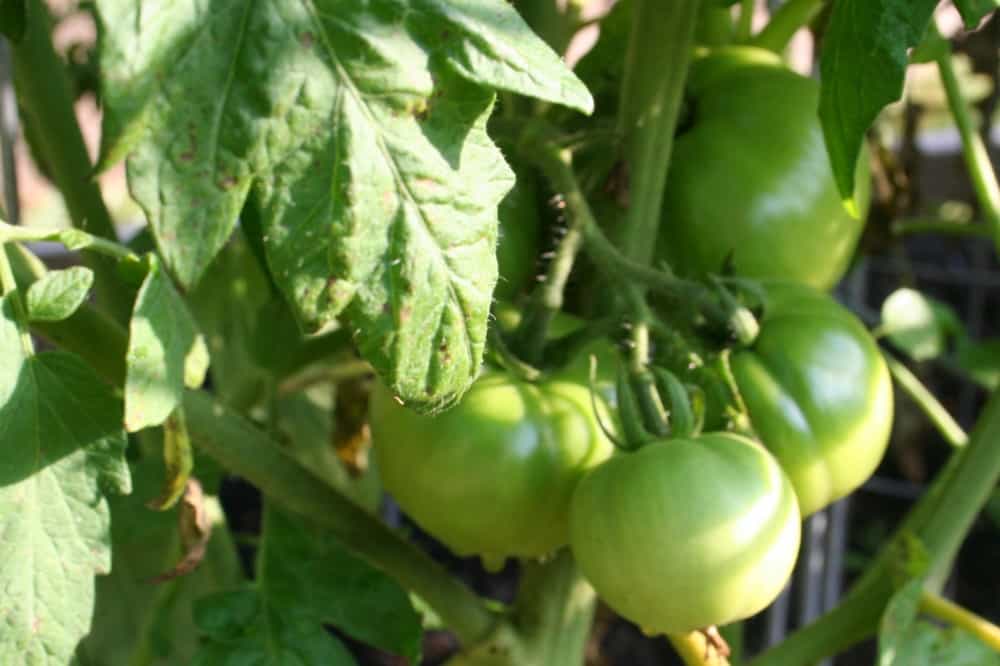 The tomatoes are a puzzle this year. There are plentiful green tomatoes but nothing turning red yet. Every day they grow larger…and still green. I suppose we will see red soon and then I'll scramble to do something with them all!
We have gorgeous beets this year and plenty of onions and carrots. I'd forgotten that I had grown purple carrots this year and accidentally pulled a few out when harvesting my beets. They made a lovely addition to this salad, which included Romaine lettuce, beets, purple carrots, and borage flowers. Delicious!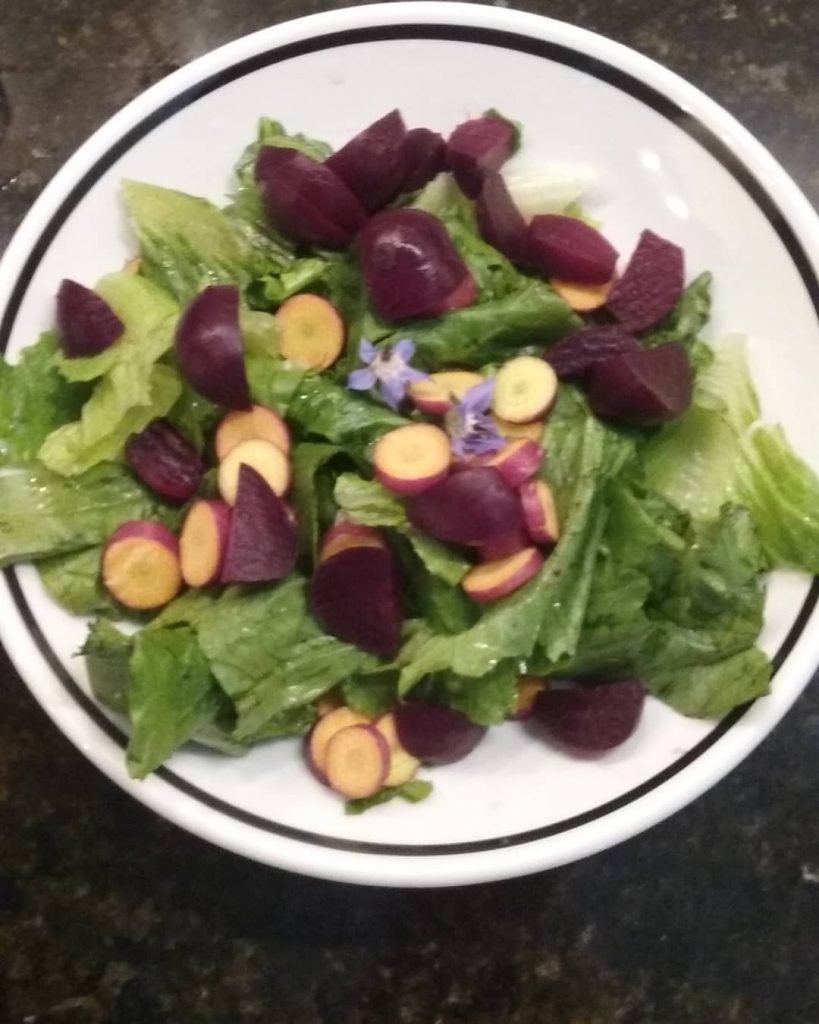 We have acorn and butternut squash as well as prolific French heirloom melon vines but I have yet to find a melon…and the green beans are just starting, which means we will have plenty to come. The onion harvest was good and I look forward to the parsnips in the fall even though only a few grew.
The flower garden is abundant this year thanks to the rain this spring. The deer, however, have also been abundant. We had a newborn fawn in the yard with its mother and watched in awe as baby nursed from mom.
There are some things in life that happen and you're just glad to be in the right place, at the right time, to catch it.
I bought a fountain kit on eBay and set it up with this Mexican planter inherited from my in-laws. I moved a bunch of ferns that were growing behind the air conditioner units to the side garden in the hopes of creating a lush quasi Asian garden with my bamboo fern. I like it, but I can tell my husband isn't thrilled. Oh well, it will "grow" on him.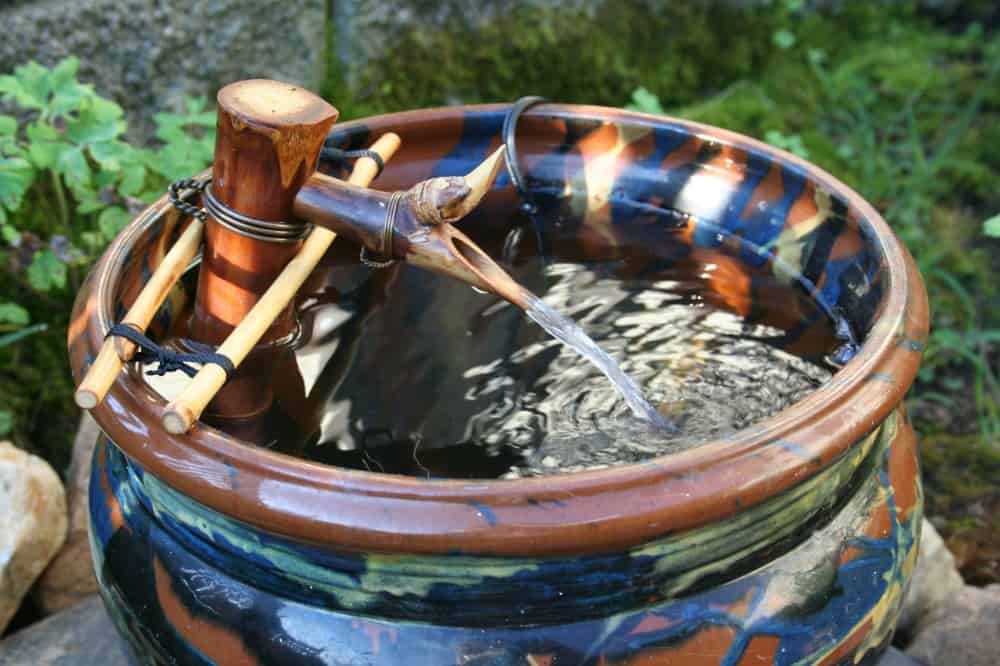 My sister in law and nephew are coming for a visit in mid-July, and the young man is looking forward to helping his uncle replace warped boards on the deck, in the vegetable garden, and dig up my flower bed that need a complete do-over. I plan to sit in the shade and watch while the 13-year old applies all his youthful energy to my weeds. That, my friends, is what I call a vacation.
Happy gardening and here's to a wonderful, safe 4th of July!
SaveSave
SaveSave
Jeanne Grunert is a certified Virginia Master Gardener and the author of several gardening books. Her garden articles, photographs, and interviews have been featured in The Herb Companion, Virginia Gardener, and Cultivate, the magazine of the National Farm Bureau. She is the founder of The Christian Herbalists group and a popular local lecturer on culinary herbs and herbs for health, raised bed gardening, and horticulture therapy.