The St. John's Wort plant is easily grown from seed but you will need patience to grow it to maturity. I grew my St. John's Wort plants from seed and it took about three years before they bloomed prolifically.
Growing St. John's Wort Plant
St. John's Wort plant (Hypericum spp.) thrives in garden zones 5 through 10, making it a good addition to gardens throughout much of the United States. The flowers offer a cheerful yellow burst of color in the garden. It typically blooms in mid-June around St. John's Day (June 22), hence the name.
Here in my garden in south central Virginia, the St. John's Wort plant bloomed early this year on May 30. One great thing about St. John's Wort is that it will continue blooming throughout the summer, so an early bloom isn't necessarily a bad thing.
The flowers are usually infused into oils, such as olive oil, to make an antiseptic oil for treatment of external bruises, cuts, and superficial wounds. The leaves contain chemicals that are thought to regulate many neurotransmitters including dopamine and serotonin, making it an herb for anxiety and depression. Citizens of other countries, such as Germany, prefer taking St. John's Wort to pharmaceutical drugs for anxiety and depression. It is said it outsells drugs like Prozac 20:1. Current research on the plant explores the chemical compounds in the leaves and flowers for the treatment of AIDS (but no conclusions are available yet.)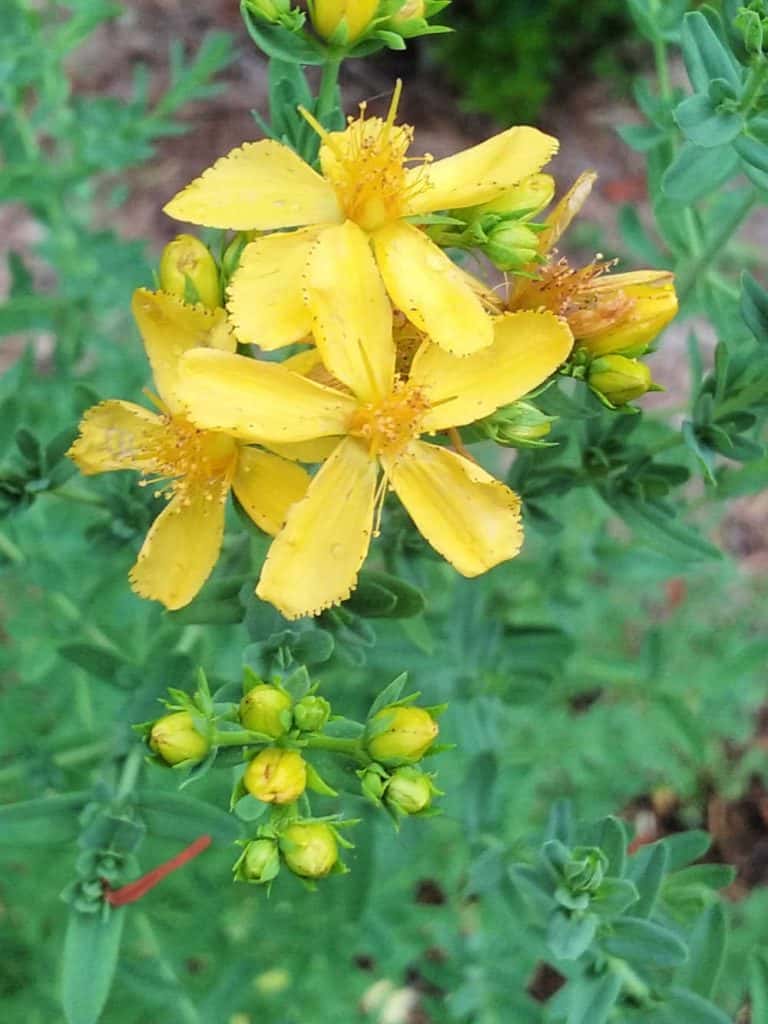 How to Grow St. John's Wort
I purchased seeds to grow the St. John's Wort plant from Strictly Medicinal Seeds, a wonderful family-owned seed company that sells many unusual herb and flower seeds and plants.
St. John's Wort grows in the wild in barren places –  weedy spots no other plants seem to want. It prefers full sun but will tolerate partial shade. It tolerates both moisture and drought, making it ideal for the place where I have it in the garden. In the spring, the clay soil often holds too much water, and when the weather heats up, the garden gets very dry. My St. John's Wort plant shrubs it right off.
Plant the seeds indoors, in the spring, and keeps the seed starting trays moist until the plants germinate. When the seedlings around three inches tall or so, transplant them into the garden. Water frequently until they become established and seem to be growing well.
Uses in the Landscape
I've already mentioned the medicinal uses of St. John's Wort, so let's take a look at the ornamental uses of this plant in the landscape. St. John's Wort is a perennial, which means it returns each year from the same rootstock. It needs about two feet of space and will grow into a little shrub or bush. My own plant is about two feet tall now, and a second plant in another part of the garden remains small.
I've seen St. John's Wort used as a border plant and as part of a cottage garden in a lovely little garden in Maine. The possibilities are endless. Planted with blue flowers like annual cornflower or with other yellow-orange perennials such as daylilies it offers an attractive plant that bees love and most bugs leave alone.
You can easily plant your own St. John's Wort from seeds or small plants purchased at the nursery. If you enjoy making your own herbal oils, growing your own ensures an organic supply of the flowers. Or just add this cheerful plant to your garden for a touch of color throughout the summer and fall.
Jeanne Grunert is a certified Virginia Master Gardener and the author of several gardening books. Her garden articles, photographs, and interviews have been featured in The Herb Companion, Virginia Gardener, and Cultivate, the magazine of the National Farm Bureau. She is the founder of The Christian Herbalists group and a popular local lecturer on culinary herbs and herbs for health, raised bed gardening, and horticulture therapy.