Columbine flowers, also called aquilegia, are an easy-care woodland perennial. They are native to North America and are found throughout the United States and Canada. In the wild, columbines prefer semi-shaded areas with moist, slightly acidic soil. Hybrid columbines tend to tolerate sun better than native columbines, but all are easy to grow perennial flowers that can be added to almost any moist, temperate garden. The only place you may struggle to grow columbines is the humid, sandy soils of the deep south and Gulf Coast, and the desert areas of the west. Other than that, your local garden center is likely to have a columbine flower that's right for your garden!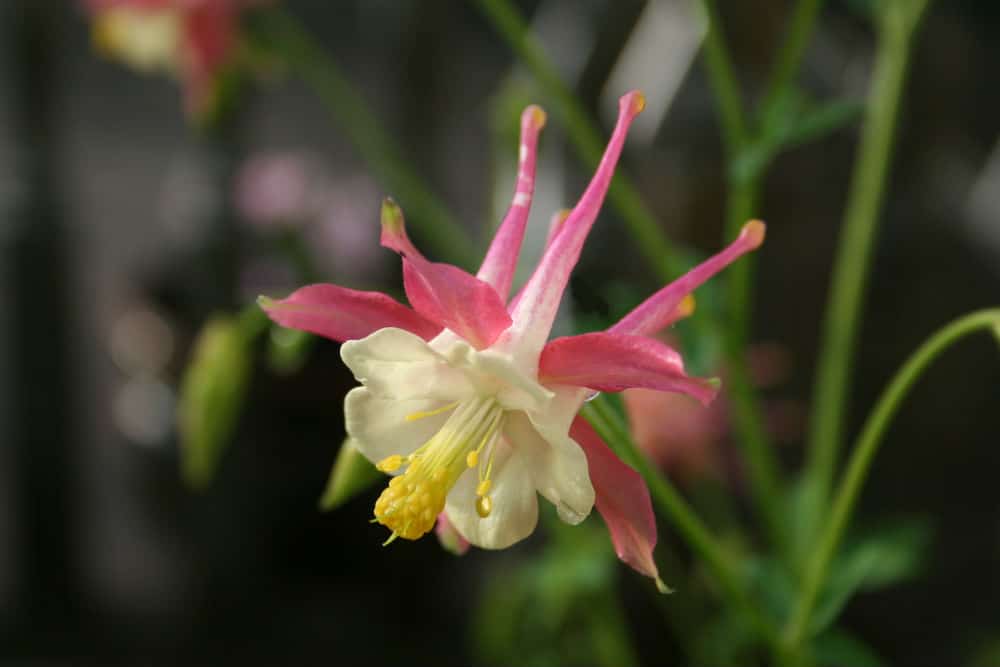 Planting Columbine or Aquilegia Flowers
Planting columbine flowers or aquilegia flowers is fairly easy. Once they're established in the garden, they are drought-tolerant and require little care.
Where to Plant Columbine Flowers
Plants thrive when given conditions in the garden similar to where they grow in the wild, and columbine are no exception. In the wild, columbine flowers grow on rocky slopes and wooded areas in the mountains. They prefer partial sun or dappled shade. Some will tolerate full sun. My columbines, photographed for this article, grow in two locations. The yellow columbine grows in full sun to partial shade. It receives sunlight starting in mid morning, and the trees shade it starting around 3 p.m. It also receives shade from a butterfly bush growing nearby. As the season progresses into the hot summer months, the butterfly bush shades it even more, which the plant likes. The red columbine below grow behind my home in a moist, shady location near the foundation of the house. They grow right near the garden hose connector and thus receive plenty of "drip irrigation" when the hose is turned on! They receive direct sunlight for only a little while during the morning, and the rest of the day they are in shade. Since impatiens and hosta also love that area, I knew my columbine flowers would, too.
One thing to note about locations for columbine flowers. Some species, such as the red ones below, are prolific seeders. They produce plenty of seeds during the season and you will get many "volunteers" or seedlings growing near the parent plant. I have room in my garden for more and like moving the plants, but if you have a small garden, look for hybrids such as the yellow, above, or one of the blue or bi-colored hybrids. In my experience, they tend to seed less, but this may vary among individual plants. Expect to pull up and discard seedlings, or you can pot them up and give them away to friends and neighbors. Seeds can also be collected and scattered in wooded or shady areas on your property to grow new columbine flowers.
Light Requirements
Columbine are some of the most easy to grow plants I've ever found. Most horticulturists will tell you "partial shade" for columbines, but truly, they can tolerate a wide range of conditions. Shade, partial shade or dappled sunlight are best.
Soil and Fertilizer
Columbine grow on rocky ledges and outcroppings in the wild as well as near the edges of the woods. They like moist soil but once established are drought tolerant. Fertilizing them lightly with a balanced 10-10-10 fertilizer or plenty of well-aged compost will help them grow lush foliage and colorful flowers, but it isn't required.
Water
Columbines need regular watering to get started, but once established, they're drought tolerant. That's one of the reasons I love them so much in my zone 6B/ 7 Virginia garden – summers here tend to be hot, with temperatures in the 90 or 100 degree Fahrenheit range, with little rain from the end of June until August. Fussy plants don't fit my lifestyle, but columbine do. Like Echinacea, they tolerate the occasional drought once they are mature.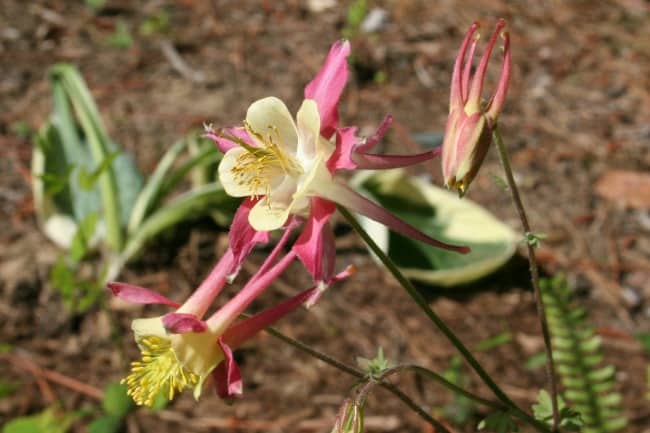 Planting Columbine Flowers
You can start columbine flowers from seeds or purchase mature plants from the nursery or garden center. If starting columbine flowers from seeds, follow the package directions and sow them once the soil is warm and the danger of a hard frost is past. Water regularly. It will take about 15-30 days before the seedling to emerge. I started mine in flats inside the house in the winter. Keep them covered and warm until they seedlings emerge, then remove the cover and water regularly until plants are established. Transplant into the garden once the danger of frost is past.
Many hybrids are better purchased as mature plants, and they are not very expensive (in my experience.) Purchasing a mature plant gives you the immediate satisfaction of starting with a taller plant. Columbine foliage is exquisite. It's light, air and has an interesting shape and blue-green color. Check with your local nursery and garden center to find hybrid columbine for your location.
Columbine Flower Uses in the Landscape
Columbine flowers attract bees, butterflies and hummingbirds, so plant them where you can enjoy them! They are a great woodland plant, and can be added with ferms, bleeding heart, and astilbe to a shady perennial garden.
Jeanne Grunert is a certified Virginia Master Gardener and the author of several gardening books. Her garden articles, photographs, and interviews have been featured in The Herb Companion, Virginia Gardener, and Cultivate, the magazine of the National Farm Bureau. She is the founder of The Christian Herbalists group and a popular local lecturer on culinary herbs and herbs for health, raised bed gardening, and horticulture therapy.