Thinking of growing thyme in your home garden? Thyme offers a beautiful, fragrant herb. It's a wonderful recipe ingredient. Thyme tea is an excellent herbal remedy for sore throats. Plus, the plant makes a beautiful garden addition.

All About Growing Thyme
Growing thyme in the home garden fills the senses with delight. It's a beautiful herb, forming a carpet of green spangled with white or purple flowers in the spring. Bees love its nectar and hover nearby. Crush a stem between your fingers, rolling it back and forth, and feel the oils rich with heady perfume.
Adding thyme to the home herb garden provides you with plentiful fresh herbs for your culinary adventures. If you don't have a garden, keep a small pot on the kitchen windowsill so you always have fresh thyme handy. It's worth growing thyme for its fresh, delightful taste in French, Italian, and Greek cooking.
About Thyme
Thyme grows wild in the Meditteranean. It thrives on sandy, rocky soil and drought. In fact, the more you fuss with thyme, the worse it grows. If you want plenty of thyme, plant it and enjoy it – that's all!
There are over 300 varieties of thyme grown worldwide. The two most commonly grown in the home garden for culinary use are upright thyme and creeping thyme. Nearly all thyme varieties require the same conditions to thrive, so the information I provide on growing thyme may be applied to these and most other thyme varieties you find in the garden center.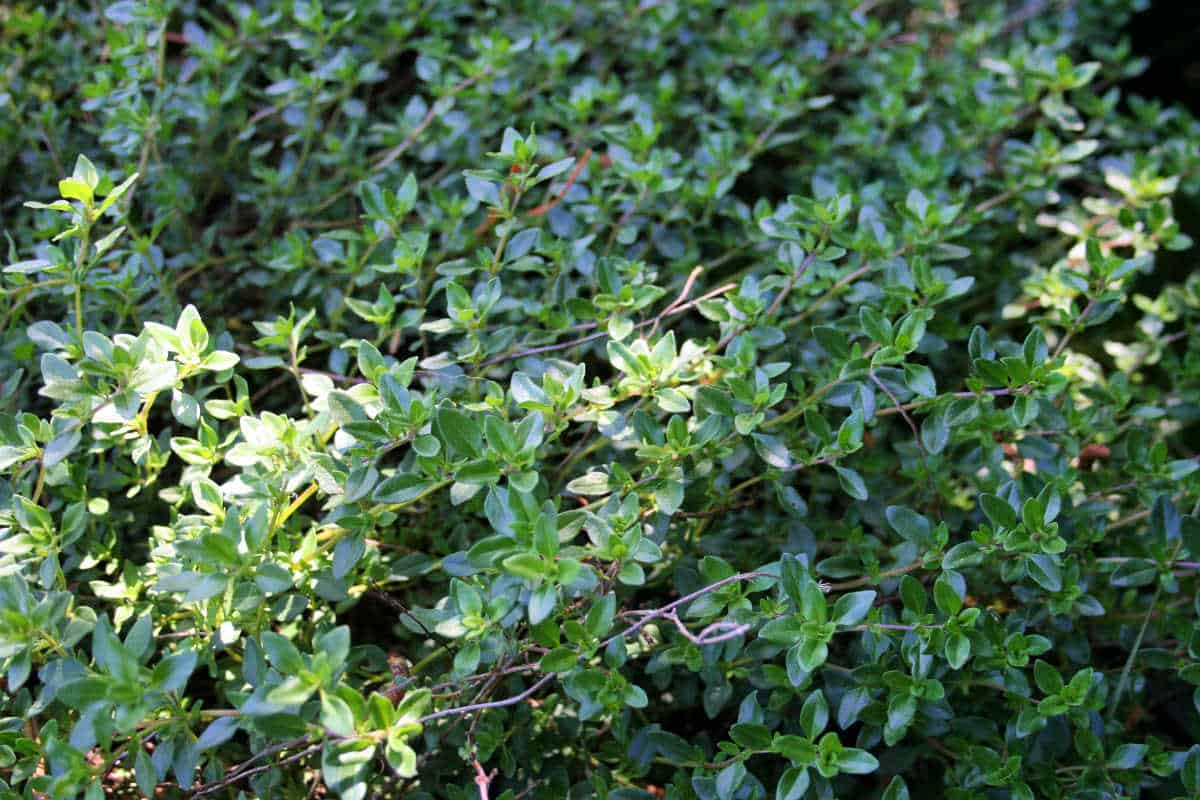 How to Grow All Types of Thyme Herb
Choose your location: Thyme prefers sunshine but can tolerate shade. My own thyme patch grows abundantly in almost full shade.
Soil: Thyme prefers sandy soil.
pH: This herb prefers a pH of 6.5 – 8.5
US Hardiness Zone: 1-10.
Fertilizer: Don't fertilize thyme. It does well without any added fertilizer.
Water needs: Low. Drought-tolerant
Choose the location for your thyme plant carefully. Once placed in the garden, it dislikes being disturbed. It will also spread out, so be sure to leave plenty of room for it to grow.
Light Requirements for Thyme
Thyme prefers full sunlight, but I've grown it in partial to almost full shade and it does fine.
Thyme from Seeds or Plants?
You can grow thyme from seeds or plants. I prefer growing it from plants. With so many thyme varieties to choose among, growing it from plants allows me to add more variety to my garden.
Evergreen Perennial Herb
Like rosemary, thyme is an evergreen herb, so it will stay green throughout the winter. It is also a perennial herb, which means you plant it once and it returns year after year. The plant continues its lifecycle on an annual basis, renewing itself and preparing flowers and seeds each year.
Water Needs
Thyme is drought tolerant. My own grows around the rim of a small garden pond. Over the course of the summer, I have to snip back the branches, because it overhangs the pond and roots in the shallow soil in the basin. It tolerates drought, but it sure seems to appreciate the water!
Insects and Pests
Thyme is deer-resistant and resistant to many insect pests, which makes it ideal for my farm which borders woods that are filled with white-tail deer. Ants seem to like it, but ants do not harm the plant and can be easily removed by swishing the cut stems in water before using them.
Growing Thyme Indoors
Upright and creeping thyme are both easy to grow indoors. They require lots of bright light from direct sunlight. Avoid watering them too much, which can kill thyme, and make sure that the pot or container in which you are growing thyme has plenty of drainage holes and soil that drains excess water out easily.
To learn more about growing herbs indoors, see Easy Indoor Herb Gardening, a new course from Home Garden Joy.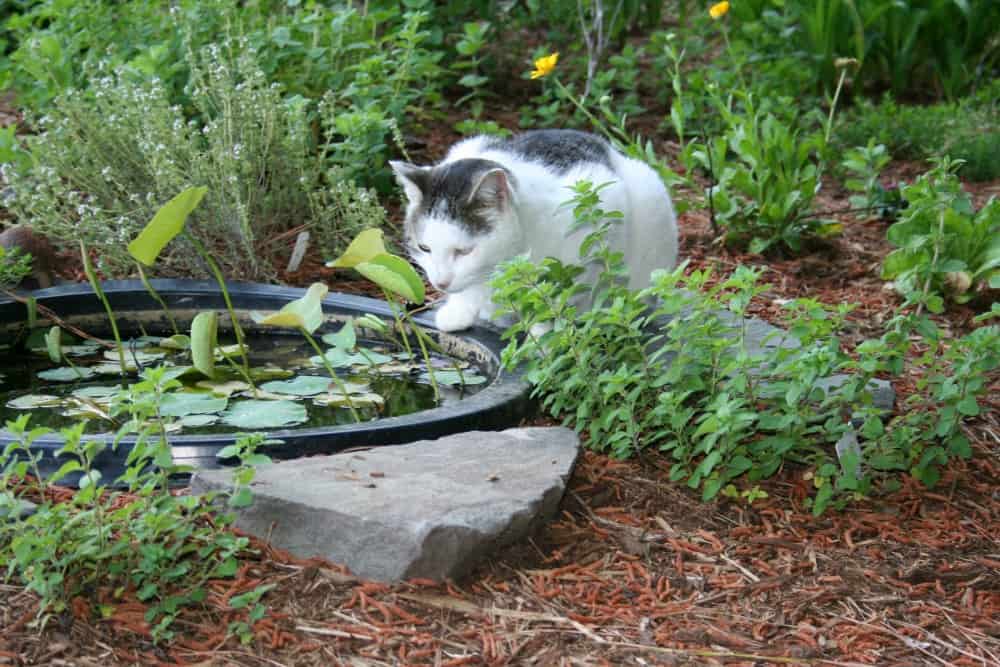 Types of Thyme
The following are affiliate links. We are a participant in the Amazon Services LLC Associates Program, an affiliate advertising program designed to provide a means for us to earn fees by linking to Amazon.com and affiliated sites. Thank so much for being a part of Home Garden Joy.
Upright Thyme
Upright thyme (Thymus vulgaris) grows in a dense bush about 10 inches tall. Sprigs may be cut and tied together to form a French bouquet garni, or spice blend, for cooking.
I find that my upright thyme bends over, forming a lower, denser mat than the creeping thyme.
Creeping Thyme
Creeping thyme (Thymus serpyllum), also known as Breckland thyme or wild thyme, is low-growing perennial thyme with purple flowers. It's a native plant in Europe and most of North Africa. It is low-growing and only gets about three inches tall. It also has fragrant, evergreen leaves and may be used for cooking.
Fresh Thyme to Dried Thyme
Once your thyme patch gets established in the garden, you'll have an abundance of thyme. You can use it fresh or dried.
To turn fresh thyme into dried thyme you can air dry it or use a dehydrator.
To air dry fresh thyme into dried thyme:
Snip long stems of fresh thyme.
Tie the stems together at the cut end with some twine or string.
Hang them up in a warm, dry location for two weeks.
Remove when the leaves are dry and crush the leaves into a jar.
Discard the stems.
I like the Presto Dehydrator to dehydrate my herbs. To dehydrate fresh thyme into dried thyme:
Place sprigs of fresh thyme on the dehydrator sheets or stacks
Dry at 100 degrees for one to two hours
Remove and crumble the leaves into a container, discarding the stems.
Whether you're growing thyme for its beautiful leaves, as a ground cover, or to add fresh taste to your home-cooked meals, thyme is a wonderful, easy to grow herb that no home herb garden should be without.
First Published: May 2020 Last Updated: April 2021
Jeanne Grunert is a certified Virginia Master Gardener and the author of several gardening books. Her garden articles, photographs, and interviews have been featured in The Herb Companion, Virginia Gardener, and Cultivate, the magazine of the National Farm Bureau. She is the founder of The Christian Herbalists group and a popular local lecturer on culinary herbs and herbs for health, raised bed gardening, and horticulture therapy.