I whipped up this light and fluffy peanut butter bread recipe this morning and it came out terrific. When you're craving bread for breakfast, this peanut butter bread hits the spot. Not too heavy, not too moist, it's perfect with a glass of milk.

Light and Fluffy Peanut Butter Bread
My friend Theresa posted on Facebook that she had made "peanut butter bread." Intrigued, I asked her for the recipe. Her recipe included buttermilk and a few other ingredients I didn't have on hand, so I whipped out my trust Fanny Farmer cookbook and found an alternative recipe.
If you don't have a copy of the Fanny Farmer classic cookbook, get it. It's my go-to cookbook for everything. I don't think I've found a bad recipe in the whole book. Simple recipes can be easily adapted for any taste and the book included how-to-cook basics for everything from meat and fish to vegetables.
Quick Peanut Butter Bread
This recipe is actually what's called a quick bread. Usually, quick bread recipes leave out leavening agents like yeast and eggs. In this case, the recipe included one egg, but no yeast.
I kept the egg although I try to reduce the cholesterol in our diets. Honestly, today, I needed the full taste and mouth-feel of regular old-fashioned loaf bread. There's a time to eat healthily and a time when it's okay to indulge. Today was an indulgence day.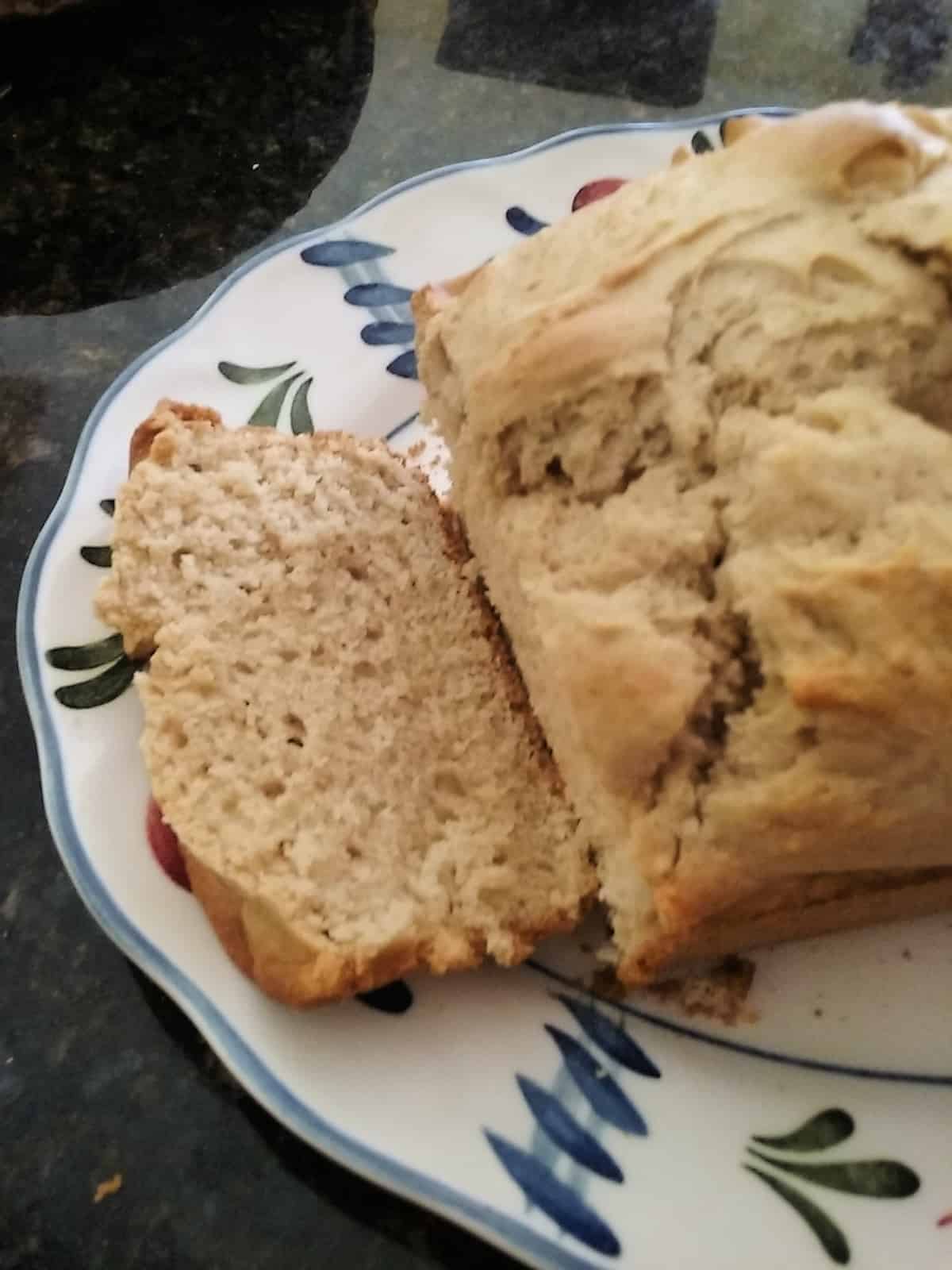 Chunky or Smooth Peanut Butter?
I don't know which team you're on – Team Chunky Peanut Butter or Team Smooth Peanut Butter – but whatever you have in the pantry is just fine for this recipe. If you use chunky peanut butter, you'll get a bit of extra crunch from the peanuts and it might enhance the peanut butter flavor.
Recipe Tips
I used my electric mixer on low to beat the batter and I think that helped it rise lighter and fluffier than my typical loaf bread. I know most quick bread recipes can be mixed by hand and you can indeed mix this by hand. But if you have a stand mixer, use it.
Grease the pan well. I mean really well. The bread gets sticky and can easily stick to the loaf pan if you haven't greased the pan enough.
Need the Cookbook?
The following are affiliate links. We are a participant in the Amazon Services LLC Associates Program, an affiliate advertising program designed to provide a means for us to earn fees by linking to Amazon.com and affiliated sites. Thank you so much for being a part o Home Garden Joy!
The Fannie Farmer Cookbook: Celebrating the 100th Anniversary of America's Great Classic Cookbook
Light and Fluffy Peanut Butter Bread
A light, fluffy, quick bread with a hint of peanut butter. A perfect after-school snack or breakfast bread.
Ingredients
2

cups

white flour

1/3

cup

Sugar

2

teaspoons

bakingi powder

1/4

teaspoon

Salt

1

large

egg

1

cup

1% milk

3/4

cup

peanut butter
Instructions
Preheat the oven to 350 degrees F. Grease a large loaf pan.

In a mixing bowl, mix flour, sugar, baking powder and salt.

While the mixer is running, add the milk, then the egg.

Mix in the peanut butter.

Pour batter into greased loaf pan. Bake for 50-55 minutes at 350 until a toothpick inserted into the center comes out clean.

Cool 5 minutes, use a knife to loosen the bread. Turn over and allow to cool completely on a wire rack.
Notes
This quick bread freezes well. Cut the slices before freezing them so you can easily grab a slice, pop it into the microwave for 30 seconds to reheat it, and enjoy breakfast on the go.
Jeanne Grunert is a certified Virginia Master Gardener and the author of several gardening books. Her garden articles, photographs, and interviews have been featured in The Herb Companion, Virginia Gardener, and Cultivate, the magazine of the National Farm Bureau. She is the founder of The Christian Herbalists group and a popular local lecturer on culinary herbs and herbs for health, raised bed gardening, and horticulture therapy.