If you've ever felt like you didn't have enough space to grow everything you'd like, it's time to look into vertical gardening. Vertical gardening helps you take full advantage of the space you have, even if it's small, by growing up instead of out.
This might seem like a new idea, but if you think about it, you've seen vertical gardening before if you have ever seen flowers on a trellis. There are many more ways to create this type of garden, and it's not just for flowers. Let's look at some way to take your gardening to new heights… literally.
This post has been sponsored by Responsival.
Vertical Garden Planters
Vertical garden planters come in an assortment of styles. The most versatile one I've seen is the composting vertical garden planter. If you have at least four square feet of space you can grow up to 50 plants (fruits, vegetables, or herbs). Not only does it allow people in small spaces to have a garden, but it also has a little built-in composter for kitchen scraps.
Another planter idea is the wall planter. The best wall planters I've seen are self-watering. They have multiple pockets and baskets for planting whatever your heart desires. Planters have holes for nails or screws so you can hang them on a fence outside or on a wall inside. Can you imagine having an entire wall of greenery in your house? That would really expand your garden space!
Then there's the vertical garden bed. These look much like flower boxes but they are stacked vertically on a stand or frame. They may be wood or plastic and some have included drip irrigation systems, making gardening a little easier.
Finally there are stackable planters. These are usually a tray with several planting spots. Each tray can be stacked onto another creating what resembles a large strawberry pot. In fact, stackable planters are great for strawberries or anything else you want to plant in them. Most also come with a drip tray so you can use them indoors or out.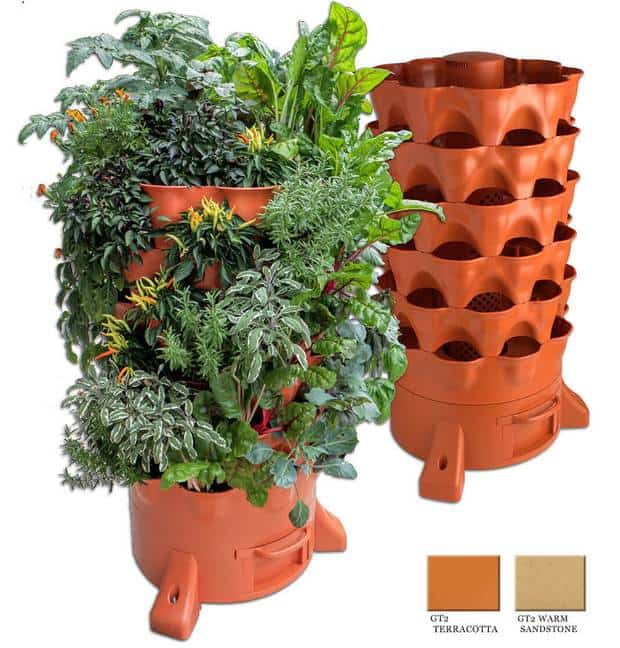 Vertical Garden Structures
You can get incredibly creative with arbors and trellises depending on how structured you want your garden to be. You can use a traditional version, but it's a lot more fun to get your imagination involved. Have some branches around the yard? Turn them into rustic vertical garden structures. Make them into a teepee or add some chicken wire or string and there is no end to that you can create.
Look around your yard and home and see what types of items you can repurpose. I've seen people use an old bicycle in their garden bed for flowers to climb. Many years ago I had an old antique tiller. I put it in the middle of my strawberry bed and let peas climb it, creating extra growing space as well as visual appeal. An old wagon wheel would be beautiful as well, with roses climbing all over it.
Do you have an old fence or leftover pieces of chain link? Instant garden space! You can use it to make trellises and garden structures. What better way to dress up an unattractive piece of fencing that would otherwise go in the trash than by covering it with vines that flower or produce food?
Best Plants for Vertical Gardening
The best plants for vertical gardening are either plants with a short root system, or plants that like to climb.
Annuals to grow vertically include edibles like lettuce, radishes, spinach, basil, and parsley. You can also grow nasturtiums, pansies, petunias, and begonias. Vining plants that are good for this type of gardening include cucumbers, cherry tomatoes, and pole beans. You can also try hummingbird vine, sweet pea flowers, or morning glory.
Roses are always amazing when they grow vertically. Try an assortment along a fenceline and see how quickly the fence is transformed into a beautiful focal point instead of an eyesore.
This year I plan to try growing squash vertically. Talk about a space saver! You'll need a strong trellis or other support because squash is heavy, but as soon as the squash starts growing, gently guide it to the support. You may need to tie it until it starts climbing on its own, and you'll need to make slings to hold heavier varieties of squash so there isn't too much stress on the vine. But it will free up a tremendous amount of space in your garden.
Have you tried vertical gardening? What did you grow and how did you do it?
Kathleen Marshall is a master gardener, herbalist, and self-sufficiency expert. She has spent most of her adult life pursuing homesteading and gardening . Now she is learning to be self-sufficient on small acreage, working with the woods to provide.