Although this veggie burger recipe is a make-ahead recipe, it's so simple you'll turn to it again and again when you need veggie burgers. You'll never buy packaged vegetarian patties again when you can make your very own lentil burgers using this recipe. Delicious, whole-food plant based recipe filled with herbs you can grow indoors.
Make Lentil Burgers Ahead of Time
The secret to making great veggie burgers or lentil burgers is to make the mixture ahead of time. Allowing time for the ingredients to chill enables the flaxseed mixture to act as a binder. This means that when you shape the patties for frying, they will hold together. If you don't chill the mixture, the vegetarian patties will still cook, but they may crumble apart in the pan.
How Do You Make this Veggie Burger Recipe Taste Good?
Although it won't taste like store-bought vegetarian patties, this homemade veggie burger tastes delicious. My secret ingredient: tarragon. You can substitute any of your favorite garden herbs for tarragon.
Take the dried herb and use a mortar and pestle to grind it. The finer you grind the herbs added to the patty, the better it will taste. Tarragon is my favorite herb but a combination of basil and oregano, parsley and oregano, or smoke paprika would taste fantastic.
Storing Veggie Burger Filling
The filling should be made one day ahead of time and refrigerated in an airtight container until you're ready to fry up your patties or burgers. The finished burgers may be stored in the refrigerator for up to one day.
Serving Lentil Burgers: What Goes with Them?
You can serve lentil burgers on a whole wheat bun, in a pita bread, or like I did, just placing them on large Romain lettuce leaves. I made some into a wrap sandwich by folding the lettuce around like a tortilla shell. It's messy, but oh-so-yummy!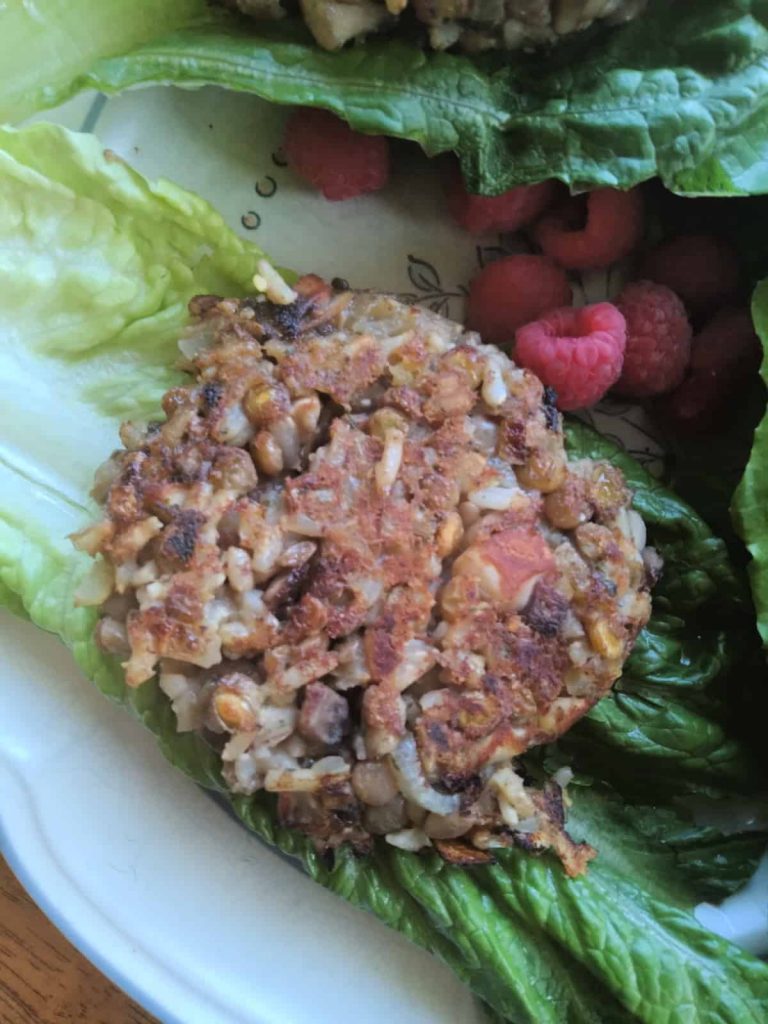 Looking for more vegan recipes?
Cooking Vegan – Healthful, Delicious and Easy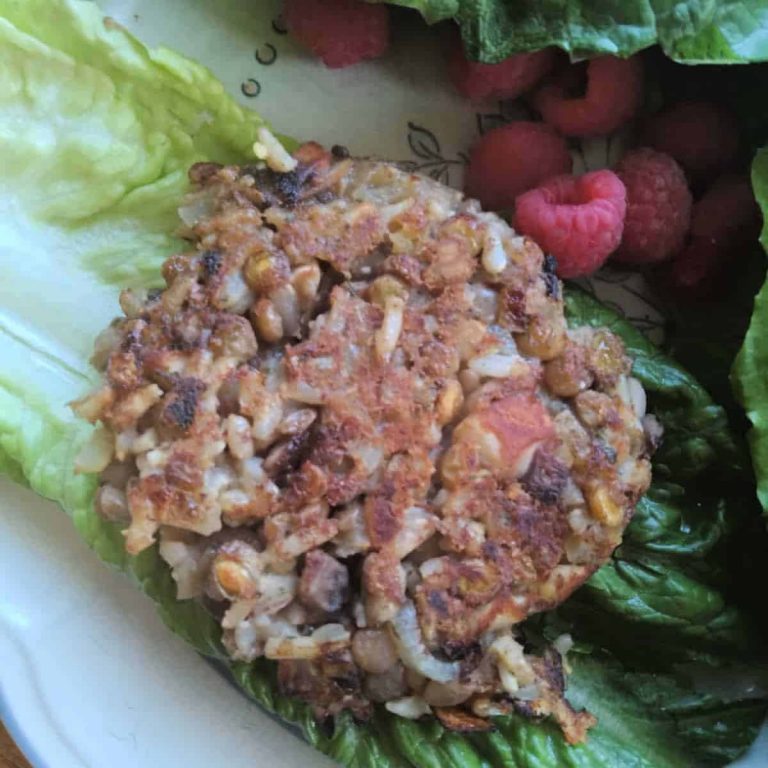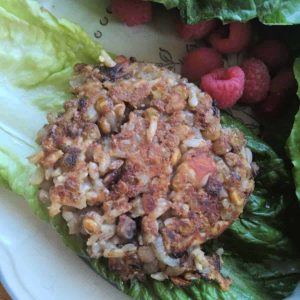 Easy Veggie Burger Recipe
A simple, easy make-ahead filling to shape into vegetarian patties or burgers. This recipe for lentil burgers is wonderful for whole-food plant based diets, Eat to Live/nutritarian diets, vegetarian and vegan meals.
Ingredients
1/2

cup

brown rice

1/2

cup

lentils

1/2

onion

diced

1

tablespoon

olive oil

1

tablespoon

flaxseed

ground fine

3

tablespoons

cold water

1

tablespoon

tarragon

diced
Instructions
In a large pot with a tight-fitting lid, add the water, lentils, and brown rice. Bring to a boil, stir, then reduce the heat to simmer. Cover the pot. Simmer for 45 minutes. Check occasionally to make sure there is still water in the pot. If you need to add water to keep the mix from burning, do so, but only add one tablespoon at a time as needed.

While the rice and lentils are simmering, dice the onion. Heat olive oil in a sauce pan and sauté the onions until translucent. Set aside.

Grind the flaxseed into a fine powder. Mix it with water. Set it aside.

Using a mortar and pestle, grind the herbs (tarragon and parsley, basil and oregano, parsley and basil) into a fine powder.

When the lentils and rice are finished cooking and have absorbed most of the water, mix the lentils and rice, flaxseed mix, onions, and herbs in a bowl. Add salt and pepper to taste. Place into an airtight container and refrigerate for several hours or up to 1 day before making the patties.

To make the patties, heat a nonstick pan. Form the patties in your hands from the lentil and rice mixture. They should be 2 inches thick when they go into the pan. Use a spatula to push them down gently. Cook 2 minutes on each side until browned. Serve immediately.