This stuffed summer squash recipe uses fresh summer squash – green, yellow, or even zucchini – along with other easy to grow garden vegetables. It's tasty, filling, nutritious and low calorie. Oh, and did I mention it is not only vegetarian but vegan, too?
Jump to Recipe
Vegetarian Recipe for Stuffed Summer Squash
Most summer squash recipes include tons of cheese, which to me, takes away from the light, fresh flavor of the garden vegetables.
I mean, what's the point of raising your own summer squash, tomatoes, and other veggies, only to smother them with cheese? Okay, yeah, it's cheese – and who doesn't love cheese? – but for those of us watching our calories and cholesterol, like my husband and I, we can do without the cheese.
Growing Summer Squash
Like its much-maligned counterpart, the zucchini, summer squash is exceptionally easy to grow. Plant squash seeds directly into the garden in the warm weather. You can plant seeds in the spring after the last frost date for your gardening zone or anytime into July.
We waited until the beets were done and harvested, then used the same raised bed to plant our summer and winter squash. Within weeks, we had healthy plants. Bonus: we seem to have missed the window when all of the squash beetles in the world descend on our garden for an orgy, leaving their eggs and young on the squash leaves and ruining our crop. This year, knock wood, no bugs.
While it's true that planting summer squash so late in the season results in fewer squash, for our family of two (with only one summer squash lover – me), it's perfect.
Making Stuffed Summer Squash Vegetarian
This recipe is so easy to make that the kids can help! If you're growing your own squash, all you need to do is wash the outside skin clean. I'm assuming that you, like me, prefer to grow organic vegetables. If not, no worries – just give it an extra good scrub!
Most people who grow a few squash plants also love growing tomatoes, and the taste of squash and sweet cherry tomatoes just seems to go together. I added a bit of ground black pepper as a seasoning, but you can also add basil salt, dried basil, or another Italian herb for a lovely accent.
The recipe takes about an hour to make, and makes a good vegetarian meal idea or a side dish for a light meal. Enjoy!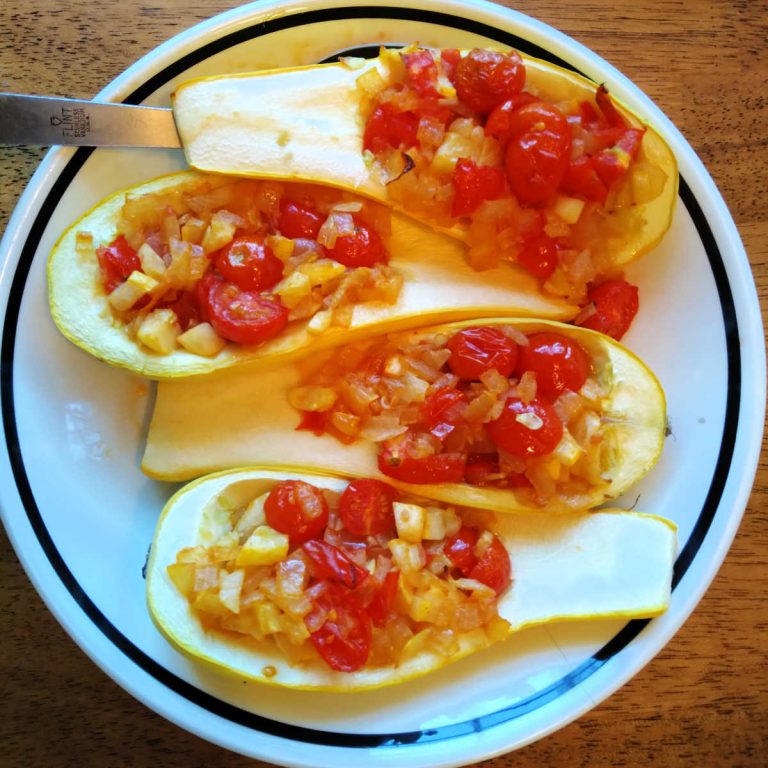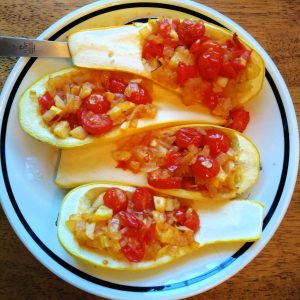 Stuffed Summer Squash
A vegan recipe that uses the bounty from your summer garden – summer squash (green or yellow, or even zucchini), cherry tomatoes, and onions – for the perfect vegan meal or side dish.
Ingredients
3

medium

summer squash or zucchini

2

tbsp

olive oil

extra virgin

1/2

medium

yellow onion

10

ripe

cherry tomatoes
Instructions
Preheat the oven to 350 degrees F.

Wash 2 of the three summer squash and cut off the stem end. Slide it lengthwide so that you have two long halves. Using a spoon, gently and carefully scoop out the seed cavity, discarding seeds.

Place halves of the summer squash, cut-side up, on a baking sheet and bake at 350 for 20 minutes.

Peel the remaining summer squash. Diced the stem end into fine small piece and discard the rest, using as much of the seed end as you can without including seeds or stringy bits.

Dice the onion and cut the cherry tomatoes in half.

In a large saucepan, place onions and olive oil, then gently heat until the onion is translucent, about 5 minutes. Add squash and sautee another 2-3 minutes, then add the tomato halves and sautee 5 more minutes.

Remove the squash from the oven. Spoon the squash, onion, and tomato mixture into the cavities of the squash. Return stuffed summer squash to the oven and bake for another 20-30 minutes or until squash is completely tender. Remove, serve with salt and pepper and other herbal seasonings of your choice.
Jeanne Grunert is a certified Virginia Master Gardener and the author of several gardening books. Her garden articles, photographs, and interviews have been featured in The Herb Companion, Virginia Gardener, and Cultivate, the magazine of the National Farm Bureau. She is the founder of The Christian Herbalists group and a popular local lecturer on culinary herbs and herbs for health, raised bed gardening, and horticulture therapy.