What is chervil? My favorite herb writer, Bertha Rappaport, likens chervil to parsley, but this French herb differs from parsley. I grew chervil plants this year for the first time in the garden. Here, a chervil plant profile, including medicinal uses, chervil vs. parsley, and more.
Chervil Plant Profile
Chervil is a delicate, lacy-leaved herb that belongs to the Apiaceae family. It resembles parsley and is known for its mild, sweet, anise-like flavor. The plant reaches a height of about 12-24 inches (30-60 cm) and features finely divided, feathery leaves.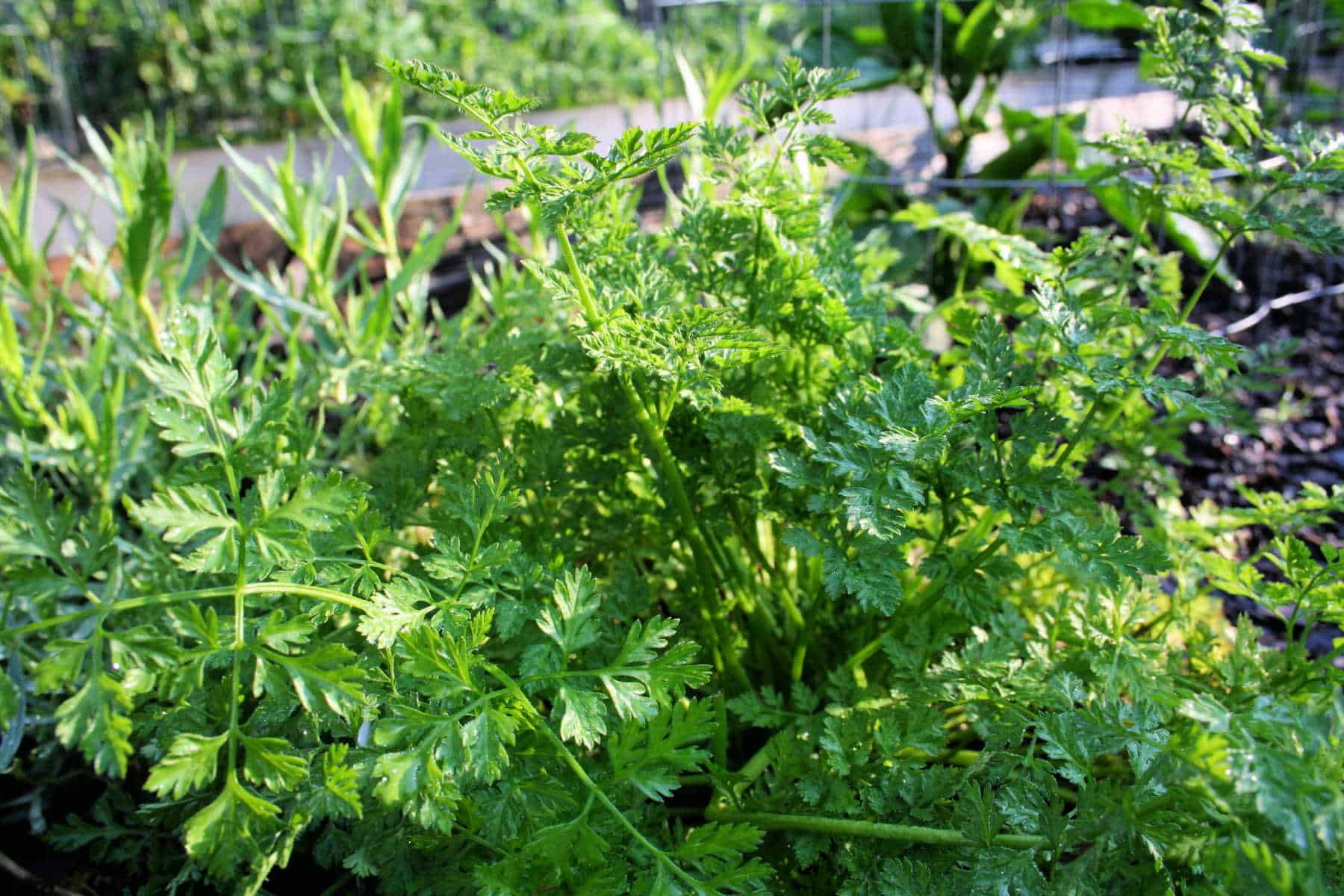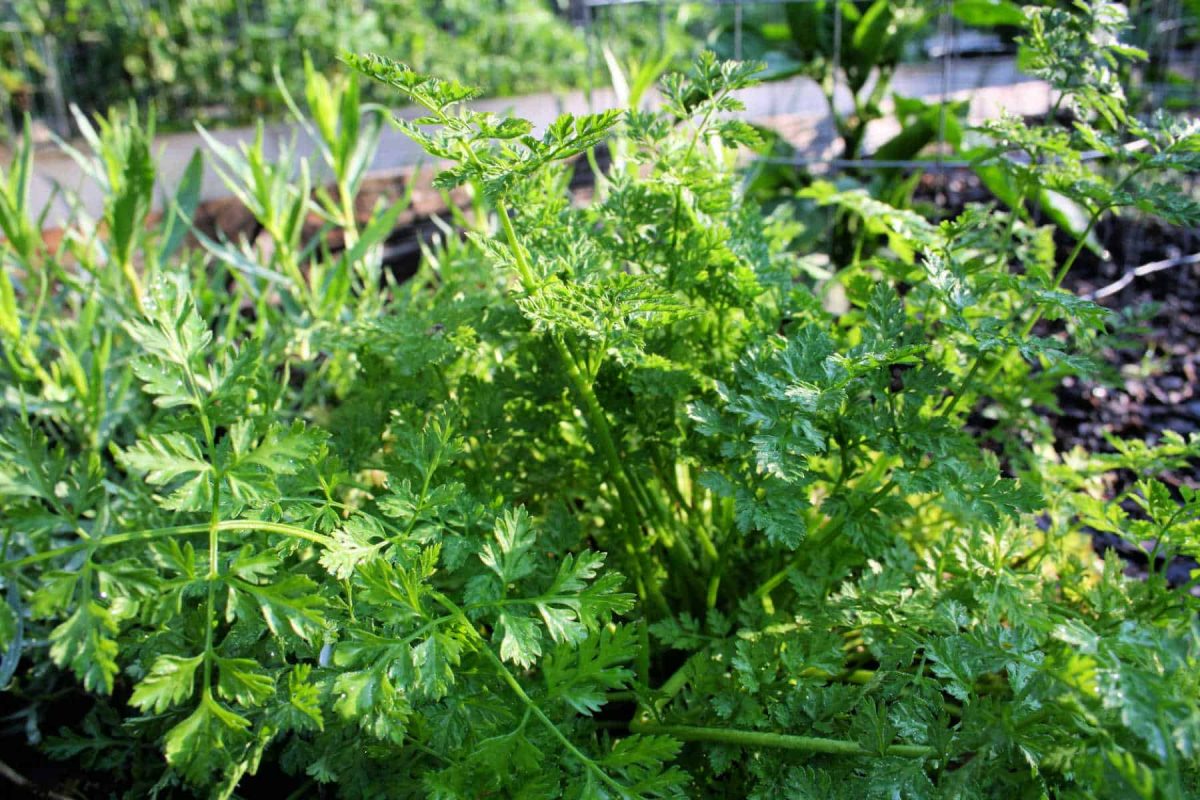 Botanical Name: Anthriscus cerefolium
Common Name: Chervil
Plant Type Herbaceous annual or biennial
Light Requirements: Chervil prefers partial to full shade. It can tolerate some morning sun but should be protected from harsh afternoon sunlight.
Soil: Well-draining, rich, and moist soil is ideal for chervil. It thrives in soil with a pH level between 6.5 and 7.0.
Water: Keep the soil consistently moist but not soggy. Water regularly to ensure the soil doesn't dry out completely.
Fertilizer: Chervil benefits from a balanced, all-purpose fertilizer. You can apply a slow-release granular or liquid fertilizer every 4-6 weeks during the growing season. Be cautious not to over-fertilize, as excessive nitrogen can lead to excessive foliage growth with diminished flavor.
Culinary Uses: Chervil is a popular culinary herb in French cuisine, often used in fines herbes blends. Its mild and slightly sweet flavor pairs well with various dishes, including salads, soups, and sauces, and as a garnish for eggs, seafood, and poultry. Chervil should be added towards the end of the cooking process to preserve its delicate flavor. It's an essential ingredient in classic dishes like bearnaise sauce and is frequently used to enhance the flavor of omelets and quiches.
Chervil Herbal Medicine Uses
Chervil has been used in traditional medicine for its purported diuretic and digestive properties. It was historically used to treat digestive issues and is sometimes employed as a mild, natural remedy for various ailments. However, it must be used in moderation, and consult a healthcare professional before using it for medicinal purposes.
Growing Chervil
I purchased a chervil plant from my local garden center, but I have read that it is relatively easy to grow from seed. Once you select the site for your chervil plant, keep the soil consistently moist during the growing season. Mulch around the plants to help retain moisture and suppress weeds. Fertilize it with a balanced, all-purpose fertilizer every 4-6 weeks during the growing season, but avoid over-fertilizing.
One thing that puzzled me when I grew this herb: it seemed to die in mid-summer! I didn't remove the plant from the raised bed garden but left the spot undisturbed. Much to my surprise, it suddenly sprang back to life in mid-August. My research revealed that chervil likes cooler conditions than my Zone 7 Central Virginia garden offers. The plant died back during the hottest summer days and returned once cooler weather prevailed.
Harvesting
Leaves can be harvested once the plant reaches a height of 4-6 inches (10-15 cm). Snip the leaves with scissors or pinch them off, but avoid taking more than one-third of the plant at a time to allow for continued growth.
Chervil vs. Parsley
I've grown both chervil and parsley in the garden, and parsley is, to me, the clear winner. I find the crisp, cool taste of parsley much more appealing than the anise flavor of chervil. It may be a cultural thing. Every recipe I have for chervil adds it to egg-based dishes, and I prefer my eggs plain or with a bit of salt and pepper.
Parsley dries easier and enhances flavors in foods. I also make an apple parsley salad that I love, but substituting chervil resulted in a nasty clash of flavors I can only describe as a culinary nightmare. I'm sticking to parsley.
However, chervil does have its place. Blended with other herbs, it adds a layer of flavor that enhances French foods.
Will You Grow Chervil?
Chervil is a delicate herb, so it's essential to provide it with the right growing conditions and maintain even soil moisture to ensure the best flavor and growth. With proper care, you can enjoy this mild, anise-flavored herb in your culinary creations.
The following is an affiliate link. As an Herbal Academy Affiliate, Home Garden Joy earns a commission on every qualifying. purchase made through this link.