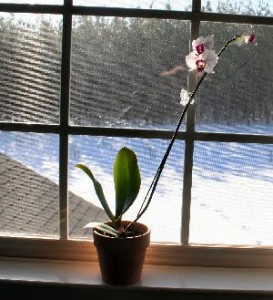 Naughty orchid. Fool me once, shame on you. Fool me twice – shame on me.
This is the phaelenopsis orchid I bought at Lowe's for $3. The dendrobium didn't make it. The phael, however, is still blooming. It loves the bright light of my office.
Here she is (I call it she for some reason) on my office windowsill. This window overlooks the orchard. We still have snow everywhere, but this weekend temperatures are supposed to get as high as 50. Bye-bye snow. I won't miss you!
Note the tiny little green shoot in the pot. I got so excited when I saw it! I watered it carefully. Each day I observed it, hoping I'd have a tiny baby orchid.
No dice. Guess what? It's clover.
How a clover seed got into this pot in the middle of winter is anyone's guess, but I know clover when I see it. And it isn't even a four-leaf lucky clover!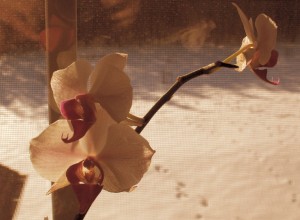 Jeanne Grunert is a certified Virginia Master Gardener and the author of several gardening books. Her garden articles, photographs, and interviews have been featured in The Herb Companion, Virginia Gardener, and Cultivate, the magazine of the National Farm Bureau. She is the founder of The Christian Herbalists group and a popular local lecturer on culinary herbs and herbs for health, raised bed gardening, and horticulture therapy.