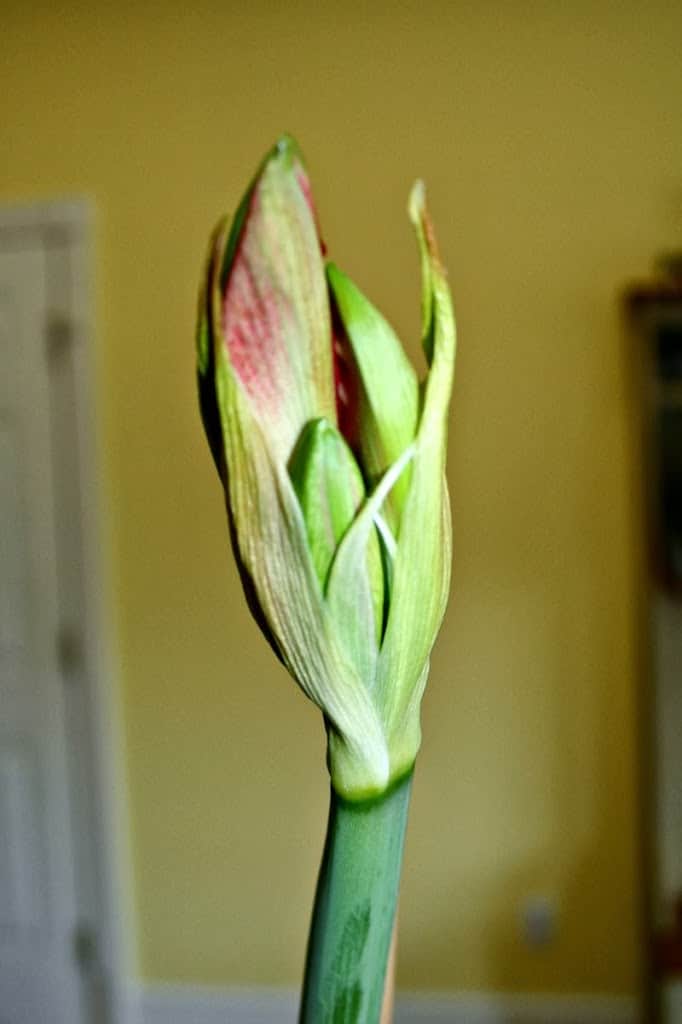 The amaryllis bulb is about to bloom. The bud at left is starting to unfurl its petals, and I can see hints of the striped pink and white color that the "Apple Blossom" hybrid sported on the box. She has two blossoms, the large central one and another smaller one that showed up last week.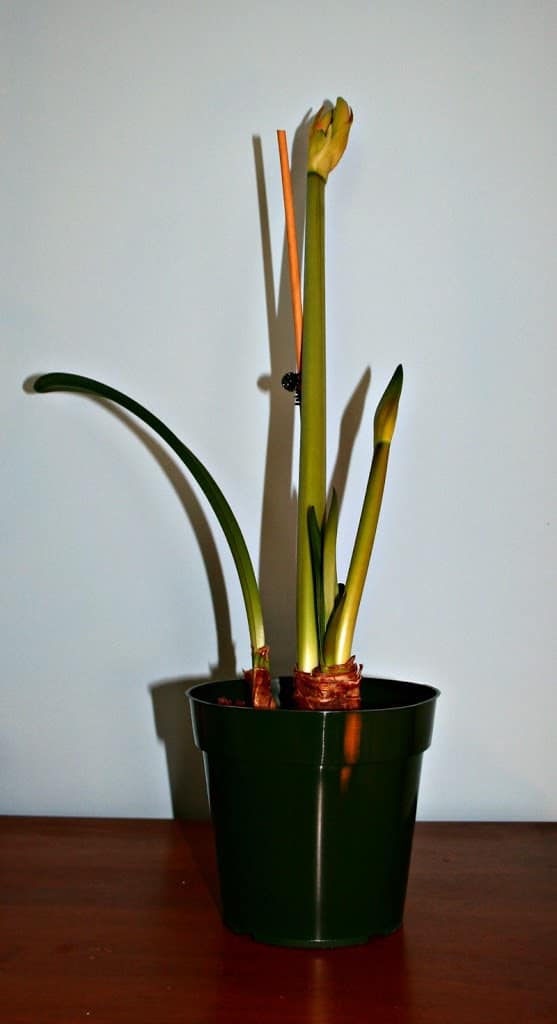 Amaryllis, Week 11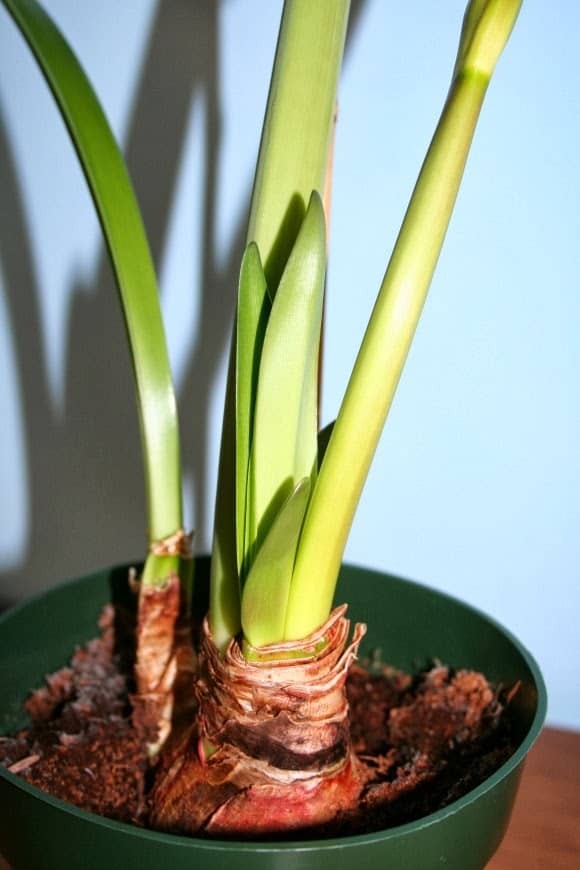 Amaryllis, Week 11 – check out the growth near the bulb and compare to a month ago (below)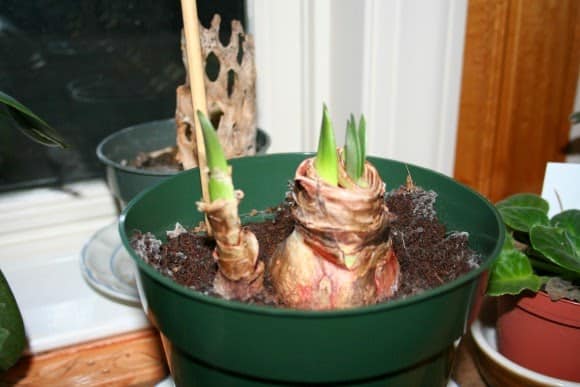 One month ago, same bulb, Week 7. Amazing, isn't it?
The leaves are starting to look a little pale, and I'm wondering if it's time to move the amaryllis back to my office where it will get the bright light it craves. I'm still worried about the cats, though.  Whitey tried to destroy the bulb in week 1 when he grasped it with his teeth and pulled it from its pot. I think that's why it was so slow to get started – he probably damaged whatever nascent roots were beginning to form.
Bad Whitey does NOT look repentant: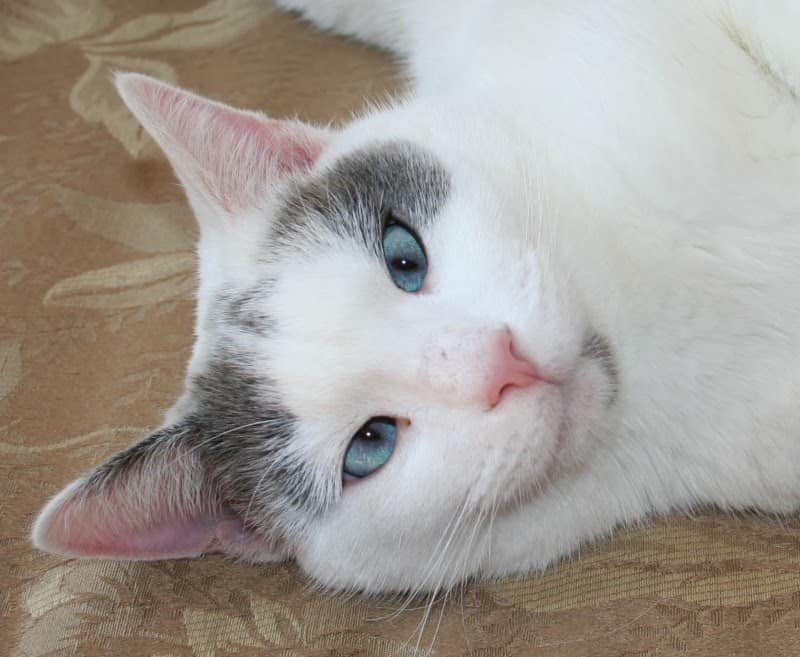 Then again, cats always look defiant. Dogs have mastered the repentant look, but not cats.
I think it's time to add some twine to the stake in the pot and gently tie the flower talk to the bamboo stake. If I don't do it now, the flower may open and pull the whole thing down from its weight. The amaryllis is currently on the bookcase in the plant room nestled beside an aloe and an African violet, but standing between it and the window is a lovely phaelenopsis orchid that has also decided that now's the time to start producing buds.  I noticed today a new flower stem emerging, fat with buds. I'm excited because this is the first time the phael ever bloomed for me. I bought it on the discount rack at Lowe's, like the other orchid in my collection, and it had finished blooming. They'd cut off the stem, so I wasn't sure of the flower color, but there was one dried up old flower clinging to the plastic pot, and it looked like a dark pink so I took a chance and bought the plant. I already have a white orchid, and am hoping this one will be pink, but who knows? That dried flower could have been from the plant next to it on the shelf at Lowe's.
Nothing much more to do with the amaryllis at this point except stake the blossom so it doesn't tip over, continue watering it, and decide if I want to move it to a sunnier location. I've noticed small flies around it though and I'm worried that something has hitched a ride inside.  I may stop at the garden center today for yellow sticky cards. Are you familiar with those? They're small cards, about the size of post-it notes, that are bright yellow. Sometimes one side is blue. Both sides are covered with stickiness. You put the card into the pot with your house plants, and the color attracts flying insects pests onto the card. They get stuck there and can't get off. It's a useful tool if you want to get an accurate identification of the insect pest for treatment purposes, since you can slip the card into a bag and take it to the Cooperative Extension office for diagnosis. It also kills the insects by trapping them, making it a good tool for an organic garden and home.
The Week Here at Seven Oaks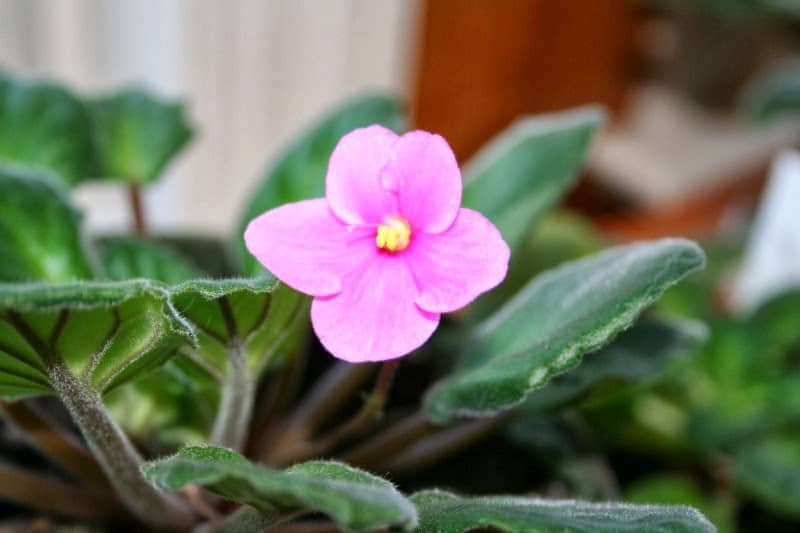 I started to write, "This past week has been busy" and then corrected myself: it's always busy.  More because I like to stay busy and have so many hobbies, interests and ideas that I am always busy.
We had snow on Tuesday last week, and bitterly cold temperatures. We kept the cats indoors at night when the temps dropped into the teens. I'm glad we did because we heard a pack of coyotes so close to the house, I thought that if they got any closer I'd invite them in for hot cocoa. They were yipping and yiping to another pack off in the distance towards Appomattox, and the pack moving through our woods was calling back to them. We found the remains of a dead wild turkey in the woods, recently killed, near an old den that I think is a fox den. We've been foxes again on the property, and I wonder if they've taken up residence again.
We got about two inches of snow and you'd think it was snowmageddon the way the school districts all rush to close. The kids had off the day snow was predicted. It hadn't even fallen from the sky yet! Then they got off the next day because it was cold AND there was two inches of snow on the ground.  We spoke with my sister in law on Long Island, where they got about a foot of snow from the same storm. The snow started overnight and continued into the next morning, so schools were closed. But the next day, school was open! I'm not sure what the difference is. Our area is great with plowing out the streets. Maybe it is because people live on farms and can't get down their driveways? Someone also said it is because farm kids have to wait at the end of the lane for the bus, and some don't have warm enough clothes. Others have said the buses can't run well when it is in the single digits. I'm not quite sure what the difference is, but I don't think schools should close because snow is PREDICTED.  That's a bit too…wimpy for me.
By Wednesday night, I started coughing a dry, throat-aching cough. I thought it was just the icy cold, dry air; I used to get cold-weather induced asthma as a kid, and I thought I might be having a relapse. But by Friday night, I was so achy, and alternating chills and heat that I thought, "Uh-oh. I'm coming down with something." Saturday came and I could barely crawl out of bed. My whole body ached, from my eyeballs to my toes, and I felt feverish. Flu. I never get the flu.  I slept most of Saturday and alternated dozing in my recliner watching old Monk we had recorded to sleeping in bed with cats jumping on me. Groucho cuddled in just fine but Genghis Khan makes an awful nurse. He kept leaping all around me, poking me, burrowing under the covers He never sat still. Shadow padded into the bedroom, snuffled at me, looked sad and walked away. I wasn't sure if she was worried because I was in bed in the afternoon or if she was sad because I hadn't taken her out for our long Saturday walk.
Sunday came and I slept until 10. I'd decided the night before to keep my germs to myself and not go to church or the store, so I let my body get the rest it needed and just slept. By this morning, I feel well enough to make my speaking engagement today at the Longwood Garden Club. I'm talking to the members about "Keeping Your Holiday Plants Alive After the Holidays".  I sound like a frog, and will have to cut my talk a little short, but that's a mercy for them – it means they don't have to hear me blather on and on!  I am still sniffling but I don't think I'm Typhoid Mary anymore.
Hope your week is going well. The African violet, above, is the only one blooming now in the plant room. Everything else looks like it's starting to perk up. February tends to be a prettier month for the house plants, with more blooming than in other months.
Happy Monday!
Jeanne Grunert is a certified Virginia Master Gardener and the author of several gardening books. Her garden articles, photographs, and interviews have been featured in The Herb Companion, Virginia Gardener, and Cultivate, the magazine of the National Farm Bureau. She is the founder of The Christian Herbalists group and a popular local lecturer on culinary herbs and herbs for health, raised bed gardening, and horticulture therapy.