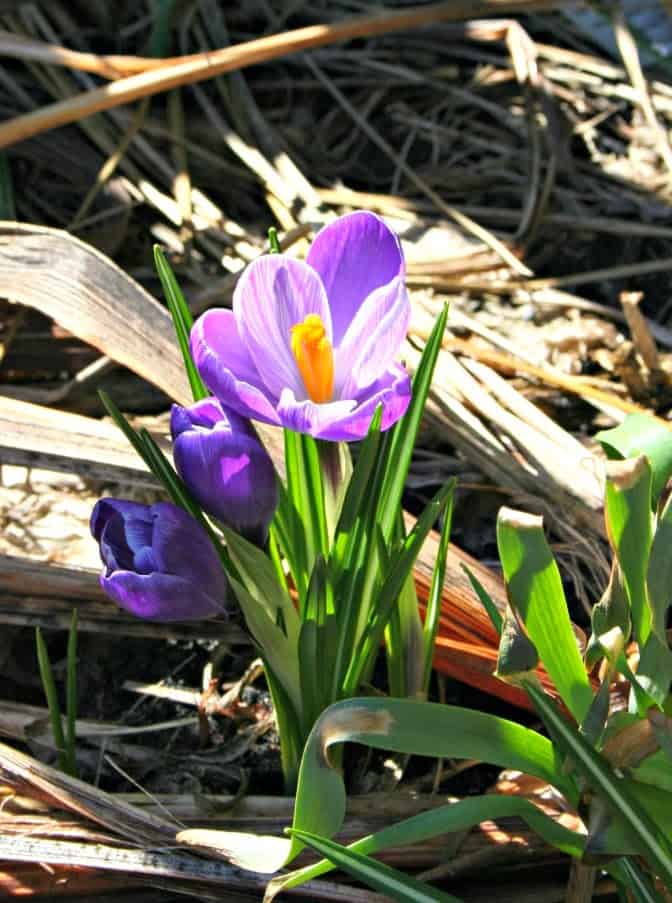 Happy first day of spring! At least the crocus are blooming. We have purple (left) and yellow crocus blooming in the garden today, including the crocus planted around the trees in the orchard. I walked the orchard today, considering my options for adding additional fruit trees, especially figs. I did a lot of research this morning and decided that yes, adding figs to our garden is possible. Here's what I learned.
.
.
Can You Grow Fig Trees in Virginia?
YES! I grew up on Long Island (zone 6) and in the Italian neighborhoods in Queens, you'd often see a gnarled old fig tree standing alone in the front yard. In the winter, the family would carefully cut back the branches, wrap the trunk with burlap or a blue tarp, and lash it tight with rope. A bucket would be stuck over the end of the tree. It was such a common sight that I didn't think anything of it until a friend from out of state asked me, "What the heck is that?!" I had to explain the annual fall ritual of protecting Italian fig trees from the elements.
Figs are not only possible, they seem to do well in Virginia. Our Piedmont region can be tricky, as witnessed by this winter's unrelenting cold and damp, but generally speaking we are around the same latitude as the fig's natural habitat. That's the good news. The bad news is that is the temperatures drop into the single digits, most figs can't survive. Here in south central Virginia, we do occasionally get a spate of arctic weather. I may need to learn how to wrap up my fig trees after all.
.
.
But careful research into growing figs in Virginia tells me that might not be necessary if I can find a warm microclimate on the property, especially a southern exposure near a wall. I'm seriously thinking about ripping out the rhododendrons (my husband's pet plants) along the southern wall of the house. One of them is doing great; it's lush, and blooms freely each spring, but the leaves are a sickly yellow this year and I suspect it's not taking up nutrients well thanks to a soil imbalance. I hate fussing with landscape shrubs. It's not my style. The other rhododendron we planted at the same time is really looking bad. It's about a third of the size of the other one and has skimpy growth. Now if I rip up that rhododendron and plant a fig there, it's got the perfect micro climate. A hot, dry area with full sun next to the house, which can radiate heat during the winter months and cool autumn evenings. Even better, the dryer vent is near that area, so during the winter the air tends to warm up around there a few degrees when I do the laundry.
.
.
I'm thinking fig tree.
.
.
Types of Figs

Now which tree to plant? My research indicates that the Brown Turkey fig is probably best. It seems hardy, the fruit is said to be good for fresh eating and preserving, and it doesn't grow huge. I like that. On the other hand, I'm totally in love with Italian Honey figs. These are green fruits with an amazing sweet center. When I worked in Manhattan at the financial services firm, one of the guys brought in a huge container of these figs. He had an ancient tree growing in his front yard in Astoria, Queens (see what I mean about every Italian family having a fig tree in Queens? It's true). Each fall, the tree produced abundant fruit, and he'd bring buckets of it into the office. I couldn't get enough of the Italian honey figs and fell in love with fresh figs thanks to Anthony's gift to the office. 
.
.
Even though I like Italian honey figs, I'll need to research them more to see if growing one in central Virginia is possible. Thomas Jefferson supposedly grew figs at Monticello, and even though I didn't see the tree when I last visited there in 2009, there's a tree on the property that's a descendant of the figs he planted. I'd like to find out what variety is growing there; the climate near Charlottesville tends to be cooler than our own, and wetter thanks to the mountains, so any fig growing there is likely to do well here.
.
.
In addition to researching fig trees, I'm also looking into adding nut trees to the property. Hazelnut, almond and walnut trees are all under consideration.
.
.
Spring is a great time to make all these plans, and do the research if you're thinking of adding fruit trees to your property. With the rising cost of food, and the ever-growing concerns over pesticides, it makes sense to grow your own!
Jeanne Grunert is a certified Virginia Master Gardener and the author of several gardening books. Her garden articles, photographs, and interviews have been featured in The Herb Companion, Virginia Gardener, and Cultivate, the magazine of the National Farm Bureau. She is the founder of The Christian Herbalists group and a popular local lecturer on culinary herbs and herbs for health, raised bed gardening, and horticulture therapy.