Did you grow sunflowers this year? Learn how to save sunflower seeds. Use them in bird seed, for your garden next year, or even for your own snacks.
How to Save Sunflower Seeds
I grow sunflowers along the south side of the house. My father-in-law, who passed away a few years ago, started the tradition of growing sunflowers along this side of the house, and I continue growing them in his memory. Many of the sunflowers that grew in that space this year germinated on their own accord; we have "volunteers" every season growing among the azalea, rhododendron and other foundation plants.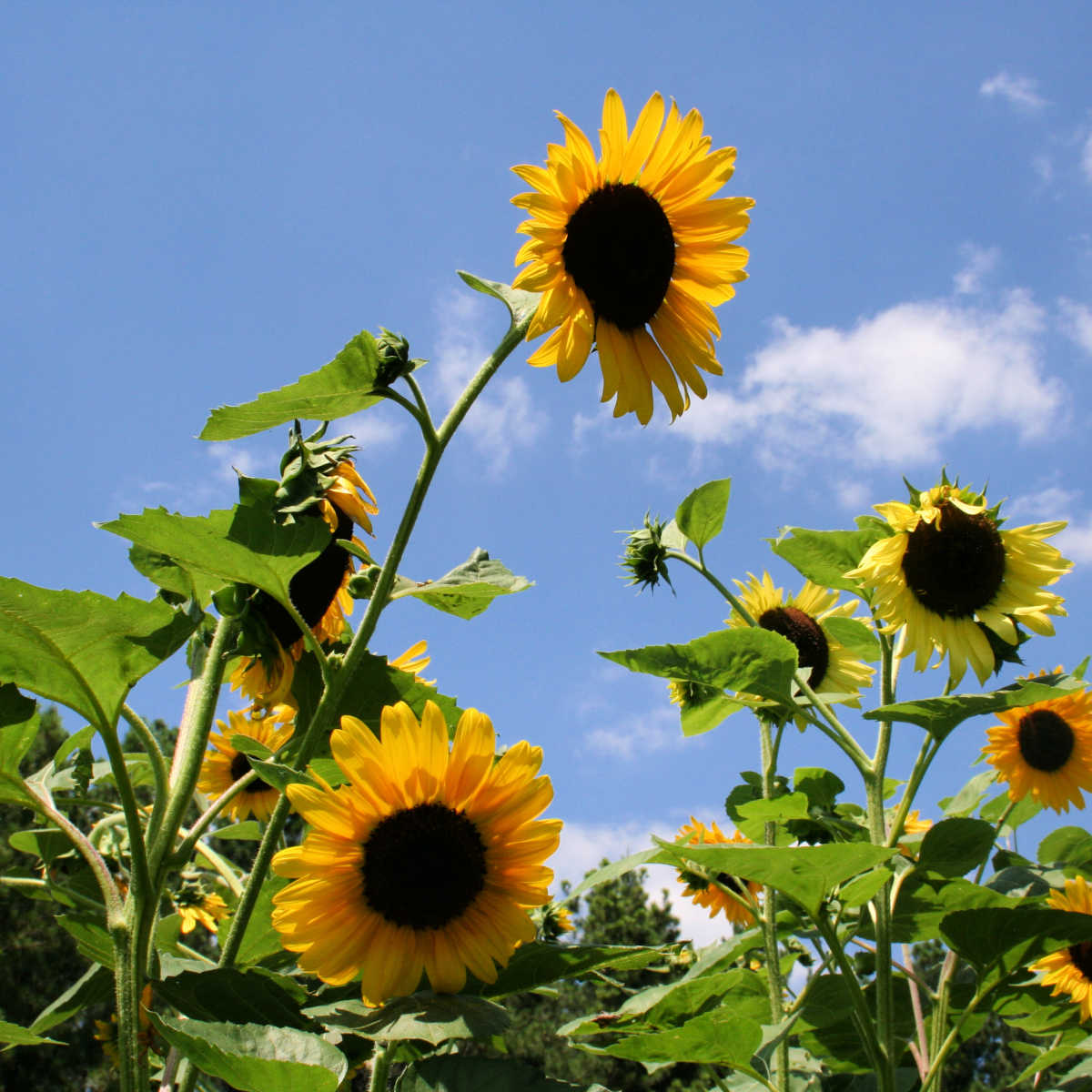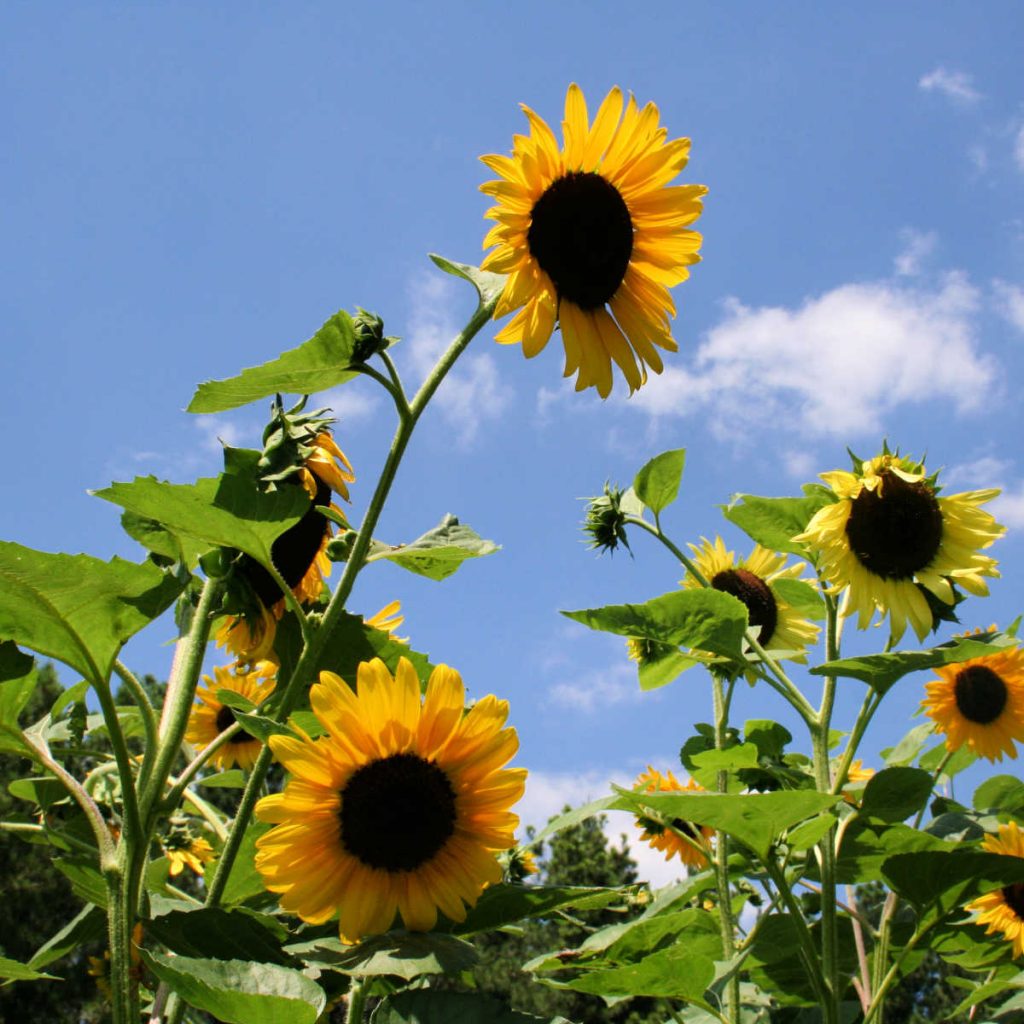 3 Easy Ways to Save Sunflower Seeds
Here are three easy ways to save sunflower seeds:
Leave them where they are for the birds:  This is actually my preferred option, but one that's not always practical. You can simply let the seeds dry right on the stalk. The birds will find them, or the seeds will fall to the ground where mourning doves will peck them up along with other creatures. And if you're very lucky, a few will survive the winter to grow again next year.
Cut off the flower heads on stalks and hang them up as natural bird feeders: Take a pair of pruning shears and cut off the flower heads, leaving at least a foot or more of the thick stem attached to the head. Tie twine or string to the stem, and hang them upside down from tree branches in your yard. Birds and squirrels well find and consume the seeds.
Dry the seeds to plant again next year: You'll need a dry, warm space to hasten the process. A garage or shed works well. Spread newspapers on the garage or shed floor. Cut the sunflower seed heads off and cut off any greenery or petals left attached to the head. Place the seed heads on the newspaper. As they dry, seeds will fall out; the newspaper makes it easier to collect them. You may need to use a stick or screwdriver to poke the seeds out if they don't fall out naturally.
Home Grow Birdseed
I don't care where sunflowers choose to grow, as long as they grow! I love their cheerful faces. I love how as they develop, they turn to face the sun, then "freeze" like children playing statues, forever turning their cheerful countenance to the sky. I love how they attract bees and other pollinators when they bloom, and then flocks of goldfinches when the seeds develop.
Genghis Khan kitty loves the goldfinches too. His "room", our guest bedroom where he sleeps at night (with the door closed so he doesn't fight with our other indoor cat, Pierre), has two windows facing south. The sunflowers crowd against the window glass and on a good day, Genghis presses his nose to the glass, his face only inches away from the unsuspecting goldfinches on the other side of the window. It makes me wonder how well birds can see; if they only knew how close to the jaws of death they come when they perch on top of the sunflowers…
At this time of year, though, the sunflowers are finished. Most are well past their prime; a few have a flower here or there, but most are dead, gray-brown nodding stalks. Some stalks toppled to the ground under the weight of the heavy flower heads, scattering seeds among the mulch in the foundation plantings, the source of those previously mentioned 'volunteers.'  Others continue standing sentinel to greet the fall.
Sunflowers are great for collecting seeds. If this is your first time saving seeds, they are a great plant to start learning seed saving techniques. The big seeds, combined with the easy ways in which they dry, make them one of my favorites to save seeds. You can use the seeds to plant next year's garden or to fill your bird feeder.
Storing Your Saved Seeds
If you intend to plant next year, save the dried seeds in a paper bag or envelope. Paper "breathes" and helps keep them dry, which is necessary for them to store properly. Label and date the bag, and keep it in a cool, dry place until you are ready to plant them again next spring.
More Articles About Sunflowers
If you enjoyed this article, you may also like:
This post was originally written September 2014. It was updated on September 7, 2021 with new pictures, improved formatting, and better links.
Jeanne Grunert is a certified Virginia Master Gardener and the author of several gardening books. Her garden articles, photographs, and interviews have been featured in The Herb Companion, Virginia Gardener, and Cultivate, the magazine of the National Farm Bureau. She is the founder of The Christian Herbalists group and a popular local lecturer on culinary herbs and herbs for health, raised bed gardening, and horticulture therapy.