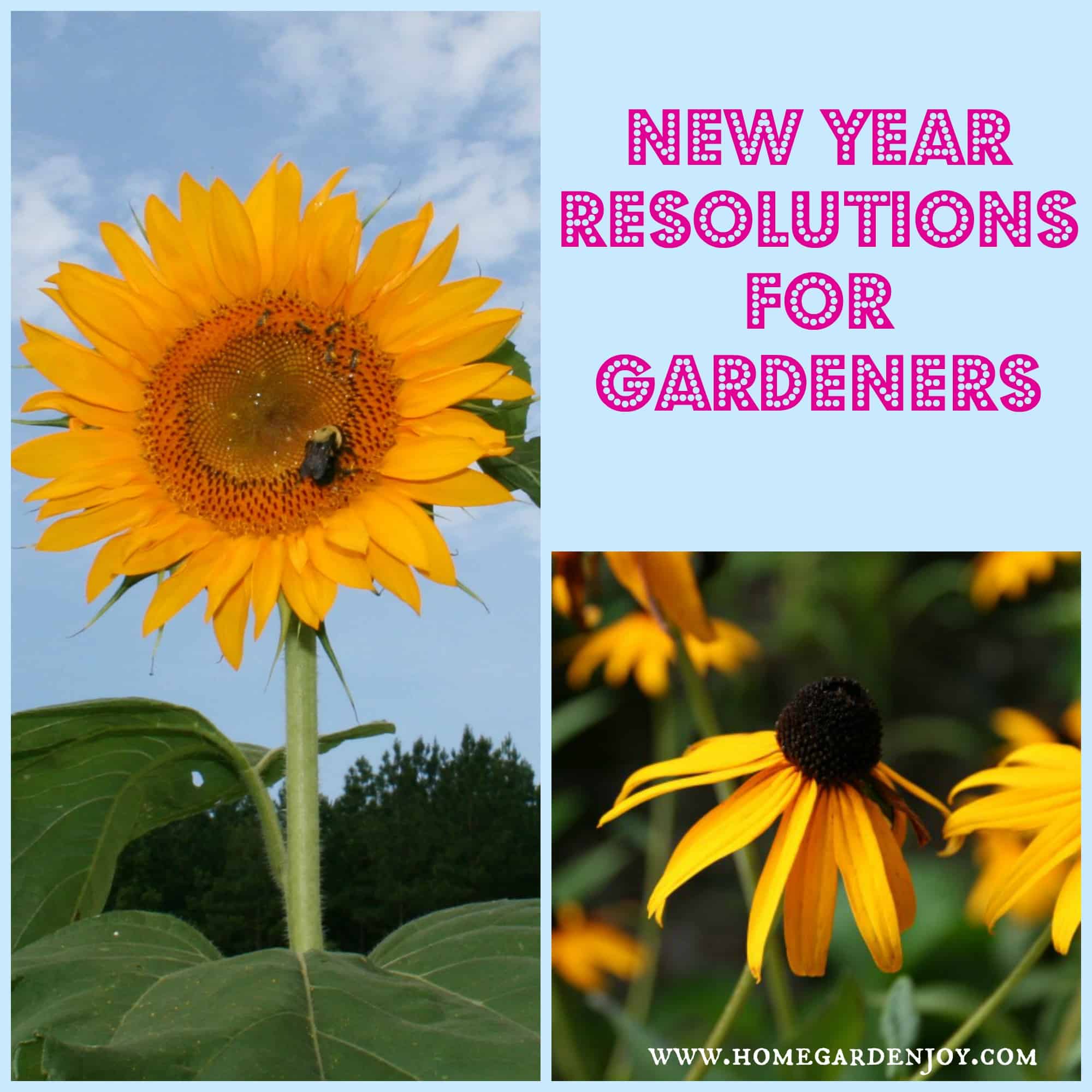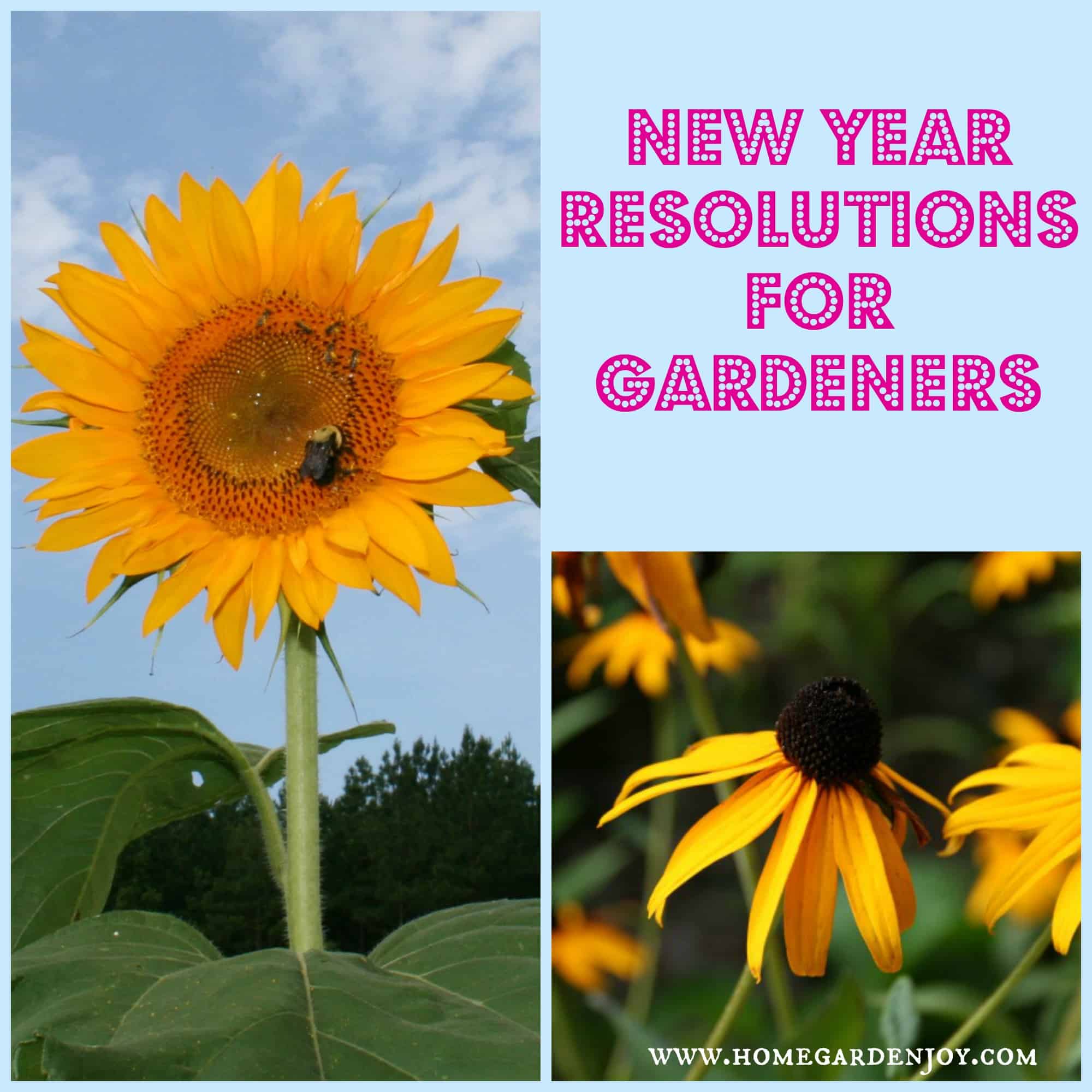 Happy New Year! I hope you had a wonderful Christmas season, and a Happy New Year.
I've been writing a lot lately about New Year resolutions, so I thought I would put together this list of New Year Resolutions for Gardeners. It's meant to be both serious and tongue in cheek. If you've been a gardener for any length of time, I think you'll recognize yourself in these resolutions for 2015.
Are you with me, gardeners of the world?
New Year Resolutions for Gardeners
It's a new year, and a new time to grow. Raise your right hand and repeat after me:
"As a responsible gardener, I resolve to…"
Plan my garden for the year before I order seeds and plants. How many of you get those glossy garden catalogs in January (or sooner) and immediately mark the beautiful flowers and tempting vegetables you want to grow? And then order your seeds because you're starved for beauty and life and you can't wait to get outside and play in the dirt again? I'm with you on this one and guilty as charged. I have to restrain myself at this time of year from charging a fortune in seeds. Instead of rushing ahead to order your seeds, grab a piece of paper and a pencil and plan your garden for the year BEFORE you order your seeds. Even something as simple as a quick sketch on paper will save you a great deal of time and money later on. A little planning now can prevent you from that, "What was I thinking?" moment later when you realize you have more seeds than one human being can ever plant in a year.
Buy live plants from locally owned nurseries and garden centers as much as possible.  It's not just about supporting local businesses, which I wholeheartedly endorse. You'll be a lot more successful at gardening if you grow plants that are already acclimated to your gardening zone or climate. Your local garden center is also more likely to sell plants well-suited to your area, and have knowledgeable experts on hand to answer questions. It pays to shop locally when it comes to buying trees, shrubs, annuals and perennials.
Get a soil test before I plant anything in my garden. Soil tests are a necessity, and you should ideally get your soil tested annually. Soil is living. It's not just dirt. It contains nutrients, microorganisms, organic matter and other inorganic materials. It supports, nourishes and sustains plants. If the soil isn't fertile, if the pH is off, or if the composition isn't ideal for your intended garden, you may struggle to keep your plants healthy and hearty. If you take time now to bring a soil sample to your local Cooperative Extension Office for testing, however, you can get their advice now, before you plant anything, on how to amend it for best results. How much a soil test costs varies according to your local and the number of tests you request, so please call your local Extension office before bringing in your sample. Use only glass or plastic containers to transport the sample, by the way. Metal can skew test results.
Label my bulbs before they die back.  Okay, so I'm guilty of this. I forget to stick plant labels into the ground where I've planted my spring bulbs. They sprout, bloom, and I'm so enthralled by the silky tulip petals that I forget once again to mark the spot where I've planted them. Sure enough, a few weeks into spring, they've died back, and now I want to plant some impatiens or petunias or whatever, and I can't remember where my tulips were. I start digging, and oops! I've hit a bulb! And another! A simple plant label or a Popsicle stick marked in Sharpie ink would suffice to mark the spot where spring-flowering bulbs are buried. You can also paint pretty garden rocks to use as plant markers, cut up old Venetian blinds to make plant stakes, or even cut up cake frosting cans as I've done in the past to make plant labels. Visit Pinterest for some clever ideas on making plant labels, then make them now, while it's still too cold to garden. Come springtime, you'll be glad you did.
Plant non-invasive species in my garden. My area of Virginia is threatened by kudzu, a vine imported from Japan that quickly overwhelms local forests, smothering them in a dense green canopy. Johnson grass is also prevalent in the roadsides and fields, a reminder of our area's Civil War past. It was imported from Bermuda during the War Between the States as quick growing forage grass, but it so resembles young corn that if it grows in a farmer's field, he may leave it until it's too late, and lose valuable acreage in the meantime. Other areas of the country suffer from invasions of purple loosestrife, a perennial that rapidly overtakes wetlands and smothers native vegetation. The main problem with invasive species is that their natural wild predators are nonexistent in Virginia; the animals and insects that feed upon kudzu, for instance, are back in Japan wishing they were here to graze upon the lush foliage. Invasive, non-native plants take over valuable habitat, squeezing out native species. Native plants may not be able to compete with the invasive species, and we could lose irreplaceable plants and insects. Just because you want a plant for your garden doesn't mean it's a good idea to grow it. If you're not sure what's an invasive species for your area, check with your local Cooperative Extension office.  Our Virginia Extension site has a good list for Virginia gardeners on invasive plant species we would do well to avoid. For more information on the topic, see: Invasive Plants.
My Personal New Year Resolutions for Seven Oaks Farm and Home Garden Joy
I've got a list of things I want to do this year that's a mile long. Here on the farm, I have to replace the deer fencing around the vegetable garden. Several fence posts are rotting, and I'll need to cement them into place this time around. The gate also needs to be fixed, and several of the raised beds are starting to pull apart at the corners as they reach their seventh year of service. I am vowing that this year, I'll do better at composting, taking my compost from its bed in the forest edge into the vegetable garden, and of course, I'll do better at keeping the weeds at bay.  And if my climbing roses don't return thanks to the Japanese beetles and the black spot, I'll grow the hummingbird vine seeds a fellow Master Gardener gave me on the rose arbor and call it a day.  After seven years or struggling to grow a rose, I've almost given up.
What about this website, Home Garden Joy? Oh, I can't wait to share with you the terrific new content I have planned!  A new Butterfly Gardening section on the website; revised versions of my classic book, Get Your Hands Dirty Gardening! A Beginner's Guide to Gardening, and a new edition of Raised Bed Vegetable Gardening.  The newsletter is getting fresh content too, and regular publishing schedule that will delight you as you feather your nest and create a beautiful, joyful home.
Happy New Year! Add your 2015 Gardening and Homemaking Resolutions below in the Comments section.